MRC Embraces Chaos At Musk-Led Twitter While Censoring The Worst Of It
Topic: Media Research Center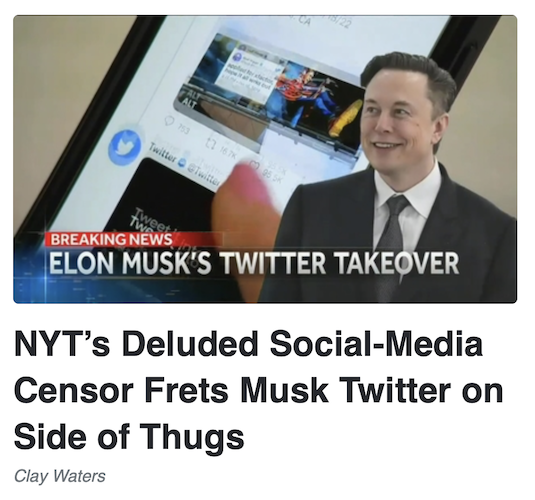 The Media Reserach Center cheered when Elon Musk finally decided to live up to his word and buy Twitter at the price to which he agreed, alternating between writing PR pieces for him and mocking the critics who pointed out that he's sending the site into chaos. Paiten Iselin served up the former in an Oct. 31 post:
Musk is on the move. In a win for free speech, Twitter removed a warning label from a Just the News ballot harvesting story after self-dubbed "Chief Twit" Elon Musk interceded on the news site's behalf.

The warning label originally appeared on Just the News (JTN) Editor-in-Chief John Solomon's account Friday. He shared his report titled "Democrat blows whistle on alleged ballot harvesting scheme, Florida opens criminal probe." JTN said Twitter applied a warning label to the post, claiming it included "misleading" content that "could lead to real-world harm."

Solomon and Judicial Watch President Tom Fitton challenged Musk about the story's censorship. "Election censorship returns as @Twitter flags ballot harvesting report," Fitton tweeted. "@ElonMusk should immediately examine how the company is now interfering in the election on behalf of the Left."

"I will look into this," Musk replied Sunday morning. "Twitter should be even-handed, favoring neither side."

As of Monday morning, the warning had been removed.

Musk seems intent on unraveling the anti-free-speech bias initiated by Twitter's former leadership.
A warning label is not "censorship," of course, but calling it that is designed to advance the MRC victimhood narrative. Iselin offered no evidence to dispute the label's claim that the story was "misleading."
Autumn Johnson served up another Musk PR piece the same day uncritically repeating unproven claims from Musk that "Twitter's board 'deliberately' hid evidence from the court in its lawsuit against him." Johnson didn't mention that Musk's complaint, even if true, is irrelevant because he waived due diligence in agreeing to purchase Twitter. We've already noted now the MRC gave a pass to Musk for using his Twitter account to spread a sick right-wi9ng conspiracy theory about the vicious hammer attack on Paul Pelosi.
The MRC also made sure to continue to mock liberal criticism of Musk's actions:
Tim Graham even devoted part of his Oct. 31 podcast to the "leftist Twitter meltdown."
A Nov. 4 post by Jason Cohen cheered Musk arbitrarily firing half of Twitter's staff:
Cue the Great Twitter Freakout Phase Two.

Geraldo Rivera reported on Twitter that "Elon Musk has declared All-Out war on his former staff. At 9am Pacific time, Massive Layoffs go into affect at Twitter. With no formal notice and gut-wrenching efficiency, Musk and his inner circle have eliminated about half of its pre-Elon workforce. 3,700 Twitter jobs gone."

Liberals think they are so clever in responding that billionaires are supposed to create jobs, not get rid of them. A top tweet by GQPHypocricy is "I was told Billionaires need our Tax Money because they're job creators."

So ignorant. The left thinks CEOs should not lay off employees even if they are inefficient or otherwise unqualified.
Cohen offered no proof that any of the fired employees were "inefficient or otherwise unqualified." Indeed, he mocked a fired employee as "unstable," followed by more sycophantic hero worship of Musk:
Well, if this employee exemplifies Twitter's culture to any extent then these layoffs are extremely essential. Unstable, overly emotional people should not have control over such a high proportion of speech in our country.

And the left needs to understand that billionaires like Musk do not become so successful for no reason. There is a method to his madness, and it likely makes sense to lay off all these employees. Only time will tell.
In reality, Musk's mass firings were so botched that the company asked some employees to return because they did work essential to keep the platform running.
Rich Noyes grumbled in a Nov. 5 post:
If you listen to liberal journalists who think Americans need experts like them to sort out the facts, Twitter is going to be a desolate wasteland of misinformation on Election Night because Elon Musk downsized his staff on Friday.

"Hundreds of people are now without a job, including some that work on U.S. elections to help police misinformation and malicious content on Twitter," ABC's Reena Roy warned on Saturday's Good Morning America.

"Bad actors will now try to take advantage, experts say," NBC's Jacob Ward predicted on Today. His expert, Joan Donovan from Harvard's Shorenstein Center, blamed "right-wing actors" for what's about to go down: "The environment on Twitter is going to degrade and erode, especially as we see a lot of motivated far-right actors jumping in, creating hate, harassment and incitement content because they know that it's not going to be removed."
Note Noyes' misquote of Donovan here -- he clearly says "far-right actors," not "right-wing actors." He also censored the fact that hate, harassment and incitement content did, in fact, increase after Musk's takeover.
Johnson used a Nov. 6 post to play whataboutism when President Biden pointed out the amount of misinformation on Twitter:
At a campaign event Friday, President Joe Biden complained about upcoming changes to Twitter's censorship rules.

It seems the president is not happy that Musk plans to implement the platform's content moderation rules fairly.

Politico reported that Biden said that Twitter is "an outfit that spews lies all across the world."

Last week, NewsBusters reported Musk's declaration that Twitter's new content moderation team would consist of "widely diverse" viewpoints.

"Twitter will be forming a content moderation council with widely diverse viewpoints," Musk tweeted. "No major content decisions or account reinstatements will happen before that council convenes."

Changes to the platform's content moderation rules are long overdue.

During the 2020 presidential election, the rules overwhelmingly benefited Biden and other Democrats who ran for election.

In April, MRC Free Speech America published its report of 646 cases in its CensorTrack database of pro-Biden censorship between March 10, 2020, and March 10, 2022.
That "report" didn't fact-check the claims that were supposedly "censored," and it also falsely portrayed filters placed over misleading content as "censorship." Johnson also didn't explain why right-wingers should be allowed to spread misinformation about Biden (or anyone) without facing any consequences whatsoever for doing so.
Johnson returned to PR mode in another post the same day gushing over Musk's claim that "Twitter will not censor accurate information about anything." Yet another post that day by Johnson gleefully documented Twitter founder Jack Dorsey's groveling:
Twitter co-founder Jack Dorsey lamented Saturday that he grew the company too fast amid new Twitter head Elon Musk's sweeping changes, some of which include its censorship rules.

Musk purchased the platform for $44 billion last month and immediately made changes, including layoffs that heavily impacted the content moderation team at Twitter.

Dorsey apologized for growing the company "too quickly" and also encouraged the "resilient" former employees.

[...]

Dorsey previously endorsed Musk's plan for Twitter to become a pro-free speech platform.
Johnson didn't note how pathetically sycophantic Dorsey's groveling was.
Posted by Terry K. at 10:47 PM EST
Updated: Tuesday, November 22, 2022 1:03 AM EST