MRC Can't Stop Defending Kanye West
Topic: Media Research Center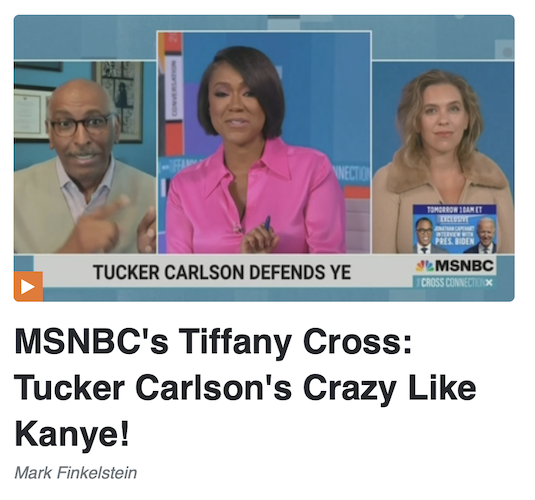 Even his spewing anti-Semitic rhetoric isn't stopping the Media Research Center from defending its longtime right-wing buddy, Kanye West. Mark Finkelstein complained in an Oct. 20 post that "Morning Joe" pointed out that West was fact-checked for claiming George Floyd died of a fentanyl overdose and not Derek Chauvin's knee on his neck:
At one point, Mika cited rapper Kanye West as an example of people lying. Fact checkers jumped on West for implying George Floyd was hyped up on fentanyl -- and that police officer Derek Chauvin didn't have his knee on Floyd's neck. But let's just isolate the fentanyl. Scarborough said:

Kanye West is going out, talking about George Floyd being on fentanyl. You know -- I guess people thought, Willie, in the age of Trump, that they could say whatever they wanted to say. They could spread whatever liesthey wanted to spread.

So let's take Joe's advice and read the Wall Street Journal. From the Wall Street Journal article on the official coroner's report on the death of George Floyd.

"The county medical examiner found the cause of death was 'cardiopulmonary arrest complicating law enforcement subdual, restraint, and neck compression.' Its autopsy results also indicated heart disease, fentanyl intoxication and recent methamphetamine use."

So who's lying now, Joe?
Given that the autopsy he quoted specifically said neck compression, not fentanyl, was the actual cause of Floyd's death -- and he hid the fact that, according to the fact-check he cited, West falsely claimed Chauvin's knee was not on his neck and that nobody was denying there was fentanyl in Floyd's system -- it appears the real liar and deceiver here is Finkelstein.
Finkelstein returned on Oct. 23 to grumble that MSNBC host Tiffany Cross likened Fox News demagogue Tucker Carlson to Ye:
Cross began by playing a clip of Carlson defending Kanye West against charges that he is mentally ill. Cross suggested that the reason Carlson doesn't find Kanye crazy is that Carlson is crazy himself!

"I wonder if Tucker doesn't find Kanye to be, to have some mental challenges, maybe because it takes somebody else with the same challenges to understand him?"

Michael Steele, the former RNC chairman turned member of the disgraced Lincoln Project, agreed. Steele claimed that Tucker's defense of Kanye against charges of being crazy was "projection" on Carlson's part. According to Steele, Tucker was talking about himself, because "that's how we see Tucker. That's how a larger community of people see Tucker," i.e, as crazy.

I find Kanye to be a few fries short of a Happy Meal. And find his antisemitic remarks repugnant. But Cross weirdly tried to claim that "this is who the GOP chooses to put out front. Herschel Walker, who has said himself, he has multiple personalities. I, this is the GOP, putting out these folks."
Finkelstein's description of West's anti-Semitism as "repugnant" is only the second time anyone at the MRC has criticized his remarks (following Nicholas Fondacaro a few days earlier), and it comes a full 14 days after the anti-Semitic Twitter post that kicked off the anti-Ye backlash that the MRC has been so reluctant to take part in. Interestingly, Finkelstein's post, like Fondacaro's, denounced Ye's anti-Semitism only in the context of criticizing people claiming their fellow right-wingers are like him.
Finkelstein didn't explain why he did mention Ye's anti-Semitism in his post defending West's false assertions about Floyd three days earlier. He also didn't mention why he and the rest of the MRC have been completely silent about the revelation that Carlson selectively edited the interview he conducted with West in early October (which set off the MRC's last round of gushing over him) to remove anti-Semitism and other craziness.
But the MRC's instinct, however, is still to paint West as a right-wing "victim" of Big Tech "censors" and "cancel culture." Which is why Jason Cohen wrote this Oct. 27 post:
It is October 2022, and people are seriously considering banning the music of an important and influential artist: Kanye "Ye" West.

Apple Music tested the waters by removing his "essentials" playlist.

If you click the link to the playlist, it does not load. It is just an endlessly spinning wheel.

Apple has not made a statement explaining it yet. Perhaps the company is waiting to see the response. As of now, it has not been massive, just a few small pieces about it.

There should not even be a debate about whether banning his music is correct, but it is not surprising in today's cancel culture.

Variety asked the question point blank in a piece by Jem Aswad titled, "Should Kanye West's music be banned?"

Thankfully, Aswad came to the following conclusion: "Great art is sometimes made by horrible people, and whether or not a person is morally comfortable consuming that art, and earning money for that horrible person, is up to them."

Exactly.
Huh? "There should not even be a debate"? Private businesses like Apple and Spotify have the First Amendment right not to promote someone whose views it finds repugnant. Nobody has a "right" to force a business to promote it -- just as it is up to listeners to decide whether to continue to patronize Ye.
Cohen continued:
It will be interesting to see what the "rights-holders" do in this situation. It would be awesome if they donated because it would likely mean substantial money for worthwhile causes.

Also, after this is over, hopefully, Ye realizes the harm he caused and somehow attempts to amend it financially or otherwise. But it should be his choice. They should not compel him to do so through threats of banning.
Again: Private businesses have the right to "ban" or not ban someone's product based on who that person is, just like people have the right to choose not to listen to it.
Curiously missing from Cohen's post is the term "anti-Semitic" to describe what, exactly, West did. That would seem important in accurately describing the nature of Ye's offense, but shoving Ye into the MRC's victim narrative is more important to Cohen than being factual about his offense.
Posted by Terry K. at 9:21 PM EST
Updated: Saturday, November 12, 2022 10:24 AM EST