MRC Cheers Musk's Official Takeover of Twitter
Topic: Media Research Center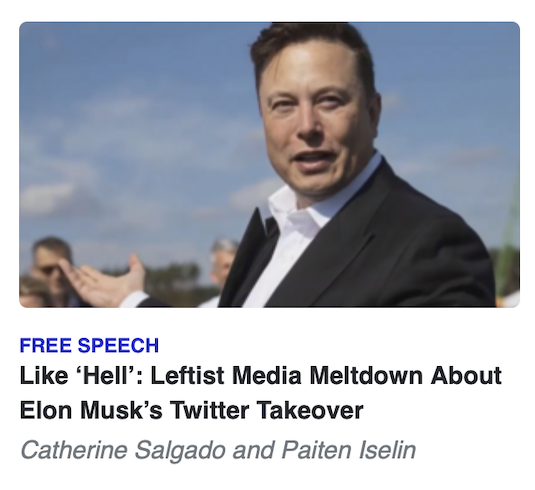 The Media Research Center has been a giddy enthusiast for Elon Musk's purchase of Twitter, even as Musk tried to get out of buying it. When it appeared the sale was actually going to happen for real, Autumn Johnson kept up the cheerleading in an Oct. 25 post:
Tesla CEO Elon Musk reportedly plans to close his deal to purchase Twitter for $44 billion on Friday.

On Tuesday, Bloomberg News reported that Musk told bankers providing $13 billion in funding that the deal would close by the end of the week.

NewsBusters reported last week that Musk plans to lay off nearly 75% of the company's employees to save money.

"'Although, obviously, myself and the other investors are obviously overpaying for Twitter right now, the long-term potential for Twitter in my view is an order of magnitude greater than its current value,'" Musk reportedly said at the time.

Musk previously said he wanted to buy the platform to promote free speech online after he criticized the company for censoring certain content.
Johnson didn't mention that, as we noted, Musk negated hs attempt to get out of his deal to buy Twitter by complaining about the number of bot accounts because he explicitly waiving his right to due diligence, meaning that his only options were to pay Twitter billions to terminate the deal or just suck up and buy the company as agreed.
When Musk finally did close the deal, Catherine Salgado served up Musk stenography in an Oct. 27 post:
Tesla CEO Elon Musk said in a statement to Twitter advertisers following news that his deal for the platform was going through that he acquired the platform "because it is important to the future of civilization to have a common digital town square."

Musk tweeted his statement to Twitter advertisers Thursday morning, explaining why he decided to buy Twitter to begin with and what his goals are for advertisements on the platform. Musk said he bought Twitter to create a free speech space where people from the whole political spectrum could engage in open "dialogue."

The Tesla CEO also said he hopes to see Twitter grow into "the most respected advertising platform in the world" with "highly relevant ads" for all users.

He began by saying most speculation about his motivations has been inaccurate. "The reason I acquired Twitter is … to have a common digital town square, where a wide range of beliefs can be debated in a healthy manner, without resorting to violence."

[...]

ime will tell if Musk's leadership will finally usher in a new era of free speech on a platform that suffered from a sordid obsession with censoring conservative opinions it didn't like.
That's not what happened, of course; Twitter simply enforced its terms of service, as is its right as a private company, and the MRC exploited that to manufacture a narrative of conservatives being "censored" (despite never bothering to make any serious attempt to examine if liberals faced the same issue).
When Musk fired the existing Twitter CEO, Joseph Vazquez cheered under the headline "GOOD RIDDANCE":
Twitter CEO Parag Agrawal is reportedly out as head of the platform as the world's richest man completed his $44 billion acquisition after a tumultuous negotiations process.

CNBC reported that Agrawal and Twitter Chief Finance Officer Ned Segal "left the company's San Francisco headquarters" after Musk took charge as the new owner "and will not be returning." Musk shared in his statement to Twitter's advertisers that his free speech vision is for the platform to become a "common digital town square" which stands in stark contrast to Agrawal's dystopian, anti-free speech nightmare. Agrawal stated in November 2020 that the company's role was "not to be bound by the First Amendment" but to decide "who can be heard."

Musk posted a video of himself Oct. 26 walking into Twitter headquarters holding a sink with the caption: "[L]et that sink in!" One thing's for sure: Agrawal's censorship-obsessed career at Twitter has been officially flushed down the drain.

Musk recently updated his Twitter bio to "Chief Twit."
Of course, Twitter was never such a "dystopian, anti-free speech nightmare" that the MRC ever left the platform -- which tells us it never was that, meaning that this overheated rhetoric is simply another manufactured MRC narrative.
When critics foresaw Musk's dismantling of moderation standards would send Twitter into chaos -- accurately, as it turned out, given that racist posts flooded Twitter after Musk closed the deal -- the MRC tried to shout them down:
The MRC censored the surge in racism on Twitter; instead, it continued serving as Musk's PR agent. An Oct. 28 post by Johnson framed Musk's "content moderation council" as a free-speech move and not the censorship move it did when pre-Musk Twitter engaged in content moderation:
Elon Musk says changes are coming to Twitter just one day after he closed a deal to purchase the platform for $44 billion.
Musk, who has expressed concern about one-sided content moderation, said a council with "widely diverse viewpoints" will set the platform's standards for removal.
"Twitter will be forming a content moderation council with widely diverse viewpoints," he tweeted Friday afternoon. "No major content decisions or account reinstatements will happen before that council convenes."
An Oct. 30 post by Johnson touted a fellow right-winger invoking the MRC's bogus "censorship" narrative to pressure Musk:
New Twitter chief Elon Musk said he will "look into" increased censorship on Twitter during the 2022 election season.

Musk, who purchased Twitter for $44 billion last week, was responding to a tweet from Judicial Watch President Tom Fitton.

Fitton shared an article alleging that the platform "flag[ged]" a ballot harvesting report.

"Election censorship returns as @Twitter flags ballot harvesting report," Fitton tweeted on Saturday.".@ElonMusk should immediately examine how the company is now interfering in the election on behalf of the Left."
Neither Johnson nor Fitton offered any evidence that the "ballot harvesting" story -- cranked out by right-wing outlet Just the News -- was accurate and independently proven, or why unproven rumors should be allowed to spread unchecked.
Johnson wrote another PR piece for Musk later that day, touting how he "seems to be toying with a plan that would allow Twitter users to 'select' which version of Twitter they prefer." Johnson served up yet another PR piece after that:
Conservative Twitter accounts have reported gaining thousands of new followers after Tesla CEO Elon Musk purchased the platform last week.

The New York Times reported last week that "far right" Twitter accounts gained thousands of new followers according to research from Memetica, a company that analyzes digital data:

[...]

Memetica's CEO, Ben Decker, said the company's findings were alarming and told the Times that the surge in followers "could be an indication that far-right people are migrating back to Twitter as they see the potential for a more friendly environment."

"The more followers and wider reach these accounts have, the more distribution these ideas have," Decker added.

Not surprisingly, Decker did not define what constitutes a "far right" Twitter account.

These comments show that Musk's concerns about the biases of online platforms against certain viewpoints are well-founded.
Or it could be that a raft of new right-wing bot accounts have been created, a possibility Johnson didn't mention. Johnson's concern over what defines a "far right" Twitter account is hilarious given how much her employer loves to use "liberal" "left-wing" and "far left" interchangably without defining those terms.
Posted by Terry K. at 9:51 PM EST