WND Falsely Frames Pelosi's Desire To Punch Trump
Topic: WorldNetDaily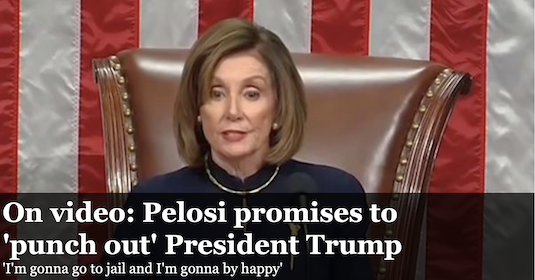 Bob Unruh wrote in an Oct. 14 article:
A newly released video of House Speaker Nancy Pelosi just as the Jan. 6, 2021, riot at the U.S. Capitol was developing reveals the frustration she felt after having failed in her attempt a year earlier to impeach and remove him.

Her dislike for Trump boiled over into a threat in which she promised to "punch" him.

"I hope he comes, I'm going to punch him out. I've been waiting for this, for trespassing on the Capitol grounds. I'm gonna punch him out and I'm gonna go to jail and I'm gonna be happy," she said.

[...]

She earlier had been so enraged at President Trump that she publicly ripped up a copy of his State of the Union address, while standing behind him in the U.S. House.
Unruh is lying. At no point in her statement -- made as a Trump-inflamed right-wing mob was invading the Capitol -- did she reference "frustration" at "having failed" to remove Trump from office. Nor was her ripping up her copy of Trump's 2020 State of theUnion address a sign of her being "enraged" (let alone having any conceivable link to her desire to punch him); it was simply a response to Trump's divisive speech.
It wasn't until the ninth paragraph of his article that Unruh finally got around to reporting the proper context of his remarks -- and even then, he was desperately spinning the violent riot Trump inspired:
Pelosi's threat came as Trump was holding a rally nearby. Trump had said he would join the crowd to march to the Capitol to protest the election processes, but Secret Service objected and the president did not go with the crowd.

A few hundred from that crowd eventually turned to rioting, breaking windows and doors and doing other vandalism at the Capitol. Hundreds of people have since been arrested, many with SWAT raids on their homes in the early morning hours, and they've been charged with offenses like trespassing and parading.

Pelosi's special committee, partisan because she refused to seat GOP members nominated by the minority party, has worked to obtained statements and evidence that suggest Trump's liability for actions that day.

However, there's been no provision for cross-examining any witnesses, who were chosen by anti-Trump members of Congress exclusively. The committee also refused to look into any liability on the part of Pelosi, who as speaker is partly responsible for the security of the Capitol, after she refused Trump's offer of National Guard troops to be on hand that day.

[...]

n fact, Trump pointed out Pelosi's failure to seek protection for the Capitol.

"Why didn't Crazy Nancy Pelosi call out the 'troops' before January 6th, which I strongly recommended that she do. It was her responsibility, but she 'didn't like the look.' Crazy Nancy failed the American People!" Trump wrote Thursday afternoon.
In fact, Trump never signed an order to deploy National Guard troops that day, so Pelosi could not possibly have turned it down.
Unruh then turned this into a kitchen-sink article of Trump's (and, thus, his own) grievances, complete with whining about the purportedly stolen election and how Florida Gov. Ron DeSantis was criticized for threatening Anthony Fauci, declaring that that someone "needs to grab with little elf and chuck him across the Potomac." Unruh offered no evidence that Fauci ever put DeSantis' life in jeopardy the way Trump put the lives of Pelosi and other members of Congress in danger by formenting a riot.
Posted by Terry K. at 5:38 PM EST
Updated: Friday, November 18, 2022 5:40 PM EST