MRC Whines Durham's Latest Trial Wasn't Being Covered -- But The MRC Largely Ignored It Too
Topic: Media Research Center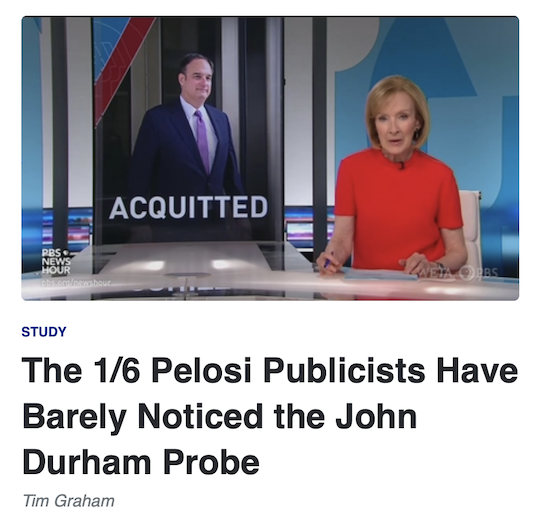 The Media Research Center has spent months desperately trying to portray special counsel John Durham as the anti-Mueller who was investigating the investigators and doing Donald Trump's dirty work in trying to blame the 2016 Hillary Clinton campaign for purpotedly spying on Trump's campaign. Tim Graham played whataboutism with coverage of the House committee looking into the Capitol riot -- which the MRC repeatedly insisted wasn't real news -- in an Oct. 13 post:
ABC, CBS, NBC, PBS, and NPR are all expected to air live coverage of the last hearing of the Pelosi-picked panel investigating the January 6 riot. This is the ninth hearing (two of them in prime time) that these networks have provided hours of free publicity to Pelosi and the Democrats, who are using today's hearing to raise funds inthe midterms.

Meanwhile, special counsel John Durham is trying Igor Danchenko in federal court, which none of these networks has covered on air this week. To illustrate the lack of network interest, we searched the name "John Durham" in the Nexis search engine from January 20, 2021 through October 12, 2022.

ABC: One story by Pierre Thomas.

CBS: Two anchor briefs.

NBC: Two stories and one brief mention in a February 21 story on the Merrick Garland confirmation.

PBS NewsHour: Two stories and one anchor brief.

NPR: Four stories and one brief mention in its story on the Merrick Garland confirmation.

Contrast that pittance to 18 or more hours of live January 6 Committee television each.
Funny how Graham didn't mention Fox News at all -- presumably because it doing so would show just how far to the right it is in obsessing even more over Durham than the MRC does. But you know who else has been ignoring Durham in recent months? Graham's employer.
Until this post, NewsBusters hadn't mentioned Durham since June 4, when Clay Waters grumbled that the New York Times accurately pointed out that Durham was trading in right-wing conspiracy theories in the wake of his failed prosecution of Michael Sussmann. Yes, Graham whined about that too, with even more whataboutism:
When the networks have reported on Durham, it was to characterize him or conservative media coverage as a failure. In February, PBS brought on an award-winning trash-talker. The New York Times wrote that the entire narrative appeared to be mostly wrong or old news, and its conclusions based on a misleading presentation of the facts or outright misinformation." At the same time, NPR's All Things Considered carried the online headline "The John Durham filing that set off conservative media, explained."

In May, ABC's single report focused on Clinton lawyer Michael Sussman being found not guilty of lying to the FBI. Pierre Thomas proclaimed: "It was the first trial of a case brought by the man handpicked by Donald Trump's attorney general to examine the origins of the FBI's investigation into Trump's possible ties to Russia. But tonight, a Washington jury handing special counsel John Durham a stinging defeat, acquitting a lawyer with ties to Hillary Clinton's campaign of charging that he lied to the FBI."

Liberals could consider the Mueller probe a failure, because it failed to find Trump-Russia collusion or lead to Trump being indicted. Rich Noyes of the Media Research Center found that from January 20, 2017 through July 20, 2019, the evening newscasts at ABC, CBS, and NBC alone devoted an astounding 2,634 minutes to the Trump-Russia narrative.
In fact, the Mueller investigation indicted 37 people, including five Trump associates, many of whom struck plea deals or were found guilty in court. Most people would call that prosecution record a success -- and a far more successful one than Durham's.
So you'd think Graham's whining would indicate that the MRC would serve up its own intensive coverage of Danchenko's trial, right? Wrong. Not only did NewsBusters ignore it, so did its "news" division CNSNews.com (which, like its MRC parent, did parrot right-wing spin after the Sussmann acquittal). The only coverage it provided was an Oct. 12 article by Craig Bannister focused on one witness' testimony that "the FBI had offered ex-British intelligence agent Christopher Steele a $1 million "incentive" to corroborate the unfounded Steele Dossier allegations against former President Donald Trump." When Dahchenko was acquitted just like Sussmann was, CNS reported nothing.
Meanwhile, the site for which Graham serves as executive editor censored Danchenko's acquittal for five days, and it mentioned Durham just one more time since then, in an Oct. 23 item by Waters whining once again that the Times pointed out Durham's record of failure:
New York Times legal reporter Charlie Savage and the paper's official fact-checker Linda Qiu teamed up on Wednesday's front page to cover the acquittal of Igor Danchenko for lying to the FBI in "Russian Analyst for Trump Dossier Acquitted of Lying to the FBI." (Biden apparently makes no statements the paper finds worthy of fact-checking, judging by how many non-fact check bylines Qiu has shared lately.)

For the Times, it was a golden opportunity to again bash special counsel John Durham's investigation into how the FBI pursued the alleged Russia ties of former President Trump.

[...]

The Times enthusiastically pushed special investigator Robert Mueller's investigation into Trump-Russia collusion that resulted in zero charges against any Trump associate for criminal conspiracy. Now it is reveling in the failure of the Durham inquiry into the very partisan origins of Mueller's investigation.

Legal reporter Savage saw a politicized case at every turn:

[...]

Savage had the audacity to suggest it was the Durham investigation, not the FBI's actual deceit, that had possibly "damaged national security" by pursuing charges and thus discouraging people from speaking up in future.
Unsurprisingly, Waters offered no real evidence to back up those claims, nor did he prove that Durham's probe wasn't politicized.
Posted by Terry K. at 2:34 PM EST