Newsmax Forced To Spin Away Trump's Insult of DeSantis
Topic: Newsmax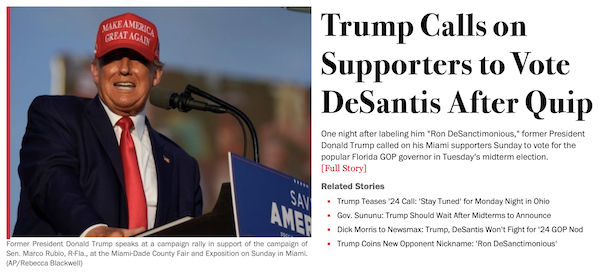 Newsmax did its usual servile stenography for Donald Trump on his Nov. 5 pre-election rally in Pennsylvania for Senate candidate Mehmet Oz, courtesy of writer Eric Mack:
All of these articles made sure to note that Trump's rally "aired live on Newsmax." But Mack did one other article on the rally -- but he had to go past his usual stenography to help Trump:
Former President Donald Trump dropped a nickname on Florida GOP Gov. Ron DeSantis Saturday night — and the crowd went wild.

"We're putting them up," Trump told his Latrobe, Pennsylvania, crowd at his Save America rally, which aired live on Newsmax, as he showed the latest 2024 hypothetical presidential polls. "We're winning. We're winning big, big, big in the Republican Party for the nomination like nobody's ever seen before.

"Let's see: There it is: Trump at 71%. Ron DeSanctimonious at 10%. Mike Pence at 7% — oh, Mike's doing better than I thought. Liz Cheney, there's no way she's at 4%. There's no way. There's no way, but we're 71% to 10% to 7% to 4%. Ted Cruz is doing a good job, by the way, he didn't like me for a while, but we got to be friends."

Trump famously trolls his political rivals and DeSantis was no exception: This one targeting the very popular Florida governor Trump had once endorsed as a House member and the next governor of his new home state using the word sanctimonious.

To date, Trump has held off criticism of DeSantis — and held off making an official 2024 presidential campaign declaration.

[...]

Trump's mocking nickname of his longtime ally comes on the eve of a Save America rally in Miami on Sunday (starting at 5 p.m. ET on Newsmax). Trump will be stumping for Florida GOP midterm candidates, but notably DeSantis will not be there.
That last paragraph identified a sore spot that Newsmax needed to treat tenderly. An Oct. 26 article by Brian Pfail noted thatTrump "will hold a third rally for Florida Sen. Marco Rubio just ahead of the midterm elections" but "did not include Florida Gov. Ron DeSantis," adding that "The Florida governor is regularly second to Trump as the most popular potential presidential contender for 2024."
So Mack was forced to help Trump walk back that "DeSanctimonious" remark in one article on the rally, downgrading the insult to a "quip" while also advancing a stealth slight:
One night after labeling him "Ron DeSanctimonious," former President Donald Trump called on his Miami supporters Sunday to vote for the popular Florida GOP governor in Tuesday's midterm election.

[...]

Trump's "DeSanctimonious" quip in Latrobe, Pennsylvania, made headlines, but he did not repeat it stumping for Republicans in Miami less than 24 hours later.

He was specific, however, to say he was stumping for Rubio in Miami, making a rare call in saying it was his rally.

"Is there any better place to be than a Marco Rubio rally?" Trump said, eschewing his usual "Trump rally" cry. "This is a Marco rally. We've got to make sure you win big against a radical-left crazy person — one of the worst."
Mack and Jeremy Frankel served up the requisite Trump stenography elsewhere: Trump Teases '24 Call: 'Stay Tuned' for Monday Night in Ohio.
Mack did more cleanup in a Nov. 7 article on an election-eve Trump rally in Ohio: "When showing the 2024 presidential polls, Trump passed on repeating his 'Ron DeSanctimonious' moniker, calling Florida's governor, most carefully, Ron DeSantis this time. There's been much speculation that the two may wind up competing for the party presidential nomination."
Meanwhile, as we noted, Newsmax columnist Michael Dorstewitz fretted over the "DeSanctimonius" slight, complaining that "There's no need and little reason to draw the blood of other Republicans." On election day, a video report by Leonardo Feldman emphasized that Trump voted for DeSantis that day, and an election-night article by Theodore Bunker made sure to note that "Although Trump recently mocked the governor as 'Ron DeSanctimonious' during an appearance at a Pennsylvania rally, he said on Monday that there is no 'tiff' between them."
Even after the midterms, Newsmax stayed in cleanup mode. A post-election Nov. 9 paywalled article by Marisa Herman framed the insult as merely "only the latest in a long line of biting nicknames that Trump has used to brand his political and personal foes – with many of the monikers proving to have staying power." Mack returned for a Nov. 10 article that featured Trump using the insult again on social media, which required even more spin:
Former President Donald Trump's promised announcement is still on for Tuesday — and Florida GOP Gov. Ron DeSantis has not said a thing — but the salvos are flying already.

Trump blasted the media for being "all in" on to trying to foment primary challengers, and "Ron DeSanctimonious" for lacking loyalty after Trump claims he pulled the governor across in finish line in 2018.

"Ron DeSanctimonious is playing games!" Trump wrote in a Save America statement Thursday night, posted to Truth Social. "The fake news asks him if he's going to run if President Trump runs, and he says, 'I'm only focused on the governor's race, I'm not looking into the future.' Well, in terms of loyalty and class, that's really not the right answer."

[...]

Trump laments DeSantis' unwillingness to publicly back off a 2024 primary campaign, allowing the media to foment more ways to attack him.
A Nov. 12 article by Mack featured Newsmax TV host Greg Kelly portraying the insult as both no big deal and totally justified:
The media, and even conservative media, is "getting it all wrong and overreacting" to former President Donald Trump firing salvos against Florida GOP Gov. Ron DeSantis, according to >Newsmax's Greg Kelly.

"All right, calm down, everybody — they don't know what they're talking about," Kelly said in his Friday night "Greg Kelly Reports" opening monologue. "Going after Ron DeSantis? You call this an attack?"

"This is child's play, what's happening between the DeSantis and Trump right now, and it's also politics. It's no big deal."

[...]

The "Ron DeSanctimonious" nickname is not only harmless by political standards, but it is fitting, according to Kelly, after a Florida gubernatorial campaign ad suggested DeSantis was delivered to Florida by the hand of God on the eighth day.

[...]

"Whoa! Whoa! He's the governor of a state, relax, all right?" Kelly said after playing portions of the sanctimonious campaign ad. "And there's a lot of politicking and glad handing. Easy there, please.

"I mean, 'DeSanctimonious' that totally works."
Mack was spinning for Trump once more against DeSantis in a Nov. 17 article:
While major media has been billing Florida GOP Gov. Ron DeSantis as a threat to former President Donald Trump in the 2024 GOP primary field, the latest Politico/Morning Consult poll taken just after the election still shows Trump holding a large lead.

Morning Consult's poll has Trump as a 14-point favorite over a very large field of potential candidates.

Trump made his official 2024 presidential campaign declaration Tuesday night at Mar-a-Lago in an address that aired live in its entirely on Newsmax. Other networks, including Fox News, cut away from Trump's speech at times.

[...]

Results such as these in past polls were read by Trump during a Saturday, Nov. 5 Save America rally in Pennsylvania when Trump coined the controversial term "Ron DeSanctimonious."
Do you think writers like Mack get tired of promoting just how much in bed their employer is with Trump?
Posted by Terry K. at 1:01 AM EST
Updated: Wednesday, November 30, 2022 7:50 PM EST