CNS Promotes Walsh's Anti-Transgender Film, Censors Criticism Of It
Topic: CNSNews.com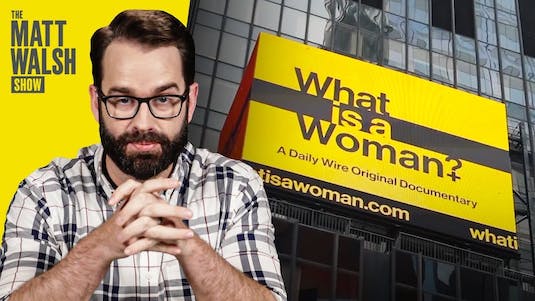 We've noted how CNSNews.com likes to promote the notoriously homophobic Matt Walsh -- while censoring the fact that he traied to deceive transgender people into appearing in his anti-transgender film by falsely promoting it as a pro-transgender work. When the film came out,CNS gave Walsh promotion. In a June 2 article effectively attacking President Biden for standing against right-wing hate of LGBTQ people, Stephanie Samsel gave right-winger hater Walsh a platform:
Some conservative commentators, such as Matt Walsh, have criticized the liberal notion that one's gender may not be the same as one's biological sex. Walsh's new documentary "What is a Woman?" challenges the claim that gender is a social construct by exposing its proponents' inability to define "men" or "women."

"I have been told... that a woman is anyone who identifies as a woman. But that definition doesn't work because you can't use the word you're defining in the definition," Walsh's commentary at The Daily Wire reads.
Samsel also embedded a tweet by Walsh promoting his film.
Intern Lucy Collins was tasked with giving it favorable promotion in a June 13 "news" article, narrowly focusing on one claim made in the film:
A new documentary, What Is a Woman? examines sexual identity and reveals that some doctors encourage puberty blockers in "transgender" children, including a drug that is used to sterilize some sex offenders.

Although the puberty blockers apparently can be reversed, even The New York Times reports that "more research is needed to fully understand" their impact "on certain patients' fertility," and that little is known of the "drugs' lasting effects on brain development."

In What Is a Woman? author and conservative commentator Matt Walsh of The Daily Wire interviews numerous experts, academics, and average citizens about sexual identity, asking the question, "What is a woman?"
Note the benign description of Waslh as merely an "author and conservative commentator," which hides the virulent hatred of his anti-LGBT ranting,. Collins also did not mention the controversy of Walsh trying to deceive transgender people into appearing in the film and falsely portraying it to them as pro-transgender.
Collins also censored any criticism of Walsh's film, en though there is plenty of it out there, detailing the film's misinformation and falsehoods. As one critic summarized:
With his film, Walsh clearly did not set out to honestly seek answers to a perplexing question, even if they are complex. Instead, he started with a conclusion and then sought out sources to support that conclusion, no matter how dubious the source, making this film an exercise not in honest truth-seeking but rather motivated reasoning. In making this film, Walsh not-coincidentally fueled the flames of conservative pundits and internet trolls to further mock and degrade trans people using fake experts, bad science, false equivalences, conspiracy theories, and blatantly false claims to reach his predetermined conclusion.
Ironically, a few days earlier, CNS published a column by Ben Shapiro, whose Daily Wire financed Walsh propagenda piece, touting how the film "has been the single largest success in the history of The Daily Wire" and complaining that the film was being ignored outside his right-wing, anti-LGBQ bubble and receiving only "insults and declarations of preemptive hatred" instead, which led to a rant aboiut how, allegedly, "Democrats have siloed themselves into an increasingly progressive universe, one in which the most controversial imaginable propositions are utterly uncontroversial. In this universe, the other side doesn't exist." Of course, Shapiro is doing the same exact thing by strategically denying there's anything controversial about his employee's propganda piece or even that it's propagand at all.
Collins is following in those same footsteps by cenoring the controversy surrounding Walsh's film and presenting the information in it as not coming from a position of bias and hate. It's another example of how CNS has failed to serve its interns this summer by letting them promote fake news and right-wing talking points instead of being made to engage in actual journalism.
Posted by Terry K. at 12:00 PM EDT
Updated: Sunday, August 21, 2022 12:06 PM EDT