MRC's Jean-Pierre-Bashing, Doocy-Fluffing Watch
Topic: Media Research Center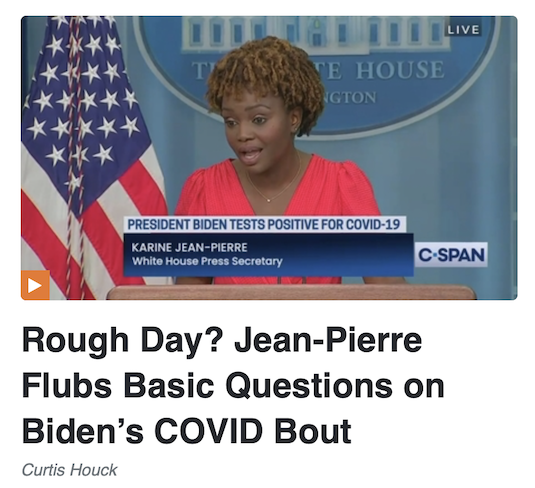 Curtis Houck spent his writeup of the July 18 White House press briefing cheering that right-wing reporters pushed their biased narratives -- and, of course, keeping up his narrative of smearing Karine Jean-Pierre as an incompetent diversity hire:
During Monday's White House press briefing (which was the first in six days due to President Biden's Middle East trip), White House Press Secretary Karine Jean-Pierre and National Economic Council (NEC) member Jared Bernstein would have emerged unscathed if it weren't for tough questions from Peter Doocy, James Rosen, and Philip Wegmann about gas prices, inflation, and the Vice President comparing the end of Roe to slavery.

Wegmann had the first track of this trio, asking Bernstein a simple question of whether there's "an estimate for how much the administration's regulatory changes have combated or contributed to regulation — to inflation."

Bernstein insisted they've "been talking about a lot of that already" with "the E15 ethanol waiver" and release from the Strategic Petroleum Reserve having been benefits, but he otherwise ignored the question.

[...]

Skip ahead to Jean-Pierre's latest attempt at trying to not embarrass herself, she did her best "the dog ate my homework" impression as Doocy asked whether President Biden agreed with Vice President Harris that ending a supposed nationwide right to abortion was akin to slavery[.]

[...]

After an exchange on whether Jean-Pierre herself heard President Biden ask the Saudi Crown Prince about the murder of Washington Post columnist Jamal Khashoggi, Doocy zoomed out: "[U]ltimately, we get back from this trip, there's no new peace talks in the Middle East, there's no new commitment to increase oil production in the Gulf, so what was the point of this trip?"

Like the lazy press secretary that she is, Jean-Pierre replied that she "just read out earlier, Peter, of all of the things that had occurred," including the acknowledgment that the Middle East is "a critical region" worth visiting.

Doocy wasn't impressed: "Why not insist on a commitment though? He gets back with no commitment, and the price of oil per barrel shot up. Is that what the President wanted, to go there and have the price of oil get more expensive?"

Jean-Pierre again trotted out the line about "34 straight days" of lower gas prices, but Doocy returned fire with the hard truth about how prices remain crippling[.]
For the July 19 briefing, Houck switched tactics and cheered that Jean-Pierre was being his "from the left" (of course, any reporter who's not as far right as Doocy, Rosen and Wegmann is on "the left" as far is Houck is concerned):
With scorching heat across the globe and the climate change drumbeat ramped back up, the White House press corps acted in kind during Tuesday's briefing as they repeatedly grilled Press Secretary Karine Jean-Pierre and senior adviser John Kirby from the left by demanding the administration do more to force through their side's far-reaching agenda.

CNN's Jeff Zeleny went there first, trying to appeal to Kirby's ego by boasting that he's "long talked about how climate change is a national security issue for the country."

[...]

Moving ahead to Jean-Pierre's portion, the Associated Press's Will Weissert opened her Q&A with climate: "It doesn't look like we'll be getting a climate emergency announcement this week. I want to make sure that's still on the table and I wanted to ask if the White House has any concerns that the President might be relying on executive action too much."

The Washington Post's Ashley Parker was also on the case, plainly stating her complaints:"First, why did the White House decide that tomorrow is not the day to declare a climate emergency?"
After Jean-Pierre said Biden's "going to do everything that he can to take action" to thwart the "climate crisis" (so thwart the rising seas, stop major hurricanes, etc.), Parker followed up: "If and when it does happen, can you talk a little bit about what specific tools it would then give the administration and what specifically you would use it for and do?"
Houck dished out more hatred of Jean-Pierre in his writeup of the July 21 briefing:
Thursday wasn't supposed to feature a White House press briefing due to a presidential visit to Pennsylvania, but President Biden's positive COVID-19 diagnosis meant Press Secretary Karine Jean-Pierre was thrown before the press corps and, like most stays, she stepped on plenty of rakes.

Over the course of the briefing, she failed to answer and scoffed at basic questions about how the President contracted the virus, whether she herself is a close contact, and why the administration has kept Biden's personal physician from reporters. And worse yet, the questions came from reporters across the ideological spectrum.

The hits came early from a reporter in the Associated Press seat, who had perhaps the most benign question of the briefing: "Where exactly was the President infected?"

[...]

The Washington Post's Ashley Parker was also in this camp as she inquired about "[w]hat precautions did you take for the person who filmed" a short video of President Biden on the White House balcony updating the public on his positive test.

Jean-Pierre actually answered this question well, saying the person "wore an N95 mask," was six feet away from Biden, and that it was safe because it was taped outside.

Going back to the nonsensical answers, The Wall Street Journal's Catherine Lucey drew out a rather silly response when all she wanted to know was Biden's testing regiment [sic].
If Houck can't get his own words right -- or have a copy editor who can d o that for him -- perhaps he's in no position to constantly attack Jean-Pierre.
Posted by Terry K. at 8:02 PM EDT