MRC's Jean-Pierre-Bashing, Doocy-Fluffing Watch
Topic: Media Research Center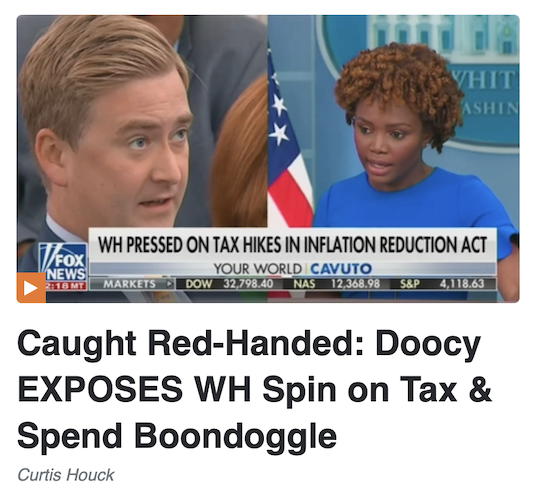 The Media Research Center's Curtis Houck began another month of smearing White House press sedretary Karine Jean-Pierre -- and fluffing Fox News' biased Peter Doocy -- with an orgy of Doocy-fluffing over the Aug. 1 briefing:
On Monday afternoon, reporters saw John Kirby emerge yet again for the White House press briefing as chaperone for the incoherent and stammering Press Secretary Karine Jean-Pierre and while there were some tough questions for Kirby on House Speaker Nancy Pelosi's (D-CA) rumored trip to Taiwan, Fox's Peter Doocy made Jean-Pierre crumble on the so-called Inflation Reduction Act that, according to some estimates, raise taxes on low and middle-class Americans.

As he often does, Doocy began with a basic question: "Is President Biden thinking about pulling his support for the Inflation Reduction Act?"

A confused Jean-Pierre said "no," so Doocy explained why he asked what he did: "Because he promised it wasn't gonna raise taxes on anybody making less than $400,000 a year, but the Joint Committee on Taxation says that is not true."

Jean-Pierre maintained "that is incorrect," so Doocy pressed once more: "So, the Joint Committee on Taxation, which you guys heralded as an effective body when you were selling the infrastructure package, is not to be trusted here?"

Like many of the Biden administration's spending proposals, Jean-Pierre insisted the JCT was wrong because their analysis was "incomplete" and "omit[ted] the actual benefits that Americans would receive" on energy and prescription drugs.

[...]

Doocy pivoted with the timing remaining to see why the White House hadn't responded to a provocative threat from a Communist Chinese government official that they would shoot down Pelosi's plan if she were to visit Taiwan.

Given her ineptitude, Jean-Pierre initially said she had "not seen those reports" before condemning it as "unnecessary" since "there's no change in the One China policy."
Houck went the Doocy-fluffing route again against another Biden official for the Aug. 2 briefing:
As he did on Monday (and numerous times before that), National Security Council spokesman John Kirby helmed much of Tuesday's White House press briefing to assist the inept Karine Jean-Pierre, but there were was still some tough exchanges and softballs. Of course, Fox's Peter Doocy was in the middle of it as he battled Kirby over the inevitability of Afghanistan returning to its place as a safe harbor for terrorists following last year's disastrous U.S. withdrawal.

"John, something you've just said is not consistent with what we were told last year. You're saying that you've always known there was a small number of al-Qaeda in Afghanistan. President Biden said, 'What interests do we have in Afghanistan, at this point, with al Qaeda gone,'" Doocy began.

Kirby conceded that al-Qaeda hasn't been "playing a major role," but they nonetheless "had a presence."

As he often does, it was Doocy's second question that upped the heat: "So, we know that the Taliban was harboring the world's most wanted terrorist. You guys gave a whole country to a bunch of people that are on the FBI Most Wanted list. What did you think was going to happen?"

With less first-hand experience with Doocy (though the Pentagon press corps are tough and professional), Kirby stammered, insisting he'd "take issue with the premise that we gave a whole country to terrorist groups."

Before Kirby could finish, Doocy hit again: "The Taliban was harboring the world's number one terrorist. How is that not giving a country to a terrorist-sympathizing group, if not giving them permission to have terrorists just sit on a balcony?"
For the Aug. 3 briefing, Houck amped up his narrative of Jean-Pierre as an incompetent diversity hire (and, of course, amped up his Doocy-fluffing):
Early Wednesday afternoon, White House Press Secretary Karine Jean-Pierre decided to face reporters solo for a press briefing, doing so for only the 14th time out of her 41 briefings since taking the top job. And, as part of this hapless endeavor, she faced questions from both the left and right on abortion with the Biden administration set to expand the funding for abortions s well as House Speaker Nancy Pelosi's (D-CA) visit to Taiwan.

Fox's Peter Doocy used his time to press Jean-Pierre on the latter topic, starting with this quip that left Jean-Pierre chuckling about his word choice: "How come Republicans seem more jazzed about Speaker Pelosi's trip than the President?"

"You're going to have to ask Republicans. 'Jazzed?' Do they have jazz hands, Peter," Jean-Pierre replied, adding in her attempt at some parental humor.

[...]

Doocy kept pressing, wondering why it's "so hard for the President just to say, 'she's a brave trailblazer, and I think it's great that she went,' like so many others" have, but Jean-Pierre followed John Kirby's lead in sidestepping any attempt to praise Taiwan, insisting Biden views Pelosi in a broad sense as "a great trailblazer."
Kirby was once again the target of Houck's ire (and Doocy-fluffing) for the Aug. 4 briefing:
A longtime diplomatic and military spokesman in the Obama and Biden administrations, John Kirby has exhibited a calm, cogent demeanor, so it was surprising on Thursday when Kirby appeared miffed as Fox's Peter Doocy pressed him on the Biden administration's posture towards China and then as Today News Africa's Simon Ateba repeatedly interrupted the briefing and demanded he be called on.

Doocy led off with a cutting take for Kirby, who joined the inept White House Press Secretary Karine Jean-Pierre for the third time in four days: "Why is it that, over the last couple of months, President Biden's been so much tougher on Russia than he is on China?"

Kirby seemed flat-footed, saying he "wouldn't agree with the premise of the question."
Perhaps Kirby thought it was a stupid quesiton given that, unlike China, Russia has been engaged in an active, unwarranted war for the last couple months. something neither Doocy nor Houck had considered. But Houck was back to his usual, tired, Jean-Pierre-bashing soon enough:
Later, Doocy had a crack at Jean-Pierre: "Based on everything that's happening in Asia right now, does President Biden consider China to be an opponent or a competitor?"

When she failed to provide a real answer besides talking points about Speaker Nancy Pelosi (D-CA) having "the right to travel wherever she wants" and that'd include Taiwan, Doocy tried again: "[W]ith the relationship moving forward, though, would he consider China a competitor or an opponent of the United States?"

Jean-Pierre didn't dodge this second attempt (even though it projected one of weakness): "[W]e want to be able to compete. We want to be able to compete with China and we want to be able to have those manufacturing jobs, investment in — in the United States and also strengthen our supply chain, make sure we strengthen our national security."
Of course, Houck thinks any answer Jean-Pierre gives is from a point of "weakness" compared with his sainted Doocy.
Posted by Terry K. at 8:21 PM EDT