Insecure? MRC Freaks Out Over Report That Pollution May Be Shrinking Men's Private Parts
Topic: Media Research Center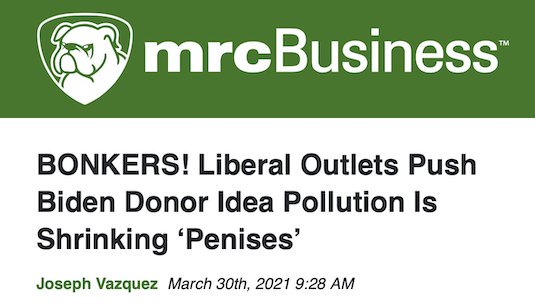 A recent study revealed that evangelical Christianity's emphasis on a certain definition of masculinity makes evangelical Christian males insecure about the size of their private parts. One has to wonder if that ind of insecurity is behind a March 30 Media Research Center post lranting about a theory that environmental pollution is causing said private parts to be smaller, because Joseph Vazquez is sure irate about it:
We've reached a point of media insanity where liberal outlets are trying to convince people that pollution causes their private parts to shrink.

Sky News, PinkNews, VICE, Business Insider and TMZ all pushed stories propagandizing a bonkers theory from a new book by Icahn School of Medicine at Mount Sinai Professor of Environmental Medicine & Public Health Shanna Swan. Swan's theory alleged that "Penises are shrinking and genitals becoming malformed because of pollution," according to the Sky News characterization. None of the outlets mentioned that Swan was a donor to President Joe Biden, according to Federal Election Commission records. Biden is planning to spend between $3 trillion and $4 trillion to juice the economy again, but "[t]ackling climate change and shifting to clean energy will underpin virtually every part of the package," The New York Times reported.

Sky News, PinkNews and VICE parroted Swan's fear-mongering that pollution-induced shrinking "penises" was an "'existential crisis,'" reflected in decreasing fertility rates. PinkNews panicked that "global warming is coming for your penis." It continued: "If that's not a wake up call, we don't know what is."TMZ sounded the eco-extremist alarm too: "And you thought a cold pool was bad ... sound the alarm!!!" Business Insider'sstory on the matter was headlined, "Boys are being born with testicles in the wrong place, and pollution could be to blame."

VICE's report was arguably the most cringeworthy. Its entire story on "Shrinking Human Penises" was headed up by an image of phallic-shaped fruit and vegetables.
Not that rather to disprove anything Swan wrote, Vazquez instead twists it into a political attack by citing a single $100 donation to Biden's campaign Swan once made -- as if that has any relevance whatsoever to the kind of research she's doing. Vaquez did, however, claim that "JunkScience founder Steve Milloy has been critical of Swan's work on the matter as recently as 2019. Not only is that also irrelevant to the matter at hand -- no evidence is cited of Milloy doing anythinbg other than whining about Swan's work -- Vazquez failed to mention that Milloy is a right-wing activist and climate denier who has received funding from polluters such as tobacco and pesticide makers.
That large-scale activism seems a lot more relevant to mention than a single $100 political donation, but Vazquez apparently doesn't think so.
Posted by Terry K. at 9:39 PM EDT