MRC's Fondacaro Heathers Alyssa Farah Griffin Again
Topic: Media Research Center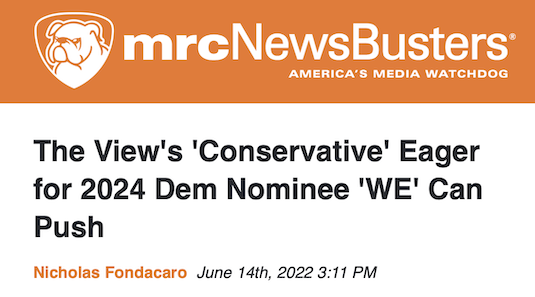 We've shown how the Media Research Center turned against occasional "View" guest host Alyssa Farah Griffin -- whose right-wing credentials are impeccable, given that her father is right-wing hater, Obama birther and WorldNetDaily founder Joseph Farah -- for committing the offense of insufficient loyalty to Donald Trump. Unlike the MRC, Farah found the Capitol riot andhis Big Lie about election fraud to be a bit of a turnoff. As this summer continued, the MRC -- mainly misoygynistic writer Nicholas Fondacaro -- continued to give Farah Griffin the Heather treatment. He sneered in a June 14 post:
Former Trump White House official-turned-self-serving sellout Alyssa Farah Griffin once again joined ABC's The View on Tuesday to commiserate about the January 6 Committee hearings and bash the party she claims to still be a part of. And at the start of a conversation about potential 2024 nominees for both sides, Griffin slipped and seemingly announced she was interested in pushing a Democratic candidate. And co-host Sunny Hostin announced her primary requirement for a candidate is that they're hot.

With co-host Whoopi Goldberg kicking off the segment by fretting that former President Trump would run again in 2024, Griffin noted that inflation, gas prices, the tumbling stock market, and his advanced age were bad news for President Biden. She soon pivoted to asking about who the Democrats would put up and flashed her interest in pushing them as her candidate.

"I'm curious. Like who are the Dems going to run? Where is like the Obama energy that we could bring?" she asked the liberal cast. She caught what she said and quickly tried to walk it back, adding, "That you guys could bring."
Fondacaro is so filled with hate for anyone who does not follow in rigid lockstep with his right-wing ideology or offers even the slightest reasonable criticism of Trump -- deviation equals treason as far as he's concerned.He's desperate to read treason into Griffin's mild comments solely as an excuse to spew hate at her. His hatred for her is so irrational that he even attacked her for something he might actually agree with, which he did the next day:
The cast of ABC's The View was in something of a panic Wednesday after several congressional primaries revealed which Republican candidates would be squaring up against Democrats in November in what's likely to be a massive red wave victory for the right. But the coven was in such denial that they aggressively shot down any mention of the red wave and completely ignored the historic win by Latina Republican Mayra Flores in a special election flipping a seat occupied by Democrats for over 100 years.

"I'm a conservative. I'm a Republican. And listening to Russell Fry who unseated Tom Rice, a principled conservative who voted to impeach Donald Trump," whined guest co-host Alyssa Farah Griffin. "But here's what I would warn. The red wave is coming. Republicans are going to win the midterms short of something unforeseen that I cannot predict now."
Fondacaro didn't mention Flores' far-right QAnon-curious leanings.
In a June 17 post, Fondacaro tried to gloat over another "View" host bashing people who worked for Trump (which Farah Griffin did):
It appears as though the likes of former Trump administration officials Alyssa Farah Griffin and Stephanie Grisham sold out their "conservative" principles for The View's blessing for nothing (not like it was worth anything to begin with). During Friday's edition of the ABC show, co-host Joy Behar lashed out at them, calling them "recovering addicts" and complaining about them coming on the show; essentially exposing how the liberal cast doesn't even want mediocre opposition on the program.

"So, I do think he needs to be commended for his actions that day," self-proclaimed Republicans and staunch Never Trumper Ana Navarro said of former Vice President Mike Pence's actions on January 6. "That does not erase four years of complicity."

That was that comment that set off Behar. "Exactly. These people who are now all, like, recovering addicts – recovering addicts in the Trump world that come on, even on this show. They come on this show, they go on other shows and they're turning on Trump," she whined.

It's obvious who she was talking about as Griffin and Grisham are part of the rotation for the "conservative" seat and are the only ones who used to work in the Trump administration. Griffin has even been on the show multiple days earlier in the week. And both are seemingly okay with relegating themselves to being punching bags for the liberal cast members.
Fondacaro added: "Griffin has been widely accused of selling out to enrich and ingratiate herself with influential people on from the left." He didn't mention that his definition of "widely" is limited to rigid ideologues like him who are unable to handle even the slightest deviation from right-wing, pro-Trump dogma.
When Farah Griffin was reportedly a candidate for a full-time slot on "The View," Fondacaro rehashed his previous attacks on her in a July 5 post:
Eager to please and be the punching bag for the Hollywood liberal cast that will never really accept her, Farah is the obvious choice when examining her performance.

[...]

And Griffin has been roundly criticized for the self-flagellation she's undergone in an attempt to receive praise from the radical leftist co-hosts. Former Trump advisor Kellyanne Conway once confronted her on the show and declared: "we're supposed to think that you've seen the light and not just see your name in lights."
Again, Fondacaro's criticisms focus more on not toeing thehard-right line, not on her suddenly becoming a Whoopi Goldberg-level liberal. And Conway is hardly a credible source of criticism, given how she has profited handsomely off her years in the Trump administration with a new book and frequent Fox News appearances; she clearly loves seeing her name in lights, even more than Farah Griffin.
Fondacaro clearly can't handle a woman who thinks for herself,and that those thoughts might be different from his, even if she's unquestionably a conservatives. That's why he's lashing out so viciously at Farah Griffin.
Posted by Terry K. at 2:56 PM EDT