CNS Promotes Anti-Transgender Study, Buries Criticism Of It
Topic: CNSNews.com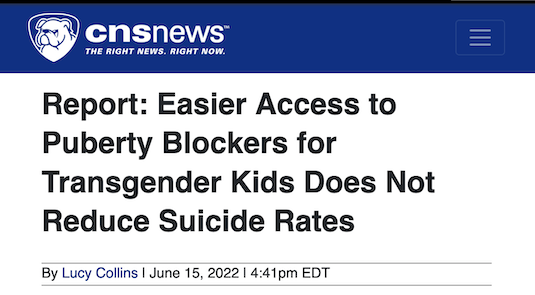 CNSNews.com gave plenty of attention to an anti-transgender study put out by the right-wing Heritage Foundation. The first step was a June 13 promotional column by Heritage's Jarrett Stepman:
State policies that allow children to access so-called gender-affirming care without parental consent have created a significant increase in suicides, according to a new Heritage Foundation study.

The Heritage study released Monday found that 2020 saw 1.6 more suicides per 100,000 residents ages 12 to 23 in states that allow minors access to puberty blockers and other gender-reassignment procedures without parental consent. (The Daily Signal, where I write, is Heritage's multimedia news organization.)

Jay Greene, a Heritage research fellow in education, found little evidence that such procedures prevent suicide. In fact, they may be fueling an increase in suicide among young people, the study finds.

A common argument of those in favor of so-called gender-affirming care is that such medical procedures prevent suicide.
Two days later, intern Lucy Collins was tasked to crank out a "news" article on the Heritage study, which sounded not unlike Stepman's column:
A new study by the Heritage Foundation, Puberty Blockers, Cross-Sex Hormones, and Youth Suicide, shows that states which give children easier access to puberty blockers and cross-sex hormones have a youth suicide rate that is 14% higher than states which require parental consent for such access.

Jay Greene, a senior research fellow for the Heritage Foundation's Center for Education Policy, released a report on June 13 claiming that when children have easier access to cross-sex medical interventions, it not only fails to decrease suicide rates, as transgender activists claim, but "is associated with a significant increase in the adolescent suicide rate."

[...]

Greene looked at the research supporting claims that increased access to "gender-affirming care" lowers suicide rates. He found that only three studies had been conducted on the link. These studies' were flawed, in Greene's opinion, because they compared suicide rates between those who were approved versus those who were denied cross-sex hormones, without factoring in that those who were denied were likely already at an increased risk for suicide as mental health is a reason for denial of treatment.

Greene saidmanother flaw was that the studies were conducted or aided by activist groups who likely only sampled those who were pleased with their gender transition.

Greene then conducted a study of his own by observing states that allow minors to access health care without parental approval and comparing them to states that do not have these provisions. Greene looked only at age groups that would be candidates for hormone blockers (12-23) during the years 2001 and 2020.

As limited data are available showing availability of cross-sex hormones to children by state, Greene looked at states with legal provisions allowing children to access routine health care without the consent of their parents as a proxy. He juxtaposed these states with those that do not have similar provisions, and thus children would presumably be less able to access these drugs.

Claims from transgender activists that increased access to cross-sex hormones should decrease rates of suicide do not manifest in Greene's data. Rather, the data show the opposite: suicide increases correlated to greater access to transgender medicine.
Despite noting Greene's complaint about research being conducted by "conducted or aided by activist groups, Collins didn't note that Greene's employer is an activist group that pushes anti-LGBTQ arguments and policies, which by his own defintion should mean his own research must be qustioned for bias. And it was not until the second-to-last paragraph of her 17-paragraph article that Collinsgot around to mentioning that Greene's study has been criticized:
His study has faced backlash on Twitter around claims that his methodology was flawed, a claim Greene has responded to, saying that although his study is not the "gold standard" due to limited data resources on the subject, it is still a "superior research design" than the studies citied by transgender activists. Greene plans on submitting his findings for peer review.
Collins could not be bothered to further detail any of that criticism, however. even though those critics have offered much more detailed criticisms , not only on the quality of the data Greene used but also that the data could not have been used to get the results Greene claimed. As Jesse Singal wrote:
In short, this data definitely cannot be used to assert that many kids obtained access to blockers and hormones without the knowledge of their parents. If Greene is making a "by Turban's logic" argument, sure, whatever — at this point, anyone who has even briefly perused the U.S. Transgender Survey data knows it's ridiculous how much Turban and other researchers are extrapolating from it. "Water from a stone" is an understatement.

But Greene's own argument does rely on the idea that fairly large numbers of kids could access these treatments without parental consent. If for a sizable chunk of that 2010 to 2020 span there was very little of this going on in much of the country, then of course it's bunk, definitionally, to point to changes in suicide trends and to not only attribute them, but attribute them entirely, to kids going on blockers and hormones.
Dave Hewitt served up his own critique of Greene's study:
The core claim is that suicides in under-24s are increasing in states that have minor access provision for healthcare and that therefore this access is the cause. One thing to remember is that - because of the difficulty of determining what access is available - the selection criteria are a proxy for access to paediatric medical transition. As such, the whole report is based on minor access to healthcare generally on the assumption that this translates to minor access to puberty blockers. But how sound is that?
But because neither Collins nor any other CNS writer followed up, CNS readers don't know that Greene's study has been seriously debunked. Indeed, it continued to promote the study: A June 22 article by Craig Bannister claiming that President Biden is forcing states to "embrace LGBTQ+ gender ideology" complained that gender-affirming care for transgender youth "is listed in the White House fact sheet as a means of "Preventing LGBTQUI+ Youth Suicide," a claim that is contrary to results of a new study conducted by the Heritage Foundation, which found that the youth suicide rate is 14% higher in states with greater youth access to GAC than it is in states where access is more limited." Bannister censored the fact that the study has been credibly debunked.
Posted by Terry K. at 1:50 PM EDT