WND Has An Anti-Trans Meltdown
Topic: WorldNetDaily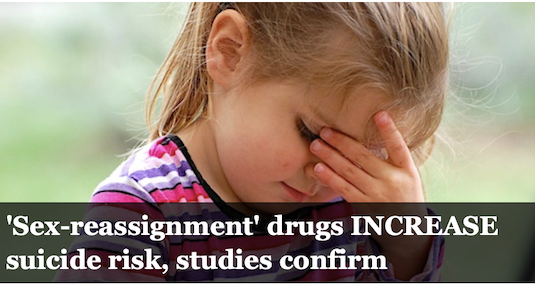 WorldNetDaily had a bit of an anti-transgender freakout a while back. Art Moore hyped a dubious study in a June 13 article:
An analysis of studies finds that contrary to the claims of the Biden administration and establishment media, lowering legal barriers to make it easier for minors to undergo cross-sex medical interventions without parental consent does not reduce suicide rates.

In fact, there are higher rates of suicide among young people in states that allow the "sex-reassignment" measures, contends Jay P. Greene, a senior research fellow in the Heritage Foundation's Center for Education Policy.

He argues that studies finding that "gender-affirming" interventions prevent suicide fail to show a causal relationship and have been poorly executed, employing methods that prevent researchers from being able to draw credible causal conclusions about a relationship between medical interventions and suicide.

"Only a small number of studies make comparisons to a control group –and those studies employ correlational research designs that do not allow causal conclusions, nor have those correlational studies been conducted properly," he argues.
As we pointed out when CNSNews.com promoted the study, critics have demonstrated that Greene's methodology leaves something to be desired; further by his own logic of discounting data from groups that are "activist" in favor of transgenders, Greene's own data should be discounted because the Heritage Fondation is an anti-LGBTQ organization. Moore left his story highly bias by not permitting any criticism of Greene's study at all or even bothering to seek reaction to it from LGBTQ non-haters.
In a June 15 article, Moore whined that the Biden administration cracked down on dubious anti-LGBTQ conversion therapy:
President Biden signed an executive order Wednesday instructing his administration to explore ways it can crack down on therapy assisting people who have unwanted same-sex attractions.

The Executive Order Advancing Equality for LGBTQI+ Individuals, the White House said, addresses the "discredited and dangerous practice" of "conversion therapy."

It also directs the Department of Health and Human Services "to help prevent LGBT youth suicide by expanding access to mental health resources."

And the order calls on HHS to "study and address the disproportionate rates of child removals that LGBTQI+ parents face, especially women of color."
Moore gathered reaction to the executive order only from anti-LGBTQ activists like Ryan Anderson, who laughably called the order "Orwellian."
Bob Unruh used a June 29 "news" article to complain about the idea that transgender people might have rights:
Democrats in Congress have announced their plans to push the divisions in American society even deeper, with a transgender "Bill of Rights" that creates provisions in the law for people based on their sexual orientation or gender identity.

The Hill reports Democrats want to build into federal statutes the Supreme Court's 2020 decision in Bostock that protects gay or transgender workers from on-the-job discrimination. Their bill would further divide those who are tolerant of another's lifestyle but don't wish to support it, and those who insisted that everyone must be "affirming."

The Bostock decision, reviled by conservatives, ordered that a funeral home management had to accommodate a man dressing as a woman while meeting with potential clients and providing company services to grieving families.
Unruh went on to rant that the Bostok decision "grant[ed] employment protections to individuals based on their sexual proclivity." He's clearly (if not deliberately) unaware that being transgender is not a "lifestyle" or "sexual proclivity."
Unruh had another anti-transgender meltdown in a July 18 article:
The campaign to normalize – even institutionalize – the transgender movement in American society has moved into uncharted territory now, with a fight developing over the study of human ancestors, those historic bones uncovered and subjected to research for race, health, diet, movement and much, much more.

The dispute also could affect the situations in which remains have been found, and research is needed to identify a potential murder victim.

The fight is because those scientists are unable to determine how that dead person identified himself, or herself, or themself, as male, female or another alternative lifestyle choice, while alive tens, hundreds or even thousands of years ago.

It is constitutional expert and George Washington University law professor Jonathan Turley who has pointed out the looming war over the issue.
Unruh didn't explain what authority a "constitutional expert" could possibly have to speak on issues of anthropology.
This all led up to the July issue of WND's sparsely read Whistleblower magazine, with the theme "What's REALLY behind today's youth transgender craze?" Unsurprisingly, WND imagines conspiracies and the usual suspects:
One obvious factor, of course, is that in today's increasingly godless, immoral and "postmodern" culture, there are simply lots of broken and deeply disturbed adults who are, right now, "teaching" America's children. This is not speculation; they publicly advertise this reality on social media sites like Tumblr and TikTok, as the Twitter account "Libs of TikTok" amply documents.

Other factors include powerful LGBT nonprofits like the Human Rights Campaign, which raises tens of millions of dollars off promoting and championing the issue. Mega-corporations like Disney have profit motives intertwined with their radical support for the left's entire "woke" agenda, however deranged. Liberal suburban parents who fear being labeled bigots, homophobes and transphobes more than death itself are easy recruitment prey for attending – with their children in tow – all manner of "pride parades," "drag-queen story hours," "kid-friendly" drag shows in gay bars, and other events featuring transgender activists.

Then there's the leftist elite's "1984"-ish obsession with compelling normal people to believe absurd things as a means of controlling their minds. As the history of totalitarianism demonstrates, it's easier for would-be tyrants to rule a once-free people if, having been pressured to embrace absurdities (in "1984" it was "2+2=5"), they are degraded and intimidated into a more broken, conflicted, polarized and confused version of their former selves.

Furthermore – and critically – LGBT issues serve as the "sharp point of the spear" which the left uses to attack America's foundational Judeo-Christian culture, which it loathes and fears. No other issue, not even abortion, serves so well as a direct attack on Christians and religious Jews as the LGBT agenda, which enthusiastically wars against the Bible's clear moral standards.

No wonder the Biden administration, totally controlled by the radical left, is so deeply invested in transgender grooming and recruitment of the nation's youth, with Health and Human Services Secretary Xavier Becerra fully supporting taxpayer-funded amputations of healthy body parts of these vulnerable children. Or as Becerra put it so ghoulishly, "We should help those have the life-affirming care that they need."

But beyond all these factors, there are still deeper, more profound and truly mind-blowing core reasons for this sudden preoccupation, this rabid insistence on grooming America's children – its most precious resource, the only hope for the nation's future – to enter the ultra-dark world of transgenderism.

Why, after all, would children with absolutely typical youthful confusion and growing-up pains be deliberately channeled in such an utterly catastrophic direction?

Here's a hint: Why do you suppose pedophiles are obsessed with sex with pre-pubescent children? There's absolutely nothing sexually attractive about little children – quite the contrary. But the pleasure derived from sexually violating little children is not so much sexual, as it is the relief and satisfaction derived from corrupting and destroying their innocence. The experience of "putting out the light" of innocence in a child is cathartic, fulfilling and psychically and spiritually relieving to the abuser, who has already lost his or her own innocence.
Ah, yes, the old hateful slur of portraying all LGBTQ people as pedophiles. Managing editor David Kupelian kept up the in his essay for the issue:
Twitter recently banned the term "groomer" as being "anti-LGBT." However, "groomer" is precisely the right term to describe those involved in today's widespread phenomenon of "gender activists" indoctrinating, seducing and flat-out recruiting American children into "identifying" as transgender.
He then rehashed hate from his book "The Marketing of Evil," in which he addressed "the high prevalence of homosexual molestation of young people." In fact, there's no evidence that LGBT people molest children any more than heterosexual people do. He concluded by ranting:
Bottom line: Those on the radical left are angry, obsessed – and arguably possessed – and have little regard for the God-given innocence of children. They prove that every day. Their abortion messaging has gone from "safe, legal and rare" a couple decades ago to openly reveling in being able to kill unborn children up to the very moment of birth, for any reason or no reason at all. They indoctrinate America's youth with toxic doctrines like Marxist "critical race theory" and corrupt them with pornography and explicit "sex education" at absurdly immature ages.
Bottom line: Kupelian thinks everyone who's not a white, right-wing heterosexual Christian like himself is evil and probably a child molester. That hate-filled attitude is one big reason why WND is failing and must constantly beg for money to stay alive.
Posted by Terry K. at 2:36 PM EDT
Updated: Wednesday, August 17, 2022 3:09 PM EDT