Gabbard's DINO And Pro-Russia Leanings Get More CNS Love
Topic: CNSNews.com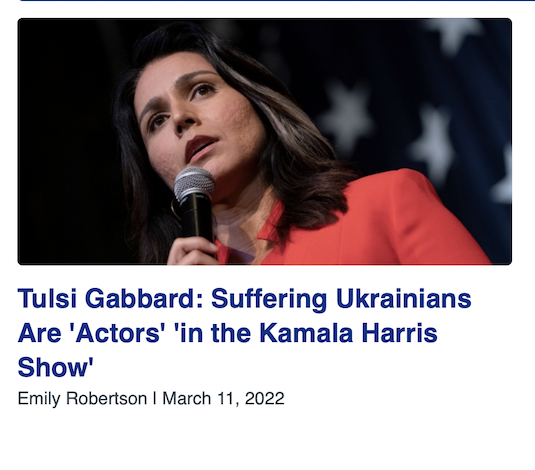 A while back, we highlighted how CNSNews.com was giving a platform to Democrat-in-name-only and Russia enthusiast Tulsi Gabbard to push anti-Biden and pro-Russia narratives. Litterally the same day we published that, CNS published a March 11 article by Emily Robertson serving up more of her schtick:
"It's all about the Kamala Harris show," former Hawaii Democratic Rep. Tulsi Gabbard told Fox News Host Sean Hannity Thursday night. "This shows that the suffering of the Ukrainian people really are just – they're actors in her– in the Kamala Harris show."

Gabbard appeared as a guest on "Hannity," grading Harris' fulfilment of the roles of vice president. Harris would receive lower than an "F" if possible, according to Gabbard, due to what she characterized as a lack of effort on issues ranging from illegal immigration to inflation and the Russia-Ukraine war.
A March 25 article by Craig Bannister let Gabbard play the victim by making the typical right-wing complaint that she was being "shadow banned: on social media:
"I've gotten some questions from people who are not familiar with the term 'shadow banning' and are asking exactly what it is. So, I want to take a minute to show you," former Democrat [sic] Congresswoman Tulsi Gabbard (D-HI) says in a video posted to social media Friday.

In the video, Gabbard shows screenshots of how her account didn't show up in an Instagram search, how attempting to "@" her account yielded a "misinformation" warning, and of how an attempt to tag her resulted in an error message saying the activity is restricted in order to protect the Instagram community.
But as Mediaite noted, her drop in Instagram traffic coincided with the banning of Instagram in Russia, where she had fans due to her anti-Ukraine rhetoric; "Gabbard has taken a hardline stance against assisting Ukraine as it fends off an invasion by war criminals. That might have turned off some of her followers." Neither Gabbard nor Bannister mentioned that relevant fact.
Bannister returned for an April 5 article that took refuge in her DINO status to let her repeat right-wing anti-LGBT arguments:
"Parental rights are under attack all across the country as the government tries to usurp parents' rights and responsibility to raise their own children," former Democrat [sic] presidential candidate Tulsi Gabbard warns in a video defending Florida's new Parental Rights in Education law.

Gabbard doesn't just defend Florida's new law, which her fellow Democrats have dubbed "Don't Say Gay," she says the law doesn't go far enough to protect children and the rights of their parents:
"We should all support the Parental Rights in Education bill that recently passed in Florida which very simply bans government and government schools from indoctrinating woke sexual values in our schools to a captive audience. A captive audience that is, by law, is required to attend.

"But, as I read the legislation, I've got to tell you, I was shocked to learn that it only protects kids from kindergarten to third grade. Third grade? What about twelfth grade? Or not at all?"
In none of these articles did Robertson or Bannister permit a dissenting voice to rebut what Gabbard said. So much for CNS' mission statement that it "endeavors to fairly present all legitimate sides of a story."
Posted by Terry K. at 12:53 AM EDT
Updated: Thursday, April 21, 2022 9:28 PM EDT