MRC Predictably Pans Biden's State of the Union Address
Topic: Media Research Center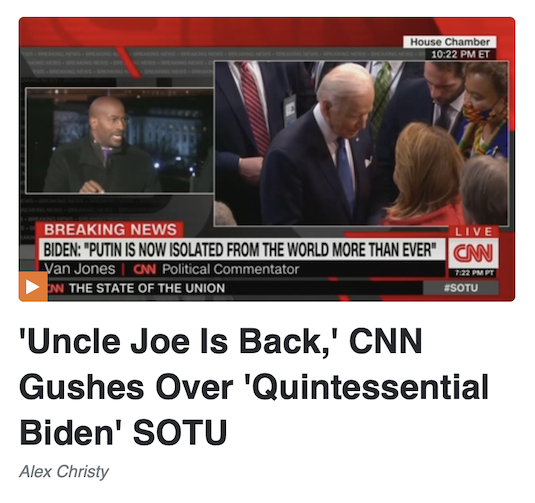 The Media Research Center's coverage of President Biden's State of the Union address was what you'd expect from a right-wing narrative factory -- lots of emphasis on denigrating Biden and trashing his address.
Nicholas Fondacaro pretended he could read the minds of people he hates, claiming in a Feb. 28 post that ABC was "lamenting that Russia's invasion of Ukraine "forced" Biden to change his speech and was "bemoaning how, 'this is going to be a very different speech than the one the President was probably envisioning, just a few weeks ago.'" He offered no evidence of how he was able to interpret a simple reporting of facts into "lamenting" and "bemoaning."
The next day, Mark Finkelstein whined that "David Frum has gone from being a speechwriter for President George W. Bush, to being a cable-news speech adviser for Joe Biden." One of those suggestions was to "try to shift the blame for inflation from Biden to Putin, and accuse any politician who dares mention inflation of hurting Ukraine!" and Finkelstein didn't like this disruption of right-wing talking points:
Nice attempted two-part Democrat spin, David! Take the inflation onus off Biden, and silence critics who hold Biden responsible for inflation.
It's not going to work, because Americans have already suffered enough inflation pain to know who is really responsible. And good luck when it comes to silencing Biden critics. Nobody's going to believe that it is "undermining" Ukraine to hold Biden responsible for his domestic failures.
Kevin Tober served up his own attempt at mind-reading in another March 1 post:
This is where the leftist media's priorities lie. On Tuesday evening, while previewing President Joe Biden's upcoming State of the Union address Tuesday, both CBS's Evening News anchor Norah O'Donnell and NBC Nightly News anchor Lester Holt worried that Russian President Vladimir Putin could potentially "upstage" Biden during his speech by launching a "deadly attack" on Ukraine.

[...]

You can bet that if a Republican was President today, O'Donnell and Holt would not be worried about the President getting upstaged. Instead, they would hope for it.
Like Fondacaro, Tober didn't explain what divine revelation he received that showed him that reporting on something equated to being "worried" about it. Or why such reporting equates to making one "leftist."
After the speech, the MRC predictably lashed out at anyone who didn't hate the speech as much as it did:
The MRC also got mad at anyone who critiqued the Republican response given by Iowa Gov. Kim Reynolds. Alex Christy groused that "CNN chief political correspondent Dana Bash defended Biden from attacks from Reynolds on his Russia record," followed by Tober huffing in a March 2 post:
The Democrat [sic] Party often wonders why it can't compete with Republicans in rural midwestern states. If they look at their favorite cable network's rhetoric they will know why that is. Moments after Iowa Republican Governor Kim Reynolds finished her response to President Joe Biden's State of the Union address, Rachel Maddow and Lawrence O'Donnell mocked her.

[...]

[Maddow] then attacked Governor Reynolds's performance:"I will say it is traditionally thought that the opposing party's State of the Union response is sometimes seen as a testing ground or maybe even a springboard to national ambitions. I don't think that will -- I don't think there's any risk of that this evening."

After that moment of incivility, Maddow thought the best person to bring on would be fellow MSNBC host Lawrence O'Donnell who is known for his vitriolic commentary.

O'Donnell attacked Governor Reynolds by bringing up a past GOP State of the Union address by Florida Republican Senator Marco Rubio:"the difficulty for this speech for Republicans and response has actually been dramatically lowered since the threshold was set by Marco Rubio. She cleared that because there were no water accidents at all. During this speech."

Attacking a female Governor from the formerly swing state of Iowa is not the way to win over rural voters.
Never mind all those MRC post attacking Biden for giving the speech. Then, Tim Graham served up another of his fact-check fails:
The CNN "Facts First" fact-checkers evaluated 12 claims from President Biden's State of the Union address but only found one of those that they would describe outright as "false." It looked like an A for effort. They sounded notably tougher on three claims from the Republican rebuttal from Iowa Gov. Kim Reynolds, and tagged one as false -- that "the Department of Justice treats parents like domestic terrorists."

CNN's Marshall Cohen claimed it was previously "debunked." It is correct that the "terrorist" language was used in a letter by the National School Boards Association, and not in official memos by the Attorney General. But the NSBA letter was requested by the Secretary of Education and they sent it to the president.
Neither of which have nothing to do with the fact that the NSBA never referred to all parents who spoke out at school board meetings as "terrorists" -- which Graham concedes. Graham failed to mention the fact that, as the CNN fact-check also noted, Attorney General Merrick Garland also never used the word "terrorist," making the claim doubly false. And as we noted when the MRC pushed this bogus narrative, only parents who made threats to school boards were the subject of concern, not all parents who ever spoke at a school board meeting.
Graham used his March 4 column to defend extremist Republican Rep. Laurent Boebert for heckling Biden during the speech:
Biden was speaking about soldiers getting cancer from serving in areas with toxic burn pits. He said "When they came home, many of the world's fittest and best trained warriors were never the same. Headaches. Numbness. Dizziness. A cancer that would put them in a flag-draped coffin. I know."

Rep. Lauren Boebert yelled "13 of them," referring to the U.S. service members lost in a terrorist bombing in Kabul during the withdrawal from Afghanistan. The Democrats booed energetically. So Biden was heckled before Beau was mentioned.

Then Biden added "One of those soldiers was my son, Major Beau Biden," and then he said "We don't know for sure if a burn pit was the cause of his brain cancer." No one asks whether Beau was anywhere near burn pits in Iraq. No fact-checkers stir.

Heckling a president during the State of the Union (especially a Democrat president) is not polite or politically smart. But the liberal journalists who were scandalized by the heckling never take exception to Biden's very repetitive citations of his son, so much it reeks of exploitation.
Note that Graham does not explicitly criticize Boebert for her heckling -- she's a fellow pro-Trump Republican, after all, and the MRC doesn't criticize their ideological peers (even if she's as much of a nutjob as Marjorie Taylor Greene).
Posted by Terry K. at 9:44 PM EDT
Updated: Monday, April 18, 2022 12:46 PM EDT