CNS Plays Gotcha On Biden, Transgender Official, And The Irish
Topic: CNSNews.com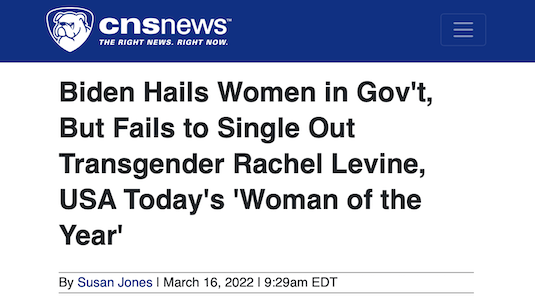 CNSNews.com loves to play gotcha with President Biden -- something it never did with Donald Trump. A March 16 article by Susan Jones is another example of this:
"Welcome to Women's History Month celebration," President Biden told a large group of mostly females on Wednesday. "We're honored to have what may well be the most inspiring event we've had at the White House so far."

In his opening remarks, the president singled out various members of Congress and his administration, even the first lady of Iceland. But -- notably -- the president did not name his male-born, transgender Assistant Secretary of Health and Human Services, Dr. Rachel Levine, who was at the gathering -- and was recently named USA Today's "Woman of the Year."
On top of that, Jones complained that "Biden began his remarks by noting that Vice President Kamala Harris was absent. But Biden mistakenly called Harris the "first lady," prompting a correction from his wife Jill, who is the first lady."
Jones continued her weird obsession with nitpicking Biden's words in a March 18 article:
President Joe Biden frequently invokes his own childhood and quotes his own parents and grandparents in the speeches he gives.

On Thursday, at a St. Patrick's Day celebration at the Capitol, Biden outdid himself, scattering two dozen references to his own family in his tribute to Ireland and his own Irish heritage.

He mentioned his "mom" once; his mother by name (Catherine Eugenia Finnegan Biden) once; his "mother," four times; his "grandmother" twice; his "dad" five times; his "father," twice; his "grandfather," once; his "grandpop" once; his great-grandfather twice (one of those time referring to his mother's grandfather); his "parents" four times; and his "great-great-grandparents" once.
Jones didn't mention in either article what the news valueof them were other than to take partisan potshots that it would never do if the president was a Republican.
Posted by Terry K. at 8:05 PM EDT