Newsmax Touts Disgraced Ex-Governor Running For Missouri Senate
Topic: Newsmax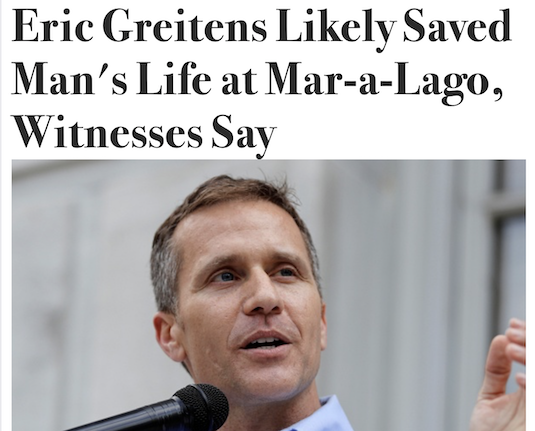 We've already noted how Newsmax columnist Bernard Kerik endorsed a fellow disgraced politician, Eric Greitens, for a Missouri Senate seat. Greitens, if you'll recall, was forced to resign as Missouri governor after allegations of an abusive sexual affair and campaign improprieties. But Newsmax has tried to rehabilitate Greitens during this campaign (ironically, not unlike the way it tried to rehabilitate Kerik after the improprieties that sent him to prison came to light).
Kerik also wrote a Feb. 26 column declaring Greitens had been "fully exonerated" (he wasn't) and that he "earned enemies by doing the right thing" (ask the woman with whom he was in an abusive relationship about that).
An April 12 article by Marisa Herman gushed that Greitens "sprang into action to help save the life of a man who collapsed near the Navy SEAL at Mar-a-Lago's beach club," adding that "In July, he helped provide first aid to two men who were shot near St. Louis University." Herman curiously made no mention of the numerous scandals that cost him his job as governor.
An anonymously written April 19 article touted how "Kimberly Guilfoyle — the former prosecutor, Trump campaign adviser, and television personality — was tapped as national chair of former Missouri governor Eric Greitens' newly launched Senate campaign." That was followed four days later by a column from Guilfoyle carrying the headline "Kimberly Guilfoyle Endorses Eric Greitens for Missouri Senate Seat" -- but didn't disclose until the very end that she works for his campaign. She spun Greitens' corruption by blaming "a crooked prosecutor, financed with PAC money by liberal billionaire George Soros," for trying to "tear down a man who was willing to expose the Missouri establishment and liberal mob."
Newsmax also gave Greitens space for a May 15 commentary in which he declared that "it was disgusting to see what happened to President Donald J. Trump during the 2020 elections" -- though he cited no evidence of fraud -- and praised the GOP-led audit of ballots in Arizona. He asserted that "in what appears to be a brazen attempt to undermine this audit, election officials deleted entire databases days before handing over computer drives. The files deleted include one labeled, "Results Tally and Reporting." If there's an explanation, let's hear it. If not, there should be significant consequences for this obstruction." As we've documented, there is an explanation: audit investigators screwed up, and the databases were never deleted. Newsmax has yet to correct Greitens' work.
Surprisingly, the most balanced coverage of Greitens has come from Newsmax writer John Gizzi. In an April 2 article, Gizzi admitted that Greitens is "highly controversial." And in a May 24 article, Gizzi pointed out that Greitens has not been as "fully exonerated" as he claims, noting that the Missouri Ethics Commission required Greitens' campaign to pay a $178,000 fine for improprieties, qutoing a newspaper editorial noting that it's "an eye-popping dollar figure from a body more accustomed to levying penalties in the $100 range." Gizzi also got other opinions beyond Greitens regarding his abusive affair with a hairdresser:
Newsmax spoke to 3 Republican House Members who served on the committee. They stood by their report, saying that Greitens' criticism of the committee was groundless.

"The witness [the hairdresser] testified under oath," said a House member who requested anonymity. "Gov. Greitens never appeared before our committee to testify under oath."
That's an unusual break from the right-wing propaganda Newsmax is largely known for.
Posted by Terry K. at 2:50 PM EDT
Updated: Wednesday, June 16, 2021 3:14 PM EDT