MRC Loves Tossing Around 'Grooming' Smear
Topic: Media Research Center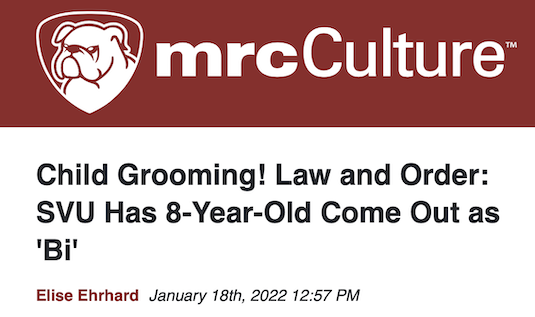 The Media Reserach Center has been tossing around the "grooming" smear about anything that doesn't denigrate the LGBT community long before thecontroversy over Florida's "don't say gay" law. Last May, for instance, Elise Ehrhard threw around the S-word while melting down over a drag queen reading a children's book on a public TV station:
Drag queens continue to groom preschoolers with the help of entertainment media and woke "educators."

This spring, a PBS Station in New York aired a drag queen storytime and sing-along with "Little Miss Hot Mess" on a program for children aged 3-8.

Lil Miss Hot Mess read her "children's book" The Hips On the Drag Queen Go Swish Swish Swish on the preschool program Let's Learn, for WNET, a New York PBS affiliate. Let's Learn is a partnership of WNET and the New York City Department of Education.
Ehrhard didn't say what the drag queen was "grooming" children for, perhaps thinking it was best to not define the term for maximum psychological horror for her right-wing audience.
In June, Veronica Hays similarly lost it over a "Pride Parade Sing-Along" posted on the "Blue's Clues" YouTube channel, in which she not only used the G-word, she hatefully insisted that LGBT people are mentally ill:
You children can sing along: "this family has two mommies" and "this family has two daddies" and "these babas are non-binary." And "Ace, BI and Pan grown-ups you see can love each other so proudly."

Won't it be fun to hear them chant, "This house is a family of kings and queens, they love each other so proudly." At last, as if to signal the completion of your child's brainwashing, the song concludes with "Love is love is love you see, and everyone should love proudly."

This seemingly innocent kid's cartoon looks like an aggressive grooming campaign. There's an astonishing level of attention to detail within each moment of the video to push blatant LGBT motifs.

[...]

Of course, if you disagree with a kid's show teaching your susceptible children that mutilating perfectly healthy bodies is okay and rejecting your God-given sexuality is right and proper, you are a bigot. Celebrating and encouraging mental illness in such a glaring manner should be enough to radicalize every person against these sickos. In the meantime, hide your kids, hide your wives, hide your husbands, and throw the TVs out.
A couple days later, Gabriel Hays lashed out at actress Stephanie Beatriz, who purported "will be grooming her new baby with LGBTQ propaganda as soon as possible" by taking it to a pride march, further huffing: "Here we go with the early indoctrination of children into the immoral sexual milieu. It's one thing for a consenting adult to choose these things, but for a kid who has no real concept of sexuality at a young age to be thrown into it is depraved." Hays didn't explain what, exactly, the "grooming" is. Later in the month, Veronica Hays returned to bash a children's show in Australia for having a drag queen on, quoting an anonymous person allegedly commenting, "This is disgusting. Little kids don't need big talks. Let kids be kids and leave the perverted grooming out of it."
Another June post, by Alexa Moutevelis, freaked out over a Washington Post op-ed writer who claimed that she hoped her children would "encounter kink" at a pride march so they can "learn about the scope and vitality of queer life": "And, there it is. She said the quiet part out loud and pretty much admitted grooming; copping to what conservatives have long feared but told their fears were not only unfounded but homophobic." Actually, Moutevelis remains quite the homophobe, since she doesn't complain about depictions of heterosexual behavior being shown to children and doesn't explain what "grooming" means in her fevered, homophobic brain.
In an August post whining about the existence of new sequel series to "The L Word," Ehrhard let her hate flag fly: "Watching The L Word: Generation Q feels like older LGBTQIA writers gasping for relevance as the child-grooming drag queens and trannies taking over women's sports (and yelling at shopkeepers) get all the pop culture attention."
The following month, Ehrhard rushed to defend Sean Hannity from a "Family Guy" quip that he "peddle[s] hate for money," huffing in response: "The attack on Hannity's views on immigration and sexual ethics particularly missed the mark considering the country is facing an immigration crisis at the border and parents are having to fight off radical LGBT grooming in schools and the larger culture."
In a Dec. 27 post, Ehrhard lashed out at actress Busy Philipps (whose name she can't be bothered to spell correctly) for the offense of having a child who "came out as a lesbian at the age of 10" and and "uses they/them pronouns": "That is what happens when your mother, an abortion-loving fanatic, grooms you for 'genderqueer' parts on Amazon Prime shows."
Even fictional children came be "groomed" in Ehrhard's hateful world. A Jan. 18 post scramed "Child Grooming!" in the headline about a TV show plot:
For a show based on the concept of protecting victims from sexual predation, you would think NBC's Law and Order: SVU would not encourage the early sexualization of children. But in the contemporary wave of Gay Inc., madness and child grooming is just "LGBTQUIA+ affirming."

Thus, in the episode, 'Burning with Rage Forever,' on Thursday, January 13, Capt. Olivia Benson's (Marisa Hargitay) 8-year-old son, Noah (Ryan Buggle) came out as bisexual.

[...]

Once again, Noah is prepubescent and as yet has little sense of what having a "boyfriend or girlfriend" means in a deeper romantic and sexual sense. The words being used by the boy in that scene don't even sound like the dialogue of an early elementary school student. It's ideological brainwashing spewing out of a vulnerable child.
Its clear that "burning with rage forever" is Ehrhard's default mode when it comes toher dealings with anyone who's not a right-wing hater like herself. It's apparently a requirement of being employed at the MRC.
Posted by Terry K. at 8:20 PM EDT
Updated: Sunday, April 24, 2022 12:58 PM EDT