MRC Has Been Mostly Quiet About OAN's Cancellation by DirecTV
Topic: Media Research Center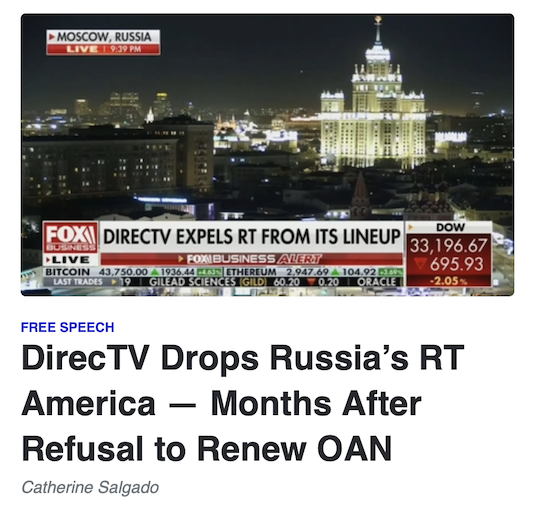 The Media Research Center has done only the bare minimum to defend far-right channel One America News from criticism against it. We noted that it touted "angry letters" from OAN to critics including MSNBC's Rachel Maddow who pointed out that an OAN staffer also worked for Russian propaganda outlet Sputnik News. (OAN later filed a libel lawsuit against Maddow that was swiftly tossed out of court, something the MRC never reported to its readers.) The MRC also had a fit earlier this year when NewsGuard -- which it's currently waging a failing war against -- rated OAN low for trustworthiness, but failed to mention the falsehoods and conspiracy theories OAN pushed that earned it that abysmal rating.
When DirecTV -- the biggest carrier of OAN -- announced in January it was dropping the channel, the MRC was surprisingly silent, even though OAN aired the MRC's shoddy, biased mini-documentary "Killing Keystone" the month before. The frist reference to it took place two weeks after the announcement was a Jan. 29 column by Jeffrey Lord when he noted it as an example of alleged censorship of conservative outlets.
The MRC didn't mention it again until a month later, as cable and satellite companies dropped Russian propaganda channel RT over the Russian invasion of Ukraine. A Feb. 28 post by Curtis Houck highlighted a NewsNation segment on RT's content while also noting that the segment "allud[ed] to the public campaign to have DirecTV drop One American News Network (which, unfortunately, was successful) and suggested that, if people spent resources kvetching about OANN having a platform, the same could happen with RT."
The MRC finally got around to bestowing victim status on OAN over its DirecTV cancellation in a March 1 post by Catherine Salgado:
While DirecTV only just dropped RT America, the satellite provider already refused to renew its contract with One America News Network (OAN), which will expire this year, Newsmax reported in January. Did DirecTV consider OAN more untrustworthy and controversial than Russian state propaganda?

[...]

The question the network didn't answer is, why would DirecTV wait to drop RT America's programming until days after Russia's invasion of Ukraine, while the satellite provider had already dropped OAN?
Lord followed up with a March 5 post noting that "In his recent speech at CPAC, former President Trump felt compelled to speak up for One America News" because of its cancellation by DirecTV, fully putting OAN into the victim sphere:
Taken all together and there is one stand out fact in the case of the American left: America's free press is under assault.

The very point of a free press and free speech in America is to allow one and all to stand up for their beliefs in the public square so they can be debated and defeated if need be.

What is happening instead is that this or that group of left-wing corporate media elites, urged on by Democrats in Congress, are removing choice from the American audience because they detest conservatives and Trump, and therefore have determined to silence both as expressed in the media.
Lord (and Salgado) didn't mention that OAN has, in fact, seen its beliefs in false reporting and conspiracy theories debated and defeated. And censoring that reality is the only plausible way the MRC can treat OANn as a victim of a liberal conspiracy instead of its own misguided (and falsely defamatory) programming choices.
Autumn Johnson joined in the victimhood game in a March 12 post on OAN suing DirecTV for alleged breach of contract in cancelling OAN, uncritically fowarding claims of a liberal conspiracy:
Texas Attorney General Ken Paxton and several other attorneys general penned a letter slamming DirecTV for dropping OAN.

They said the company initially favored "viewpoint diversity" but that all changed when Joe Biden was elected president.

"Those values appear to have changed drastically in late 2020 when the legacy media decided Joe Biden was the next president."
Like the others, Johnson said nothing about the lawsuits OAN itself faces over its false and defamatory reporting.
Interestingly, the MRC has published nothing about OAN or its lawsuit since. Even they seem to realize OAN is not worth defending aggressively.
Posted by Terry K. at 10:40 PM EDT
Updated: Tuesday, April 19, 2022 12:26 AM EDT