CNS Gushed Over Trump's Christmas Message -- But Was Slow To Report Biden's
Topic: CNSNews.com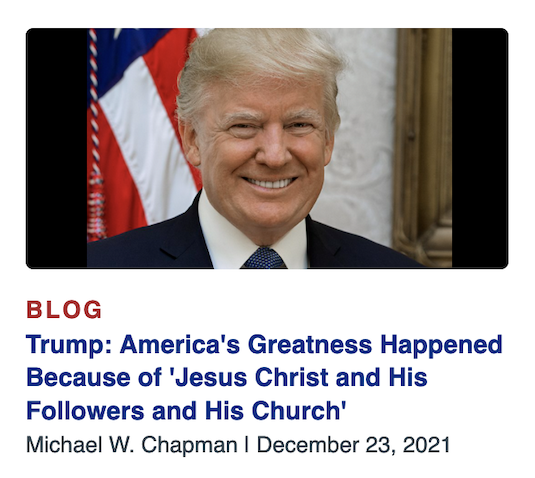 In an echo of its earlier disparate treatment of Veterans Day messages from the current and former president, CNSNews.com served up a minor version of that for Christmas. Managing editor Michael W. Chapman gushed in a Dec. 23 article:
Speaking at First Baptist Dallas church on Sunday, former President Donald Trump stressed that the great achievements in America are due precisely to the Judeo-Christian beliefs and practices of its citizens.

"[N]one of this could've ever happened without Jesus Christ and His followers and His church. None of it," said Trump.

First Baptist Dallas, founded in 1868, has an estimated 14,000 members and is headed by Pastor Robert Jeffress, 66. Jeffress served on Trump's Evangelical Advisory Board and White House Faith Initiative.

"More than 2,000 years ago ... an angel of the Lord appeared to humble shepherds and proclaimed the reason for our Christmas joy," said Trump in his remarks. "'For unto you is born this day in the city of David a Savior, which is Christ the Lord.'"

"Our country needs a savior right now and our country has a Savior -- and that's not me," said Trump. "That's somebody much higher up than me. Much higher up."
Chapman expressed no concern about Trump's speech possibly violating federal law the way CNS did a couple months earlier when Vice President Kamala Harris recorded a video to be played in churches. Nor did he mention that Jeffress is a homophobe who's also a bit anti-Semitic. (Then again, Chapman is cool with homophobia.) Chapman did snarkily add: " Commenting on Trump's remarks, Rev. Franklin Graham tweeted, 'Do you miss him? I do.'" Chapman didn't expl;ain why he, Graham or anyone else should miss the presence of a thrice-married adultererewho sleeps with porn stars in a position of high power.
By contrast, CNS' treatment of President Biden's Christmas message was much differenbt. First of all, it wasn't published until Dec. 27, two days after Christmas. Secondly, it didn't even merit a reporter's byline -- it was anonymously written.Third, it was simple straight quoting from Biden's message without editorial comment -- though, actually, that's probably a good thing considering CNS' abject loathing of all things Biden.
Still, this is yet another example of CNS treating Trump much better than Biden for doing basically the same thing.
Posted by Terry K. at 8:03 PM EST