The MRC's Ongoing Transgender Freakout
Topic: Media Research Center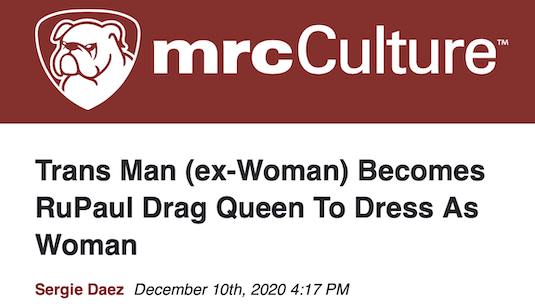 It's been well established that the Media Research Center can't stop freaking out about transgenders. Let's take a look at its most recent freakouts, shall we?
Matt Philbin lost it when the pro-breastfeeding La Leche League expressed supporting a tweet for "chestfeeding" as part of a declaration of inclusiveness, sneering that it was "an attempt to get out ahead of the trans bullies," going on to whine that the organization "blocked your humble author" on Twitter before he could link to the tweet.
The mysterious Jay Maxson huffed:
Boise, Idaho, you can kiss your inclusion in March Madness next spring good-bye. The NCAA prefers a different version of inclusion for its host sites, one that doesn't ban males from participating in female sports like Idaho does. College sports fans, trans inclusion is rolling down the tracks and little can stop it.

SB Nation Outsports reports that the NCAALGBT hasn't yet rescinded its agreement for NCAA Tournament games in Boise, but the sport's governing association is in the tank for transgenders.

[...]

NCAA postseason sports sites will only be awarded to states with the LGBT seal of approval. You may also see some very masculine dudes on college women's basketball teams in the near future. As well as some token females on the benches of men's basketball teams at Duke, Villanova and other affirming academic institutions.

Idaho is one of the few states with the guts to stand up to the unholy alliance of the NCAALGBT juggernaut, but it may get shot down in the courts.

[...]

As if social justice activism hasn't ruined people's enjoyment of sports enough, it's just a matter of when college sports become more defined by the letters NCAALGBT than by biological gender and notions of fairness.
Purporting to review the HBO film "Transhood," about transgender children, Elise Ehrhard declared that parents who allow their children to explore their gender identity are engaging in "child abuse," and added this sneering description of a transgender teen:
Fifteen-year-old "Leena" is a boy who thinks he looks and sounds like a girl because he takes hormones, cakes on make-up and dresses in feminine clothes. He decided he was a girl at age 7 after his parents' divorce. Like many male-to-female transgenders, his make-up, mannerisms and looks are so "perfect" and cliched in their hyper-femininity that it is painful to watch as a real woman. His voice is clearly the voice of a transgender individual rather than a biological woman. At the end of the documentary, Leena gets castration surgery.
This was followed by a post from Gabriel Hays cheering on right-wing attacks of HBO over the film.
Alexander Hall cried censorship when YouTube deleted two anti-trans episodes of right-wing activist Candace Owens' show for violating its anti-hate policy; Hall framed the shows as "defending traditional gender differences" and was very light on the full content on those shows. He then defended one author who wrote an anti-trans book titled "Irreversible Damage," insistring that it "is not a scathing condemnation of transgender individuals, but rather a discussion about the lifelong effects of serious medical interventions that she says are occurring 'too fast with too little oversight.'"
Lindsay Kornick took the job of writing derisively about actor Ellen Page's announcement that she is transgender and now known as Elliot Page:
In non-Corona or election-related news, actress Ellen Page has officially come out as a queer trans person. Somehow, this still isn't the most bizarre thing Page has ever said.

On December 1, Page took to Twitter to post a letter regarding this "coming out" as it were. The letter opens with the actor stating that "I am trans, my pronouns are he/they and my name is Elliot." How one can be both "he" and "they" is confusing enough, but the message continues. "He" spends a paragraph thanking and praising the trans community for their courage, generosity, and "ceaselessly working to make this world a more inclusive and compassionate place." I assume that means an "inclusive and compassionate place" unless you disagree with them.
Of course, this wouldn't be an Ellen Page screed, or rather an Elliot Page screed, if there wasn't more political posturing.

Kornick returned to complain about the TV show "Big Sky" for having a transgender character who says she knew she was transgender when she was quite young:
Most four-year-olds can barely tell you what street they live on, but Jerrie could apparently tell people s/he was a girl. Even worse, at fourteen, s/he was ready to really become a girl despite being born a boy. Considering a majority of children experiencing gender dysphoria grow out of it by puberty, this is probably the opposite message this show should send to people. That's not to mention the fact that Jerrie's definition of being a girl is liking dresses and dolls. Just last month, we were forced to claim Harry Styles could still be manly while wearing a dress, and yet Jerrie must be a girl if s/he liked them as a kid. And that says nothing of all the tomboy girls of the world.
(Yes, the MRC was quite triggered by Harry Styles in a dress.)
Ehrhard came back to grumble about the "woke gender agenda" of the "Save By the Bell" reboot, what with its "contemporary left-wing obsessions with LGBTQIA (particularly trans), race, and radical feminism," with a particular focus on a transgender character named Jamie: "Lexi has a crush on the straight male football player, Jamie. Lexi and Jamie reveal their attraction for each other and kiss at the end of the series. The viewer is supposed to pretend this is a male-female kiss. Actually, it is a homosexual relationship between two biological males, one of whom is taking hormones, dressing up in girl's clothes and 'acting' female. Lexie will never have the chromosomes or biological parts of a woman no matter what surgeons do. It is an insult to biological woman to pretend otherwise."
Likewise, Karen Townsend was quite upset that Netflix's "raunchy animated series" "Big Mouth" introduced a transgender character: "It's too bad but these days, a transgender character is the new requirement in television and online series. Every series must have a trans character to be sufficiently woke, even a show about middle school kids."
Sergie Daez's head exploded while contemplating the idea of a transgender male is competing on "RuPaul's Drag Race":
One reason why right-wingers don't like the wokes is because they make simple things extremely confusing. For instance, take gender. One is either male or female. But the wokes, with their infernal LGBTQ agenda, wanted to shake that simple formula up. Now the world has transgenderism, with transgender people being born as males, but later decide that they should actually be females, and vice versa. The premise is confusing (particularly for the sense of sight), but that's nothing compared to a person called Gottmik. Prepare to be mind-boggled.

According to thewrap.com, makeup artist Gottmik (pictured) became the first ever transgender male drag queen on the show RuPaul's Drag Race. Gottmik stated that "he" is "a trans man who is changing the face of drag."

That's not the only thing he changed. To make it entirely clear, since Gottmik is a trans man, "he" was born a woman, but now he's a man dressing up as a woman in drag.

If you find this hard to understand, don't reproach yourself.

[...]

It's guaranteed that Gottmik will win the hearts of all left-wingers while obliterating the minds of all right-wingers.
Yes, Daez's mind is clearly quite obliterated.
Posted by Terry K. at 9:32 PM EST
Updated: Friday, September 10, 2021 9:58 PM EDT