CNS Can't Stop Promoting Extremist GOP Rep (And Hiding Her Extremism)
Topic: CNSNews.com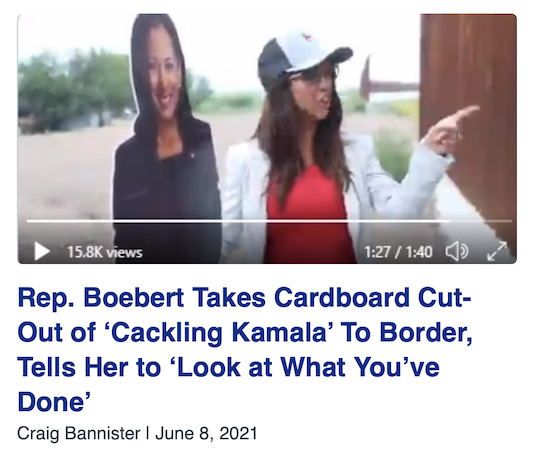 The last time we checked, CNSNews.com was happily promoting far-right Republican Rep. Lauren Boebert's goofy pronouncements without telling readers that her origin story is a lie. Meanwhile, CNS has decided that enough time has passed after the full exposure (despite CNS' best efforts to hide it) of even more extremist Republican Rep. Marjorie Taylor Greene's wacky conspiracy theories that she could be promoted again, so Boebert continues to get the fawning CNS treatment.
Craig Bannister touted a mean so-called joke from Boebert in a May 18 article:
Rep. Lauren Boebert (R-Colo.) says Americans should "Get ready for new videos of Joe Biden sniffing people to start surfacing again" – and that she's got a plan to ensure she doesn't become one of them.

"Now that the mask mandate has been lifted for vaccinated people, get ready for new videos of Joe Biden sniffing people to start surfacing again," Boebert tweeted on Tuesday.

Her solution: "I'm going to continue to social distance from him."
On May 21, Melanie Arter promoted whining from Boebert and other Republicans about mask requirements on the House floor:
Rep. Lauren Boebert (R-Colo.) and fellow House Republicans are fed up with House Speaker Nancy Pelosi's (D-Calif.) rule that all House members must wear a mask on the House floor whether they are vaccinated or not.

As CNSNews.com reported, Pelosi said Thursday that she will be guided by the attending physician, who says lawmakers and staff must continue to wear masks in meetings and on the House floor. This despite CDC guidance saying that they can forgo masks indoors.

[...]

"Everyone is just hearing about them, because we are finally ripping them off saying, 'To heck with this. Nancy Pelosi kiss my mask.' So there were many of us who actually stood and said, 'We're done with these games. You don't know more than the CDC, and if you do maybe that means COVID is more dangerous in the House of Representatives chambers than it is in the hall right outside,' because there we don't have to wear a mask and there is no fine," she said.
Arter didn't mention that Boebert is apparently refusing to geta COVID vaccine, which would help Pelosi want to lift mask mandates in the House.
Bannister returned on June 8 to promote a Boebert stunt:
Since Border Czar Kamala Harris won't visit the U.S. southern border to see the crisis unfolding, Rep. Lauren Boebert (R-Colo.) took a cardboard cut-out of the vice president there at told her to "Stand here and look at what you've done."

"I traveled down to McAllen, Texas to the Rio Grande Valley sector to see what's up at our southern border," Rep. Boebert says in a video posted to her Twitter page.
Netierh Boebert nor Bannister explained why Harris must be forced to visit the border when they would likely denounce even that move as well.
Meanwhile, CNS has yet to tell its readers that Boebert has just bought into a conspiracy theory that the Clintons caused the death of a reporter -- or any of the other extremist conspiracy theories she has latched onto, like QAnon. One might call that biased and dishonest reporting.
Posted by Terry K. at 12:59 AM EDT