CNS Gets Bored -- Again -- With Crime In Chicago
Topic: CNSNews.com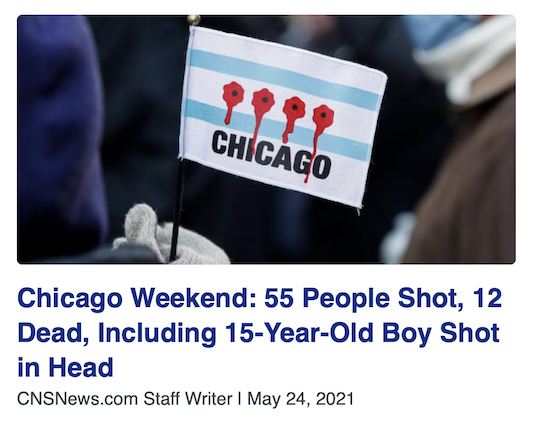 As we've noted, CNSNews.com once again renewed its sporadic interest in crime in Chicago in April, presumably in an attempt to blame President Biden -- and despite touting President Trumo's alleged success with a crime-reducing program in the city. That politifally motivated interest continued for a while longer. Managing editor Michael W. Chapman made an odd comparison in a May 18 article:
Since the violence erupted in Israel on May 10, a reported 232 Palestinians and 10 Israelis have been killed, a total of 242 victims. These people were killed primarily by airstrikes (bombing) and rocket attacks. It's essentially a war zone there.

For comparison, since Jan. 1 through May 10, at least 210 people have been killed in Chicago, most of them by gun violence. The majority of the victims are young black men, according to the Chicago Tribune.

[...]

In the year 2020, there were 774 murders in Chicago. Also, there were 3,237 shootings (which was up from 2,120 in 2019), reported The Sun-Times. (Emphasis added.)

For comparison, 27 Palestinians were killed by Israeli forces in 2020, according to Al Jazeera, and three Israelis were killed reportedly by Palestinians.
CNS went to an anonymous article credted only to "CNSNews.com Staff Writer" (but put into the system by Chapman, according to the CNS archive) for a May 24 article:
At least 55 people were shot, 12 fatally, over the weekend in Chicago, according to the local media in the Windy City. One of the fatalities was a 15-year-old boy who was shot in the head.

Nearly all of the shootings occurred in neighborhoods in the South and West sides of the city, areas that were identified by the city "last fall as 'priority community areas' where police and other resources were to be boosted," reported the Chicago Sun-Times.
And ... that was it. CNS has not devoted another article exclusively to Chicago crime since then. There were references in a couple other articles, though. A May 25 article by Melanie Arter hyped Fox News reporter Peter Doocy asking White House press secretary Jen Psaki about "the spike in violent crime in the past year" and seemingly upset at Paski pointing out that the spike began under the Trump administration. And a June 10 article touted Republican Sen. Lindsey Graham hounding Attorney General Merrick Garland over increases in violent crime (though, of course, no equal space was provided for questioning of Garland by Democratic senators).
It's quite clear that CNS cares about crime in Chicago and other big citiees only when doing so helps its right-wing political agenda. Isn't that the kind of thing that CNS' parent, the Media Research Center, loves to attack the "liberal media" for doing?
Posted by Terry K. at 10:28 AM EDT
Updated: Sunday, June 20, 2021 11:01 PM EDT