CNS Returns To Promoting Extremist GOP Rep. Marjorie Taylor Greene
Topic: CNSNews.com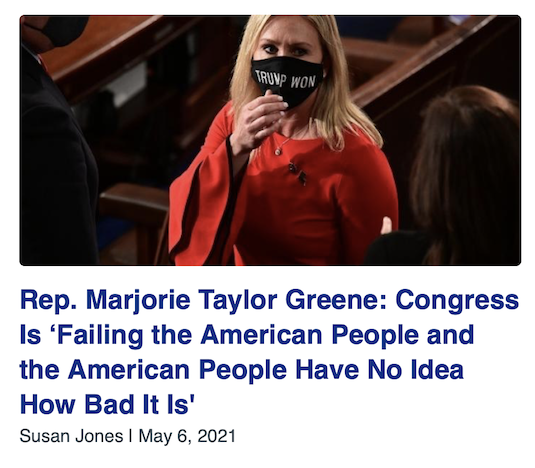 We've documented how CNSNews.com loved to promote Marjorie Taylor Greene before and after her election as a House member from Georgia without telling readers about her extreme far-right views -- admitting them only when they got too much attention to ignore. After that, CNS decided Greene was too toxic to promote and laid off her for a while. Now, it appears CNS has decided that enough time has passed, so it's touting Greene again -- and to whitewashing the controversies surrounding her.
Susan Jones began a May 6 CNS article by claiming: "Freshman Rep. Marjorie Taylor Greene, the outspoken, conservative Trump supporter from Georgia, is a pariah among lawmakers for those and other reasons." Greene's anti-Semitism, homophobia and QAnon endorsement is actually much more offensive than her support of Trump, but Jones wants to keep that fact buried under "other reasons."
Much of the rest of Jones' article is copy-and-paste from a Fox News interview in which she "returned the favor" to her critics in Congress, complaing that Congress "is a system that is severely failing the American people and the American people have no idea how bad it is" and agreeing with host Tucker Carlson that most of her congressional colleagues are "losers." Jones also summarized that "Greene said Congress should be 'accountable' to all Americans, regardless of their party."
Of course, Jones has no interest in hold Greene accountable for her actions, even as her extreme actions -- the most recent of which include stalking Democratic Rep. Alexandria Ocasio-Cortez and ludicrously comparing mask mandates to the Holocaust -- have drawn even more bipartisan criticism. She won't tell you about any of that, either.
Posted by Terry K. at 1:29 PM EDT