Caitlyn Jenner Is So Right-Wing, The Transphobic MRC Is Defending Her
Topic: Media Research Center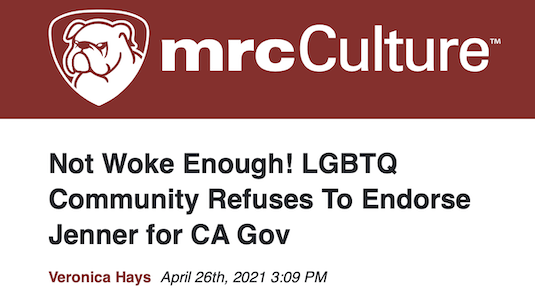 It was just a couple years ago that the viciously transphobic Media Research Center hated Caitlyn Jenner so much that a post attacking her -- promoted under a headline insulting her as a "trannie" -- was deemed so offensive that it was deleted without explanation. Now that Jenner is running for California governor as a conservative Republican, the MRC has been forced to do the unthinkable: defend a transgender woman.
It started out dismissive of her chances, of course. In a April 7 post, Tierin-Rose Mandelburg complained that "It's interesting that she thinks she is qualified for a role like governor. For crying out loud, she's never had a place in the political sphere but her drive for transgender activism as a Republican is apparently enough credibility," adding, "But honestly, when are celebrities going to stay in their own lanes?" Did Mandelburg (or anyone else at the MRC) ever say that about Donald Trump?
But as Jenner's conservative leanings became more apparent, the MRC decided she was worthy of defense, as Veronica Hays did in an April 26 post:
A celebrity with no political expertise who is also a transgender woman running for California Governor? That's a match made in heaven. But add in the inconvenient fact that she's running as a Republican and this liberal fantasy is destroyed.

On Friday April 23, Caitlin Jenner, former Olympian and Kardashian stepfather, now trans woman, confirmed her run for Governor of California. The potential election of the first trans woman Governor of California should be a shining moment for the LGBTQ community, however Jenner's conservative leanings immediately disqualified her from gaining their endorsement.

[...]

Funny how these heterosexual individuals have the gall to condescend to a trans woman and tell her what to do. Where is the moral outrage? Even worse is the hypocrisy of the LBGTQ community which prides itself on inclusivity, to disown one of their members for having forbidden political views. Truly, these people are deranged.
Um, doesn't the MRC condescend to non-conservatives and insist on telling them what to do?
In a May 1 post, Scott Whitlock complained that "The View" co-host Joy Behar "denounced the reality TV star as an inexperienced Trump stooge," adding that she also Jenner has got this "guy Brad Pascal [sic] running his campaign. ... I mean that guy was accused of using campaign funds to enrich himself." Whitlock didn't explain who Behar was referring to; perhaps that's because it was actually Brad Parscale, former manager of Donald Trump's re-election campaign, who has indeed been accused of pocketing millions of dollars from both Trump's campaign and the Republican National Committee. We can see why Whitlock wouldn't want to bring up that unpleasant history.
When Jenner strangely came out against transgender youths taking part in sports, she felt even more MRC love. Mysterious (and transphobic) sports blogger Jay Maxson complained on May 4 that a sports blogger declared that "Jenner is trash because the California gubernatorial hopeful says it's unfair for boys to compete in girls' sports." The same day, Curtis Houck lumped Jenner among "minorities who refuse to be pigeon-holed" when MSNBC's Joy Reid criticized her stance, then without a shred of irony attacked Reid as "someone whose entire show has existed to prime viewers to hate those on the opposite side the of spectrum and rage about how they are to blame for what ails the country." Houck might as well have been talking about himself.
On May 6, Veronica Hays gushed over Jenner and her right-wing views following a Fox News interview:
As if the Hollywood left didn't have reason enough to hate Caitlyn Jenner, the former man, Olympian and reality star now running for California governor gave Sean Hannity an hour-long interview on Wednesday night.

In her first exclusive interview as gubernatorial candidate, the transwoman discussed her political stances on a wide range or topics; from immigration and covid restrictions to taxes and transgender persons in sports.

When asked directly to assess Trump, Biden and Kamala Harris, Jenner told Hannity that what she liked about the former president was that he was a "disrupter," and that what Biden's doing "scares me."

[...]

Jenner was once considered a brave champion by the left after her transition but has since been ostracised by both her own LGBT community and other Hollywood elites for her past Republican affiliations and stance against biological males performing in women's sports. Her interview with Hannity has revealed her conservative vision for California and will likely face the betrayal of liberal backlash once more, perhaps even more severely this time.
Hays returned on May 11 to complain not only that comedian Sarah Silvermancriticized Jenner on her stance on transgender athletes but that Yahoo News backed her up by pointing out that the bans "are backed by no real-world evidence, with Republican lawmakers unable to give examples of this issue outside their own heads." She concluded by whing, "Will any of the LGBT community stand up for Jenner? No." Weird, Hays and the rest of the MRC hates the LGBT community whever it stands up for anything. Two days later, Hays touted how right-wing commentator Dave Rubin "ripped into comedian Sarah Silverman on Tuesday for dragging Caitlyn Jenner during her podcast," adding, "The rest of intelligent society is likely to agree."
Of course, the MRC would be trashing Jenner the way it complains "the LGBT community" is trashing her if her political views were even remotely liberal.
Posted by Terry K. at 9:37 PM EDT