CNS Feeling The Need To Once Again Exploit Chicago Crime For Political Purposes
Topic: CNSNews.com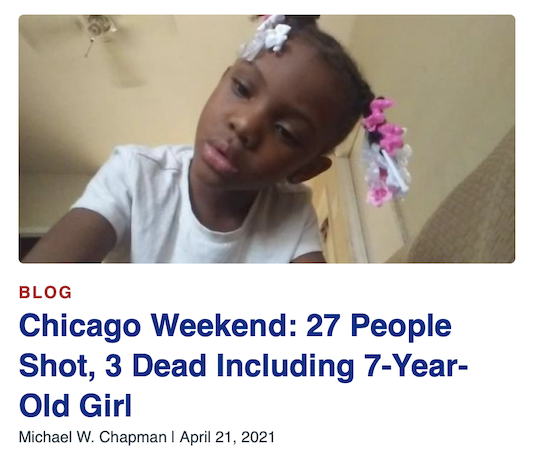 The last time we checked on CNSNews' sporadic, agenda-driven obsession with violence in Chicago, it had spent last summer touting it. Despite that emphasis -- and despite the need to portray Donald Trump as a law-and-order president and get him re-elected -- CNS didn't do much with Chicago as the election got closer. A Sept. 9 article by Susan Jones touted how an initiative launched under Trump-appointed Attorney General William Barr called Operation Legend that "dispatched more than one thousand skilled federal agents to Chicago and eight other cities to fight violent crime" was allegedly a success," with Jones uncritically writing:
"Operation Legend's success is perhaps most dramatic here in Chicago," Barr continued. "When the operation was announced on July 22, homicides in the city were up 51 percent over 2019. Over the previous weekend, more than 60 people had been shot in Chicago with over a dozen fatalities.

"Other violent crime, including looting and rioting, was increasing also. And the signs pointed to the problem getting even worse with the campaign to demonize and defund the police gaining traction, and criminals increasingly believing they could operate with impunity."

Barr said federal agents and grant money, working in partnership with local law enforcement, have now made more than 500 arrests in Chicago, and of those, 124 people face federal charges. "Many of those defendants are now detained pending trial rather than causing harm on the streets."

Barr said in the first five weeks of Operation Legend in Chicago, murders dropped by 50 percent over the previous five weeks. August saw a 45 percent decrease in murders compared to July and a 35 percent decrease compared to June.

"The bottom line is that Operation Legend has played a critical role in cutting Chicago's murder rate roughly in half since before the operation."
Managing editor Michael W. Chapman -- the leader of the Chicago obsession -- did only one body-count article before the eleciton, an Oct. 13 article stating that "Although the national media largely ignore the rampant gun violence in the Windy City, the local media in Chicago reported that 53 people were shot, five fatally, over this past weekend (Oct. 9-12)."Chapman did not mention Barr's Operation Legend, which supposedly cut crime in Chicago.
Chicago crime wasn't mentioned again for seven months. Now, with Joe Biden as president, Chapman could implicitly blame him. He wrote an April 13 article:
According to the Chicago Tribune, which maintains an extensive database on homicide and death by gunfire, at least 585 blacks were killed in the last 365 days in the Windy City. These homicides far exceed the number of Hispanics killed (71), whites (43), and Asians (2) in the last 365 days.

In addition, The Tribune reports that 155 blacks have been killed so far in 2021, which is the highest number for the first three months of a year since 2017.

[...]

Also during the last 365 days, there were 203 homicides which involved death by shooting.

On top of that, 585 blacks were homicide victims during the last 365 days. The data show that most of the homicide victims are in their 20s and 30s.
Unsurprisingly, Chapman didn't mention the Trump administration's Operation Legend, which supposedly solved this issue.Also: Isn't the Tribune part of the evil "liberal media" that CNS and its parent, the Media Research Center, trash for a living? Chapman didn't explain why he considers this "liberal media" source to be credible.
Chapman served up more body counts in an April 21 article that began by noting that "Over the weekend in Chicago, at least 27 people were shot, three of whom died, including a 7-year-old girl who was sitting with her father in a car at a McDonald's drive-thru when she was killed." It was again based on Tribune reports. Chapman followed with an April 28 article: "4 people were killed and 21 wounded in shootings. The majority of the homicides in Chicago are the result of gun volence, according to the Chicago Tribune, and the "majority of the victims of homicide in Chicago are young, black men."
Chapman inexplicably took a week off -- perhaps there weren't enough shootings for him to write an article about -- but retuirned on May 11:
Chicago experienced another violent weekend with 26 shootings, 5 of which were fatal, according to the Chicago Sun-Times. As homicide data show, the majority of victims in Chicago are young, black men. In the last 365 days (through May 10), 590 black Chicagoans have been killed, reported the Chicago Tribune.
Isn't the Sun-Times also part of the "liberal media" too? Apparently, if the numbers are right -- and can be exploited for political purposes -- they're suddenly trustworthy too.
Posted by Terry K. at 12:09 AM EDT