MRC Obsesses Over Farakhan Link To Capitol Attack -- But Wouldn't Identify Massacre Suspect As Christian
Topic: Media Research Center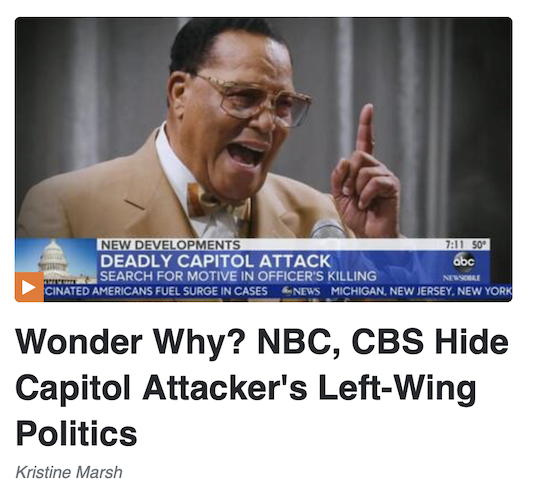 The Media Research Center was quick to seize on alleged links between Noah Green, who struck and killed a Capitol Police officer with his car before he was shot and killed, and Nation of Islam leader Louis Farrakhan. Kristine Marsh huffed in an April 5 post:
The media quickly lose interest in investigating the political beliefs of murderers if they don't happen to be right-wing white guys. Last Friday afternoon, a black man who called himself a follower of Nation of Islam leader Louis Farrakhan, rammed his car into the Capitol building barricades, killing one police officer and injuring another. But on this morning's broadcasts, both NBC and CBS completely omitted that inconvenient detail.

After months of wailing over fears of right-wing extremism, NBC and CBS couldn't be bothered to note the radical beliefs of the attacker. Instead, both networks used their reports to fret about the January 6 attack and push for more fencing around the Capitol.
Marsh did update her post to note that NBC later "decided to take note of Green's radical views."
Tim Graham complained on April 8 that the Washington Post didn't give Green's link to Farrakhan link the prominence he demanded: "So there are only three stories that mentioned Green's fandom for Farrakhan -- it was never mentioned in a headline, and was routinely buried in late paragraphs on an inside page. That's how you downplay an angle you do not like one bit." Graham offered no evidence that the angle was deliberately downplayed.
GHraham returned on April 18 to complain further -- and to implicitly defend a participant at the Jan. 6 pro=Trump Capitol riot:
On Friday's NBC Nightly News, they focused on recent political violence against the Capitol Police, but they were obviously more interesting in tagging the "far right" for recent violence, and not the "far left." When the April 2 Capitol cop killing came up, the assailant Noah Green was not named, and his love for Louis Farrakhan was also spiked.

Lester Holt touted "a milestone today in the investigation of the deadly riot at the US Capitol, the first guilty plea." He turned to NBC Justice Department correspondent Pete Williams, and they were naming names and applying labels.

In a brief report, Williams reported "It was a member of the far-right Oath Keepers who has agreed to tell investigators what he knows" about the January 6 Capitol riot. John Schaffer of Indiana, 53, pleaded guilty to entering the Capitol with bear spray and trying to obstruct the electoral vote count. The government dropped a charge of assaulting Capitol Police with the spray." Schaffer called himself a "founding life member" of the Oath Keepers, Williams underlined.

[...]

Schaffer may have shown criminal intent in his behavior on January 6 but he didn't kill a Capitol Police officer. But he was named, and Noah Green was not.
Graham omitted the fact that, unlike the Oath Keepers with Schaffer or any other Capitol riot participant, the Nation of Islam disavowed Green's actions -- which Graham knows happened because he repeated it in his April 8 post while complaining that the Washington Post "allowed the Nation of Islam to defend itself intensely."
Speaking of inconvenient facts, there's one thing you won't find at the MRC: a post identifying Robert Aaron Long, the suspect in the Atlanta massacre that killed eight people -- six of them Asian -- as a Christian, even though he was an active member of an evangelical Christian church. The church kicked him out after the shooting, but it has not spoken about the church's beliefs that may have led him to commit the massacre. On the other hand, the MRC did try to deny the very existence of anti-Asian hate crimes in the wake of the massacre.
Posted by Terry K. at 10:06 PM EDT
Updated: Sunday, May 16, 2021 10:11 PM EDT