MRC Tries To Downplay The Very Idea of Anti-Asian Hate Crimes
Topic: Media Research Center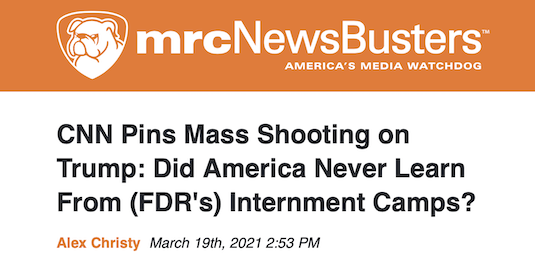 Last year, the Media Research Center followed orders and pushed the Trump-approved narrative that coronavirus should only referred to as the "China virus." In March, following the mass shooting in Atlanta that killed six people of Asian descent, the MRC got defensive about whether the demonization of Chinese people and others of Asian descent that has happened since then was even a thing, and bristled at the idea that Trump's demonization might have played a role in such violence, including the massacre.
Alex Christy complained on March 17 that "MSNBC's Joe Scarborough on Wednesday proved, yet again, that there's no vile slander he won't use in order to harm the Republican Party. On Morning Joe, the show's cast blamed the Republican Party for the murder of eight people, including six Asian-American women, in Atlanta on Tuesday" due in part to Trump encouraging use of terms like "China virus" and "kung flu."Christy added some whataboutism: "If calling COVID-19 the China Virus is racist and xenophobic, that's bad news for the media which has spent the last several weeks and months worrying about British, South African, and Brazilian variants."
Gabriel Hays ranted the same day:
How convenient. President Trump has been out of office for almost two months now and his most zealous haters in Hollywood are still blaming him for problems happening today.

Longtime Trump Derangement Syndrome-suffering actors, including Rob Reiner and George Takei, blamed the former president for the very recent and very tragic murder of eight people at three separate Atlanta, Georgia, spas that happened on March 16. According to investigators, six of eight people killed were of Asian descent and despite the fact that the lead suspect in the case denied a racial motive in the killing, blaming instead it on his "sexual addiction," celebs like Reiner are doing what they do best and blaming the killings on the rhetoric of our former "Racist-in chief."

[...]

And, again, the alleged Atlanta spa shooter "gave no indicators that this was racially motivated," said Cherokee County Sheriff Frank Reynolds. The clearly deranged murder suspect, 21-year-old Robert Aaron, claimed his intention was to eliminate his sexual temptation. Apparently, massage parlors were an occasion of sin for the young man.

But, no matter. If all the crimes of the world are branded onto Trump and then he's forced to walk the plank or jettisoned out of the airlock, then there should be peace on earth. Isn't it so nice that in order to achieve that result, Reiner's confusing the story on a very serious and deadly criminal case? What a guy!
Christy returned to play wahtaboutism on March 19:
Despite the fact that Atlanta police have still refused to say race played a factor in Tuesday's mass shooting -- and the FBI is suggesting race was not a factor -- CNN Newsroom still blamed Republicans like former President Trump for the shooting on Thursday and wondered if the country has moved beyond things such as World War II internment camps. And who was president then? They never mentioned liberal hero Franklin Roosevelt did that.
Clay Waters went for a different kind of deflection, complaining that New York Times articles on the shooting "blamed year-old Trump statements accurately pointing out the origins of the coronavirus pandemic, and other fingers pointed at amorphous white racists allegedly targeting Asians -- even as official Justice Department statistics show most "hate crimes" against Asians are committed by minority groups."
By March 20, Brad Wilmouth was huffing that "On Wednesday's Deadline: White House, MSNBC host Nicolle Wallace not only blamed President Donald Trump and Republicans for anti-Asian violence over the past year, but she even recklessly claimed that they were deliberately 'attempting' to 'shift blame' for the pandemic onto Asian Americans even though they were actually blaming the authoritarian government of China." He added, "It was also not acknowledged that, last year, President Trump condemned the targeting of Asian Americans." Wilmouth didn't mention that this defense of Asian Americans came only after criticism of his obsession with the "China virus" label.
Hand in hand with this is denial that Asians are being increasingly targeted for violence. Duncan Schroeder huffed on March 14:
On Friday's CBS This Morning, co-host Anthony Mason brought on chief Washington correspondent Major Garrett to swoon over Joe Biden's COVID speech. Mason highlighted that Biden introduced the topic of violence against Asian Americans and Garrett honored Biden for inserting that topic himself, wildly asserting that there is an "epidemic."

The media constructed this narrative due to their loathing of Trump's use of the term "China virus" so they could claim that he is racist and blame him for attacks on Asian Americans. Beware any time a reporter calls anything an "epidemic" that isn't an outbreak of disease. Do we really need bad "epidemic" metaphors during a pandemic?
Schroeder then turned to a writer for the right-wing National Review citing a New York Times op-ed claiming that it's difficult to know the extent of anti-Asian hate crimes because of a lack of data. He then went the whataboutism route: "No one should applaud yelling at Asian Americans, like every one of them is responsible for the pandemic. But it's strange how the hacks in the liberal media love Biden's first speech on COVID, but attacked Donald Trump's first address on COVID and labeled it xenophobic. It's almost like they are extremely biased or something." Schroeder didn't say how many times Trump used "China virus" in that speech.
In an April 2 post, Dawn Slusher complained about a TV show referencing anti-Asian hate crime:
Thursday's episode of A Million Little Things was so heavy-handed in pushing the latest cause-du-jour ("Stop AAPI Hate") that the entire episode played out more like one giant PSA on a supposed "epidemic" of hate and violence towards Asian Americans, with whites and Trump to blame, of course, despite strong evidence to the contrary.
For her "strong evidence," Slusher cited two right-wing outlets, Commetary magazine and Quillette, who like the MRC are ideologically invested ijn pretending there's no such thing as hate crimes targeted toward Asians.
After noting that a character on the show referenced "China virus," Slusher came to Trump's defense even though he's no longer president: "This was an obvious jab at Trump for initially referring to COVID-19 as the 'China virus,' which the left believes is the cause for the supposed uptick in violence towards Asians, despite the media also repeatedly calling it the 'Wuhan' or 'Chinese Coronavirus.' Yet, Trump simply called it the "China virus" because that's where it originated, just like West Nile virus, Spanish Flu, Ebola, Zika, Lyme and Middle East Respiratory Syndrome (MERS) were all named for their place of origin."
Remember, at the MRC the narrative is more important than the truth.
Posted by Terry K. at 9:49 PM EDT
Updated: Wednesday, May 5, 2021 10:04 PM EDT