MRC Throws 'Whore' Slur At CBS -- Despite Its Own Whorish Behavior
Topic: Media Research Center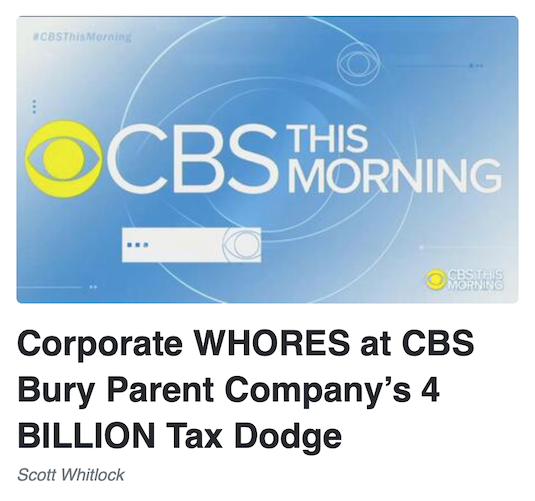 We've noted how the Media Research Center likes to slur media outlets as "whores" for doing the same kind of promotional things for corporate siblings that the MRC's own "news" outlet, CNSNews.com, does for its parent org (yet our use of the word has put us in Twitter jail). It has done so again, but for a slightly different reason.
An April 6 item by Scott Whitlock carries the headline "CBS WHORES Out for Crony Capitalism, Backs Biden Billions to Electric Cars in 'Infrastructure'." He went on to rant:
CBS This Morning on Tuesday went all in on the billion dollar boondoggle for electric cars in Joe Biden's "infrastructure" bill. With no explanation of just how expensive this part of the plan is, the journalists backed the idea of GM (with the heavy hand of the government) switching to all electric by 2035.

Co-host Gayle King cheered, "Part of President Biden's infrastructure bill would help people buy greener electric cars which you know are more expensive. General Motors plans to stop making gas-powered cars by 2035." Reporter Ben Tracy gushed, "The tail pipe is an endangered species."

He parroted, "Automakers are also counting on the federal government. President Biden's infrastructure plan calls for 500,000 EV charging stations across the country by 2030."
Of course, by his own definition, Whitlock is a whore because he's parroting right-wing talking points in the service of his employer and the larger conservative movement, for which he receives payment (which, of course, makes him closer to an actual whore than CBS). His insistence of imposing motives on CBS' reporting where there may not be any is a form of whoredom as well. And for all his whining about "crony capitalism," we're pretty sure Whitlock didn't care as much when the cronies were part of a Republican-led government.
Meanwhile, CNS has contined to whore itself out for its owner by serving up even more stenography of its boss:
This kind of whoredom, of course, is the entire reason CNS exists. Do you really think Bozell and Co. are interested in running a truly independent, fair and balanced "news" operation?
Posted by Terry K. at 10:15 AM EDT