MRC Psaki-Bashing, Doocy-Fluffing Watch
Topic: Media Research Center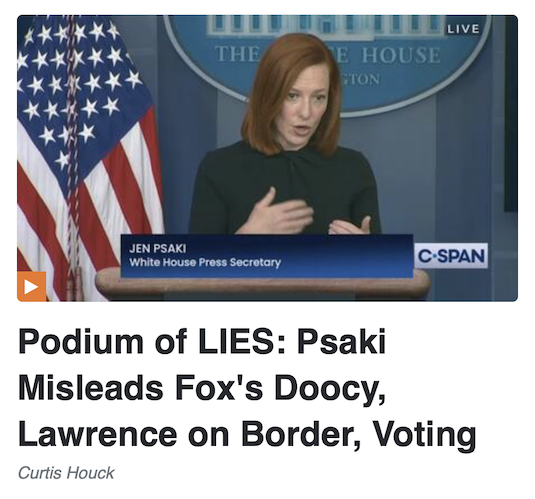 Professional Jen Psaki-hater Curtis Houck knows what his job is, and so raged in an April 1 post:
For White House Press Secretary Jen Psaki, it must be quite a life knowing you're never going to be sternly fact-checked (or fact-checked at all) by the liberal media. Thursday's briefing displayed her refusal to live in world of facts and straightforward answers as she deflected questions from Fox News's Peter Doocy about the Biden team's infrastructure plan and border policies and repeatedly lied to Fox Business's Edward Lawrence about Georgia's voter law.
By contrast, Kayleigh McEnany had quite a life knowing that right-wing sycophants like Houck would give her only the highest praise and never have to worry about being fact-checked, even though she aggressively refused to live in world of facts and straightforward answers. The rest of Houck's post once again displayed his man-crush on Fox News' Peter Doocy and other right-wing reporters lobbing hostile questions at Psaki.
The next day, Houck found a different right-wing reporter to crush on for hostile querstioning and using to White House briefing room to push conservative talking points:
Capping off another week of repeated non-answers and outright lies, White House Press Secretary Jen Psaki was caught in another liberal double standard. Thanks to Real Clear Politics's Philip Wegmann, Psaki made clear the administration was opposed to the MLB All Star Game being in Atlanta, Georgia due to the state's voting law (which the MLB has since said it will comply) but will refuse to offer support for a boycott of the 2022 Winter Olympics in Beijing, China due to the country's putrid human rights record.
Weird, we don't recall Houck ever getting mad at McEnany for spouting "repeated non-answers and outright lies."
Houck was in full Doocy man-crush mode on April 5:
Monday's White House press briefing picked up on many of Friday's themes, including the Biden administration's lies about Georgia's voter law and their pressuring of MLB to move the All-Star Game out of Atlanta. Fox News's Peter Doocy repeatedly hammered Press Secretary Jen Psaki with questions about Georgia, Biden's falsehoods, and The Masters plus the separate issue of illegal immigration.

[...]

In round two, Doocy led off with the latest moving of the goal posts by teachers unions, citing demands in Los Angeles for free childcare for teachers. Of course, Psaki said it's a state matter and didn't comment.

The Washington Post fact-check

of Biden's lies about voting hours in the Peach State to ask whether Biden will "change the way that he talks about" it.
Houck concluded by huffing that "Psaki cowardly ended the briefing so she could bring in the White House Easter bunny and say that reporters should be receiving a commemorative Easter egg to share with their families." Yes, Houck is mad that the White House secretary celebrated Easter. He would be cheering if his beloved McEnany had done it.
Houck was still man-crushing the next day:
Marking another day in the White House Briefing Room rotation, Fox News's Peter Doocy had quite a Tuesday as he was able to both question Press Secretary Jen Psaki on the federal government's border crisis and their voting disinformation campaign and President Joe Biden on China's culpability in the coronavirus pandemic and Georgia's voting law.

Doocy experienced a once-in-a-blue-moon moment when Biden acknowledged him after a speech about the coronavirus, so Doocy asked him about this week's golf major in August, Georgia: "Mr. President, do you think The Master's golf tournament should be moved out of Georgia?"

[...]

A few hours earlier, Doocy was the second reporter called on during the briefing and began with immigration. He used his first two questions to press Psaki on the dangerous reality that terrorists could take advantage of our porous southern border and the other on the administration resuming construction of former President Trump's border wall.
Proving that he's all about attacking Psaki at every opprtunity, Houck cheered another right-wing reporter who pushed those hostile questions he so loves on April 7:
Without Peter Doocy and Kristin Fisher in the White House Briefing Room rotation, it fell to other reporters to offer tough questions to Press Secretary Jen Psaki and the New York Post's Steven Nelson delivered by getting under Psaki's skin over Vice President Harris's travel schedule in light of her supposed role in helping to tame the border crisis.

Nelson noted that she's "been put in charge of addressing the root causes of the border crisis" and spoke last week with the Guatemalan president, "but she hasn't visited the border or Central America or spoken to the leaders of El Salvador or Honduras."

Instead, Nelson pointed out that she's earlier this week, so he wanted to know if she's "still working on this and can you address the perception that she's kind of quietly backing off while the Secretary Mayorkas is pursuing some Trump-era policies, such as potentially building new border barriers and potentially prosecuting people who illegally cross multiple times."

To put a finer point on Harris's schedule, we would add the fact that she spent last weekend in Brentwood, California which, as Tiana Lowe noted, was a short drive from a convention center where migrant children are being housed.
Of course, Houck is just repeating a right-wing narrative that's nothing but a lame gotcha; if Harris actually went to the border as right-wingers demanded, they would still attack her for merely being a photo-op even though that visual is what they demand of her.Whe Psaki pointed out that Harris can do more than one thing at a time, Houck dismissed as her making a "personal jab." Again, McEnany did a lot of those and Houck never complained once.
Houck went back to gushing over Wegmann for the April 8 briefing:
Moments after President Joe Biden gave a lie-filled speech about gun control, White House Press Secretary Jen Psaki held Thursday's briefing with a room dominated by journalists supportive of the administration's desire to harm millions of law-abiding gun owners.

In contrast, Real Clear Politics's Philip Wegmann repeatedly pressed Psaki on one of Biden's key claims, the reasoning beyond Thursday's orders, and whether they considered the impact a limit on stabilizing braces would affect those that already own them.
We don't recall Houck ever objecting to the "lie-filled briefings" that Donald Trump issued.
Houck closed out that week with even more man-crushing over Doocy on April 9: "Fox News White House correspondent Peter Doocy joined the Briefing Room rotation on Friday to cap off another whirlwind week and, as the fourth reporter called on during Press Secretary Jen Psaki's Q&A, he brought up President Biden's past opposition to court-packing (as he seems to be moving toward doing just that) and the latest headlines from the Biden border crisis."
So predictable. So ridiculously biased and hateful.
Posted by Terry K. at 6:26 PM EDT
Updated: Tuesday, July 6, 2021 9:51 PM EDT