MRC Psaki-Bashing, Doocy-Fluffing Watch
Topic: Media Research Center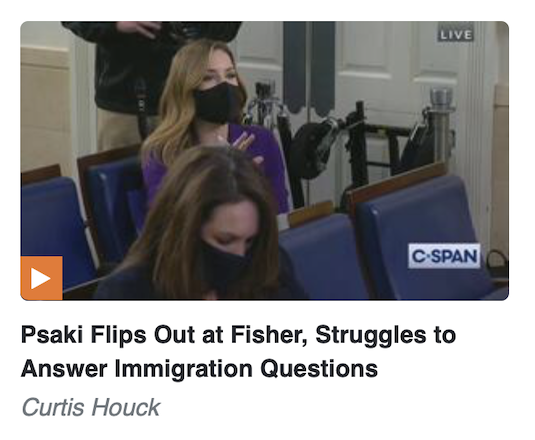 How has Media Research Center writer Curtis Houck been attacking White House press secretary Jen Psaki and man-crushing on hostile Fox News reporter Peter Doocy since the last time we checked? Let's find out!
Houck was heavy on the man-crush on April 9:
Fox News White House correspondent Peter Doocy joined the Briefing Room rotation on Friday to cap off another whirlwind week and, as the fourth reporter called on during Press Secretary Jen Psaki's Q&A, he brought up President Biden's past opposition to court-packing (as he seems to be moving toward doing just that) and the latest headlines from the Biden border crisis.

And on the courts, Doocy got a key assist from none other than CNN chief White House correspondent Kaitlan Collins.

Doocy started with the Supreme Court and brought up comments Biden made in 1983 in light of Biden's appointing of a commission to study court reform (which should be read as nothing more than a leftist power grab).

When he brought up 1983 before his question, Psaki interjected with a weak dad joke about how she was impressed with Doocy's trip aboard the "time back machine."
Weird how Houck believed that Kayleigh McEnany could be as snarky as she wanted to be, while Psaki gets shut downb for allegedly making a "weak dad joke." It's almost as if his severe right-wing bias influences these posts of his.
On April 12, Houck didn't have to man-crush on Doocy because "New York Magazine correspondent Olivia Nuzzi put Press Secretary Jen Psaki on the defensive as she asked about whether the Biden administration's continued mask usage despite having been vaccinated and discouragement of social interaction has contributed to vaccine hesitancy." Houck failed to mention that one of the groups with the largest rate of vaccine hestiancy is Republican men, who likely aren't taking their cues from Biden.
Houck whined of the April 15 briefing that "Thursday's White House press briefing quickly devolved into a predictable pattern of near emptiness in terms of answers from Press Secretary Jen Psaki, who ducked questions on issues such as the debunked Russian bounties story, the Johnson & Johnson coronavirus vaccine, and her party's attempt to pack the Supreme Court." Of course, Houck loved when that "emptiness" from the podium emanated from McEnany.
Houck grew outraged that pressers from both Biden and Psaki on April 16 didn't entertain hostile right-wing reporters -- and, because he's incapable of seeing anything in other than black-and-white terms, he pushed the MRC narrative that if hyou're not a hostile right-wing reporter like Doocy, you're a pro-Biden sycophant:
The White House press corps has never been a fan of guns or the Second Amendment, so it was no surprise on Friday when multiple reporters hammered President Joe Biden and Press Secretary Jen Psaki from their left flank on gun control. In one instance, a reporter compared gun violence to the coronavirus pandemic and demanded their responses be of equal vigor.

Capping off his first foreign head-of-state visitor to the White House in Japanese Prime Minister Yoshihide Suga, Biden wrapped up his week with a brief, joint press conference with Suga (which followed the traditional two-and-two model of two reporters from each country's press corps being called on).

[...]

ABC's Maryalice Parks likewise sounded like someone from Everytown or the Giffords Center, expressing frustration with hearing Psaki<"talk over and over again about the President's support of the House bills, but right now it just doesn't seem like they're — you guys have those votes in the Senate."
Houck had a different hostile Fox News reporter to cheer on -- and even more sneering hatred of Psaki -- for the April 19 briefing:
White House Press Secretary Jen Psaki began her week with a briefing so bad that there's no way to go but up. On Monday's episode, Psaki arrived with a short fuse and clashed with multiple reporters over basic immigration questions, and blew a gasket at the Fox News Channel's Kristin Fisher over the administration's mixed messaging on the refugee cap.

Fisher started with an admission of confusion and an open invitation to clear things up on the White House's flip-flopping on what number of foreign refugees could be allowed entry into the U.S.: "I'm still just a little bit confused about what changed between 1:00 pm. on Friday and around 4:30p.m. on Friday to go from, 'We're not raising the refugee cap to, we are raising it by May 15th.' What – what changed in those three and a half hours?"

By then, Psaki had fielded numerous questions on it, but Fisher merely wanted the record corrected. Instead, Psaki claimed "we never said we're not raising the refugee cap" and the administration had always been clear.

Fisher tried to interject, but Psaki demanded she be allowed to in order to reassert that there was never a doubt that they would maintain Trump immigration levels (though that's exactly what they had said they would do).
Remember: In Houck's world, Fox News reporters are always right and Psaki is always wrong. That's because narratives are more important at the MRC than the truth is.
Posted by Terry K. at 8:03 PM EDT
Updated: Friday, May 14, 2021 9:06 PM EDT