MRC Cheers How Fox News Advances Right-Wing Talking Points
Topic: Media Research Center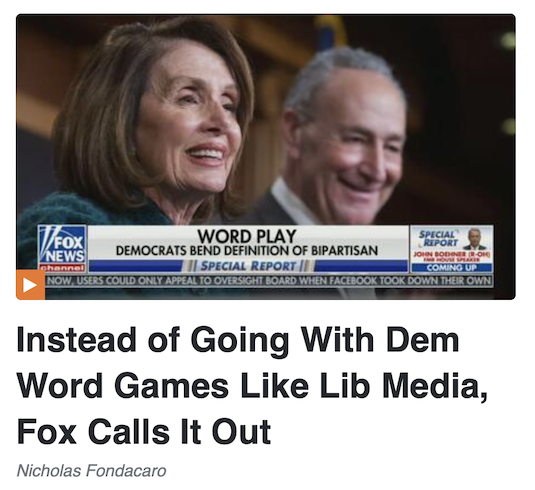 The Media Research Center is essentially the PR arm for Fox News, so it loves to reward the channel for giving copious play to the right-wing narratives it so loves (though it will never out-and-out state that it's rewarding it pedding right-wing propaganda). Nicholas fondacaro wrote in a March 18 post:
It had been days since the evening newscasts of ABC, CBS, and NBC delivered any kind of substantive follow-up to Democratic New York Governor Andrew Cuomo's nursing homes deaths and cover-up scandal, even as new damning information developed. This was not the case for the Fox News Channel's Special Report as they aired an exclusive interview on Thursday with a nursing home administrator who sat in on phone conferences in which Cuomo was consigning many elderly folks to death.

Throughout the day, Fox News had aired portions on other news shows. And it's common for the broadcast networks to use such clips from each other to pad out their programming. This was not the case Thursday, as all three of them gushed about President Biden calling Russian President Vladimir Putin a "killer."

In stark contrast, Fox News correspondent Aishah Hasnie spoke to an insider who wanted to speak out about Cuomo's disastrous leadership. "Michael Kraus is the administrator of Silver Lake Specialized Care Center in Staten Island, New York. And for the first time, he and his team are telling us what really happened behind closed doors when Governor Andrew Cuomo issued that controversial March 25 order," she reported.
The headline on Fondacaro's piece? "Real Journalism." Of course, he thinks anything on Fox News that goes into own-the-libs mode is "real journalism."
The next day, Joseph Vazquez gushed at how sibling channel Fox Business "wasn't having it" on the Biden administration's statements on tax hikes by uncritically putting forward right-wing financial types to attack it:
Forbes Media Chairman Steve Forbes agreed with DeAngelis and said that the tax hike on "families" was the "first of the many taxes to come when they do that next reconciliation bill where they're going to have massive tax increases." Forbes said the tax hikes would include the "very destructive capital gains tax." In addition, Forbes warned about Democrats trying "to ease the restrictions on state and local tax deductions. So, they'll raise the rates more, but allow more deductions. [It's] another way of bailing out people who are living in the [badly managed] blue states."

Forbes lambasted the leftist tax agenda: "Big tax increases, convoluting the code and hurting economic growth. All this happy talk about 'great economy ahead,' I take it with a grain of salt."

[Correspondent Jackie] DeAngelis turned to Strategic Wealth Partners CEO Mark Tepper: "Mark, you did talk about the capital gains tax and how that could impact the markets as well." She continued: "[Raising taxes on families] would certainly impact the markets because it would come down to families, households — have less money to spend, they have less money to put into the economy, um, and they're going to have to sort of really pull and shore up those budgets. That impacts people."
Under the headline "This Is How You Do It," Brad Wilmouth declared on April 2:
In a Wednesday morning segment debunking just some of the left's lies about the Georgia voting law, the Fox News Channel again demonstrated for consumers why the network not only delivers important information (while others parrot leftist propaganda), but clean-up in the ratings.

For this instance, Fox & Friends co-host Brian Kilmeade brought on Governor Brian Kemp (R-GA) to methodically walk through some of the left's false claims, including their disinformation campaign around topics such as early voting and access to food and water while waiting in line.

Unlike if he had appeared before some belligerent CNN or MSNBC host, Kemp was allowed to explain that anyone can still supply water or food to voters as long as they stay outside a minimum distance from both the polling place and the voters. After Kilmeade explained that poll workers can still have refreshments at the polls, Kemp recalled that, in fact, anyone can do so at the proper distance:
Yes, Wilmouth was quite happy that Fox News let Kemp spread his talking points without challenge. Oh, and that boast of Fox News cleaning up in the ratings was linked to a Fox News press release, as a good Fox News lackey would.
In a headline blaring "Instead of Going With Dem Word Games Like Lib Media, Fox Calls Them Out," Fondacaro cheere: "During Tuesday's edition of Special Report, Fox congressional correspondent Jacqui Heinrich walked viewers through how Democratic lawmakers were twisting and perverting the English language to fit their political machinations. This support for words have meaning ran counter to the liberal media, who just didn't go along with the Orwellian redefining of words but actively took part and promoted it." Speaking of Orwellian, we don't recall Fondacaro getting upset at Fox News redefining "fair and balanced" as promotion of right-wing talking points.
Fondacaro gave Fox News another cookie for essentially repeating the MRC mission statement on April 14:
It's become obvious to most people paying attention over the past four to five years that the liberal media had become activists consumed by their hatred of President Trump; it's a fact that's indisputable. And ever since Joe Biden became President, the liberal media had shifted their focus towards beating down all Republicans and gaslighting their viewers into thinking they're the enemy. Well, on Wednesday's Special Report, Fox News media analyst Howard Kurtz walked viewers through the media's schemes.

"Tonight, we take a closer look at what appears to many viewers to be a seismic and long-term shift left on the part of the mainstream media. So, is it happening? And, if so, what are the reasons and the ramifications," anchor Bret Baier teased at the top of the segment. The segment itself was very detailed as Kurtz showcased the liberal media's favoritism for Democrats at different levels.
Kurtz -- and, thus, Fondacaro -- didn't explain why Fox News isn't considered "mainstream media" despite the fact that, as Fondacaro's co-worker Wilmouth pointed out, it regularly cleans up in the ratings, nor did they explain why Fox News shouldn't be held just as accountable for its heavy right-wing bias.
Wilmouth returned to gush on April 15: On Wednesday, Fox News Channel again demonstrated that it's keeping people well-informed about important issues while other networks were spreading misinformation. At 6:07 am, Fox & Friends host Brian Kilmeade explained that the accidental shooting of 20-year-old Daunte Wright in Minnesota was a "tragedy," but he had a serious crime on his arrest warrant."
It's almost as if the MRC is on the Fox News payroll.
Posted by Terry K. at 8:12 PM EDT