MRC Is Angry Superhero Show Talked About Race
Topic: Media Research Center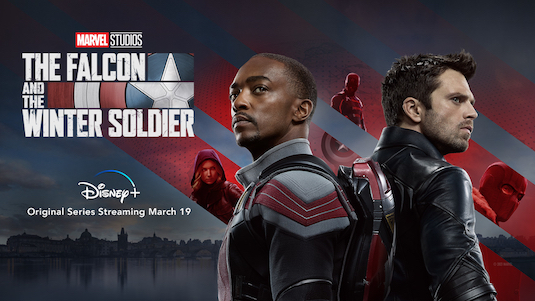 The Media Research Center loves to rant about its supposedly favorite superheroes failing to conform to its favorite right-wing heteronormative stereotypes. That failure continues to be a steady source of content for the MRC. Veronica Hays whined on March 17 that a "transsexual woman" artist helped make Captain America non-heteronormative:
Someone switched out the super soldier serum. Captain America is now gay. Our beloved champion is now a social justice warrior, taking on the form of a gay teen with tattoos, multiple piercings, and an edgy, shaved haircut. Make sure you refer to him with the correct pronouns, or else..

[...]

Naturally, the press and creators must make a big fuss over this new gay character. "Marvel Comics is proud to honor Pride Month with the rise of this new LGBTQ+ hero." It is clear that the heads at Marvel entertain politically correct motives as we've seen before, and oftentimes at the cost of quality storytelling. This stunning and brave addition to Marvel's universe will most likely appeal to a very limited target audience, but when sales reflect that, Marvel will be able to blame U.S. homophobia. Will they face the reprisal of the "go woke, go broke" phenomenon? Time will tell.
The MRC then shifted its focus to being angry about superheroes talking race on a related show. On March 29, Lindsay Kornick ranted about "the Marvel Cinematic Universe's (MCU) decline into wokeness" because the Disney+ show "The Falcon and the Winter Soldier" included racial themes as a central storyline, huffing, "Disney+ and Marvel might have to focus on actual heroics if they want their superhero shows to succeed." Kornick returned on April 8 to promote an anonymous YouTube video citing unverified streaming data to claim that "massive number[s]" of people stopped watching the aforementioned episode when that storyline became prominent. (We thought the MRC hated anonymous sources.) Kornic then put her own spin on this: "Of course, Overlord DVD's personal take on the matter is subjective, though, if this discovery is in fact true, it is a moment of revelation for The House of Mouse. Americans are tired of the "wokeism" of mainstream media and the entertainment establishment."
Kornick was back on April 18 to attack yet another episode of the show:
Marvel's latest series The Falcon and the Winter Soldier has proved to be the polarizing propaganda the media hoped it would be. Now on its penultimate episode, the Disney+ series is stepping things up by asserting that nothing's changed in 500 years and no black man should want to be Captain America.

[...]

The show once again seems determined to act like America was, is, and always will be racist in some way, even if we're nowhere near as discriminatory as we were in the 1940s and '50s.

In fact, Isaiah, a black man, is the only person who declares that a black man won't and shouldn't be Captain America. No one in conservative media is claiming Sam can't be the next Captain America. No one else in the series says Sam can't be the next Captain America. All that's there is the assumption that racist America wouldn't want a black superhero, despite Black Panther being a huge success. This series itself is far more racist than anything it purports America to be.

This whole point becomes moot since Sam indeed chooses to take up the shield and presumably will become the next Captain America. All that means is that this scene was just lip service to a bunch of social justice warriors who likely never cared about Captain America in the first place. Let's hope the finale isn't worse than this.
We would remind Kornick that her employer has dismissed "Black Panther" as a a film promoted by "Hollywood's PC police for an apparent mystical celebration of African American culture," complained that it had too much violence, and attacked its lead actor (whose name it got wrong) for committing the offense of criticizing Donald Trump.
On April 23, Kornick predictably complained about the show's finale:
Marvel's The Falcon and the Winter Soldier has been a mixed bag of action sequences and blatant political messages. The Disney+ series ended things with a bang by making one last racial jab at audiences and Captain America fans.

[...]

Sam: I'm a Black man carrying the stars and stripes — what don't I understand? Every time I pick this thing up, I know there are millions of people who are going to hate me for it. Even now, here, I feel it. The stares, the judgment, and there's nothing I can do to change it. Yet I'm still here. No super serum. No blonde hair or blue eyes. The only power I have is that I believe we can do better.

Again, I'm going to need actual sources of these millions of people who supposedly hate the idea of a black Captain America. The Americans in this show don't hate him since dozens cheer as Sam rescues a van full of hostages and proudly call him Captain America. Real-life Americans clearly don't hate him if Disney and Marvel were willing to spend millions to give him his own show about becoming Captain America. In fact, millions of people seemed excited at the idea since it was first introduced at the end of Avengers: Endgame.

Instead, those fans and several others are thrown under the bus for social justice posturing. Even worse, they're thrown under the bus for posturing and terrorist sympathy. America is definitely ready for a black Captain America, but millions of Americans will definitely not tolerate being lectured by these twisted priorities. The future of Marvel is looking pretty bleak.
If Kornick and the MRC really have no problem with a black superhero, why have they spent so much time and speace complaining that it's being talked about?
Posted by Terry K. at 9:06 PM EDT
Updated: Monday, May 3, 2021 9:38 PM EDT