Insecure? Another Man In A Dress Causes Another MRC Meltdown
Topic: Media Research Center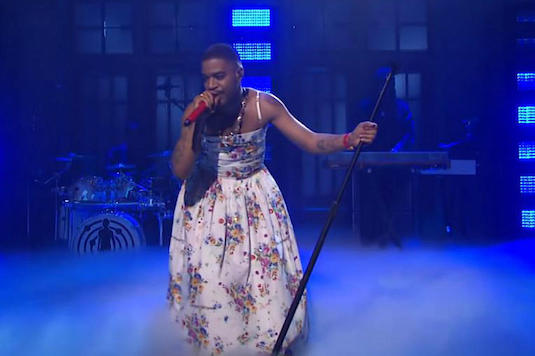 Why is the largely male Media Research Center so insecure in its collective manhood? Late last year, it flipped out over a photo shoot of Harry Styles wearing a dress. Earlier this year, it was triggered over a study arguing that pollution may be shrinking male penises. Now, the men-wearing-dresses thing has resurfaced, and a very uncomfortable Gabriel Hays ranted about it:
Look, we don't care if you're Harry Styles or rapper Kid Cudi, you're NOT GOING TO MAKE MEN'S DRESSES HAPPEN!

In another shock fashion statement aimed at making straight men feel uncomfortable and making lesbians even more confident in their mating decisions, Kid Cudi donned a white, floral patterned dress during his appearance on Saturday Night Live.

What's worse is that straight guys can't just ignore the emasculated exhibitionism of one confused hip hop artist, they have to deal with fashion media telling us that Cudi's move is evidence that dresses for men are "becoming the norm."

Pardon our French, but the hell they are!

[...]

Maybe, we are the type of people who don't "get" high fashion, but come on, a grown man wearing spaghetti straps and a floor length gown does not look right, even in an avant-garde way. Sure, a man flexing his biceps while in a dress fit for his young daughter on Easter Sunday offends our sensibilities, but not in any sort of revolutionary way. It's just dumb.
Kid Cudi was actually paying tribute to Kurt Cobain, but you stay insecure in your manhood, Gabe. His ranting continued:
It's about social engineering. For Tashjian and GQ, Styles and Cudi looking super girly is about tipping the scales towards the further feminization of culture. Tashjian is tired of the male suit being the standard for traditional society dress. Getting more men to wear dresses balances the scale. She wrote, "dressing gender-neutral or gender-fluid meant wearing something derived from the men's suit. Now, the dress may be slowly usurping that role."

Oh yeah, take that, men! Your days of oppressing us with clean cut business attire are at an end. Despite the suit being a conservative look that is polished and flexible for both sexes, GQ needs the dress to be the new model for gender-neutral attire. "It's relaxed and universally wearable, a Big Fit in just one garment," they argued.

The clothing designer who dressed Cudi for his appearance, Virgil Abloh, mentioned that the idea behind the rapper's dress is to destroy gender norms. He told the magazine, "The beauty about now, is our generation, piece by piece, can dismantle norms. 2020 was a year of reckoning about how the system in place that governs us as people is out of date." Well we guess that if 2020 was a year of hell on earth, then perhaps the ensuing fashion statements were going to represent that as well. Gross.
Just like a right-winger to be obsessed with enforcing "gender norms." We're so sorry this happened to you, Gabe.
Posted by Terry K. at 9:14 PM EDT