WND's Farah Cheers Dubious Ariz. Election Recount
Topic: WorldNetDaily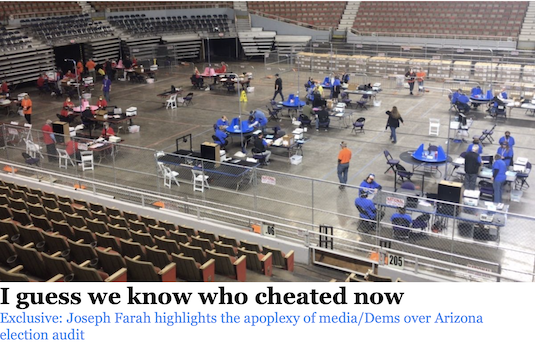 WorldNetDaily editor Joseph Farah has long embraced bogus election conspiracy theories, so it's no surprise that he's all in favor of the Republican-driven recount in Maricopa County, Ariz., as expressed in his April 23 column:
They're busy counting votes in Arizona, again.

You might recall this was the state that was called early on election night by the Fox News team – but took days to reveal a "victory" by Joe Biden by 10,000 votes of 3.2 million supposedly cast. Why were they so sure?

Oh, and for the record, there were no illegal alien votes disqualified. None! They were not searched for. Neither were the voter rolls cleaned. And don't forget about the people who went to the polls and were told, "You've already voted. You're not eligible."

If you believe that, you probably voted for Joe Biden because he was the most articulate, most prescient, most lucid, most visionary, most capable presidential candidate in American history.

It's just that some voters in Arizona are stubborn. They can't believe that Biden got some 81 million votes nationwide in the election, more than Donald J. Trump's 74 million and Barack Obama's 69 million. He did this without campaigning! He got just enough votes to outpoll the most popular president and beloved leader ever.
Farah offered no evidence that anyone in Arizona went to the polls and was told they already voted.
HE went on to assert that "Republicans have chosen an independent firm called Cyber Ninjas, a Florida-based cybersecurity company" to run the audit -- but Cyber Ninjas is not "independent" at all, given that its CEO has been spreading the same kind of elecction conspiracy theories Farah has.
Farah also claimed, "And just so no one will be disappointed by the results, the audit will be livestreamed for public viewing, and officials say there will be 24-7 private security inside and outside of the Veterans Memorial Coliseum in Phoenix throughout the process." In fact, the audit has been far from transparent; it took a court order to force Cyber Ninjas to make its policies and procedures public, violations on pen color usage were found, it wasn't until days after the audit started that journalists were granted full access to it, and reporters are being barred from observing the audit for specious accusations like a tweet deemed to be objectionable.
Still, Farah ranted:
Why would we want to know the truth? How could we not insist on knowing the truth?

Was Joe Biden's win legitimate, or was Donald Trump robbed? We must know!

[...]

This may be the beginning … of getting to the truth.

This may be the beginning … of getting our country back!
IN his April 28 column, Farah defended the audit from critics such as Rachel Maddow:
So what is Rachel Maddow afraid of? Is she afraid that we're going to overturn the whole national election? Or is she afraid we might learn how they perpetrated the biggest election fraud ever? And what are the hosts and guests on CNN and other networks afraid of? Why are they resorting to hysteria, rage, insanity?

And why is Fox News not even paying attention to the Arizona audit? Why are they pretending nothing is happening here?

Something's happening here, all right.

Ordinary Americans are holding their leaders accountable. Nay, they are being leaders, and they are going to continuing being leaders. They realize we don't have any choice in our system of government. This is the state of our nation we've been left with.
As criticism mounted of the audit -- to the point that even the Justice Department has expressed concerns about it -- Farah used his May 7 column to, um, conterintuitively claim that all the criticism means the audit is being run perfectly, or something:
It seems the Justice Department wants to be sure no one uncovers proof of shenanigans in the election of 2020. Why?

Because Cyber Ninja may engage in rooting it out by personally canvassing voters – looking for actual fraud. For instance, the suspicion is that illegal votes were cast by voters registered to certain addresses. The Justice Department does not want Cyber Ninja to ask them about the addresses, because this supposedly would be construed as "voter intimidation."

The Justice Department did not want to conduct the investigation – and they sure don't want anyone else conducting one.

Hmmm.

Who else opposes the audit?

How about every Democrat you can think of.

What do they have in common? They all know that the fraud will be uncovered and ultimately send Joe Biden packin'.

That's not the case in the short term. The hand count will not change the results because officials in the states have already certified them. Sen. Fann insisted that the audit is meant to restore trust in the system and influence changes to the law.

But President Donald Trump has celebrated the audit, insisting it will show Arizona was a "scam election" state. And this is what bugs the Democrats. He'll likely be running for the president in 2024, and if cheating occurred, it won't be Republicans to blame.
This is the kind of thing that only makes sense in Farah's conspiracy-addled brain.
Posted by Terry K. at 1:43 AM EDT