CNS Spins Trump's COVID Diagnosis
Topic: CNSNews.com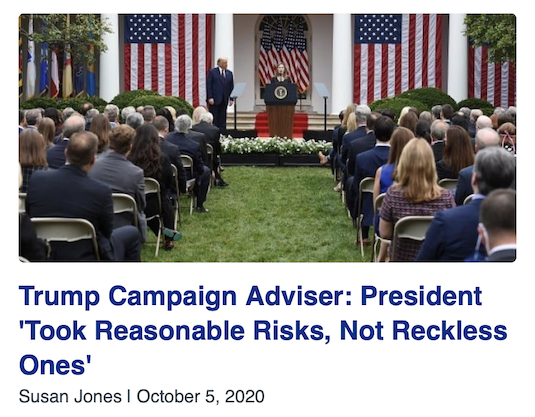 When President Trump underwent treatment for coronavirus, CNSNews.com ramped up its usual pro-Trump spin even more.
Patrick Goodenough's initial story was highly sympathetic, avoiding any mention of how Trump's own behavior in largely refusing to wear masks and leading mostly mask-free rallies may have contributed to him catching the virus. The real spin began with a follow-up article by Susan Jones, who touted Trump telling Fox News' Sean Hannity before his diagnosis was announced that coronavirus is "a very, very tough disease,"in an apparent attempt to potray Trump as having taken the disease seriously despite his long record of doing otherwise. Melanie Arter, meanwhile, pushed the White House narrative that Trump's coronavirus symptoms were mild.
Another article by Arter complained that Democratic Rep. Ilhan Omar -- whom CNS despises -- accused Trump having spread coronavirus during a campaign visit to Minnesota two days before his coronavirus diagnosis was announced. It has since been revealed that the Trump campaign refused to follow health guidelines and state regulations for the rally by letting in many more people than were allowed.
The spin continued with an article by Craig Bannister on the experimental drug cocktail Trump was given, followed by Jones featuring a Trump campaign adviser Stever Cortes "took reasonable risks, not reckless ones" and scoffing at the fact that several people who attended a Trump White House event before his diagnosis was announced had since tested positive for coronavirus.
CNS also did the usual complaining when liberal-leaning celebrities like Kathy Griffin, Michael Moore, Chris Rock and Rob Reiner weren't sufficiently sympathetic to Trump, as well as a piece by Jones headlined "Chinese Communist Party Editor Mocks Trump, Then Deletes Tweet and Pens Self-Righteous Article."
Jones was in full Trump rah-rah mode when parroting his insistence that he's 'learned a lot about COVID ... by really going to school," adding that he made a motorcade drive around the Walter Reed Medical Center grounds "amid media anger over the perceived lack of transparency about his doctors' health briefings." (That's the only reference to that lack of transparency at CNS.) Later, she cheered how Trump sent out "at least 18 tweets in rapid succession, explaining what's at stake in the upcoming election" while still in the hospital. In that same vein, Arter pulled stenographer duty by uncritically repeating a Trump campaign spokesman sneering that "with COVID, with a quarantine, at Walter Reed, this president still did more events yesterday than did Joe Biden."
Editor Terry Jeffrey grumbled that "A maskless Chuck Schumer—the Senate Democratic Leader--stood on a sidewalk in New York City on Sunday and ranted about President Donald Trump holding a 'super-spreader' event at the White House where many people in attendance did not wear masks as Trump announced the nomination of Amy Coney Barrett to the Supreme Court." In fact, no less than Dr. Anthony Fauci later called the Barrett announcement a "superspreader" event -- something CNS has censored.
Finally, Jones gushed at how Trump "faced the cameras and pointedly removed his face mask" upon his return to the White House and issued a message saying Americans shouldn't let the virus "dominate you." She did note that "at least 197,029 people have died from COVID in this country," but didn't venture an opinion on whether they died because they allowed the virus to dominate them.
Posted by Terry K. at 4:17 PM EDT