Alveda King Can't Stop Shilling for Trump
Topic: Newsmax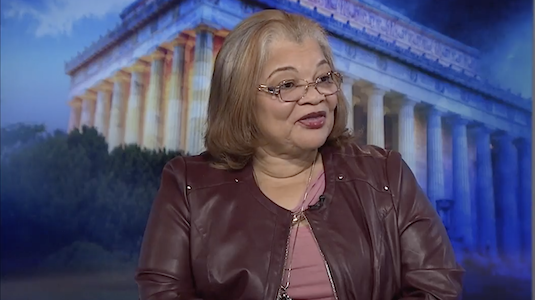 Alveda King has long been a pro-Trump sycophant, and she went further into it in her Oct. 2 Newsmax column, gushing over President Trump's pandering to blacks, linking to Trump websites to back up her claims:
The first 2020 presidential debate was an eye-opener for America. Regardless of media bias, we saw and heard President Trump defend America's families, America's economy, America's babies, America's environment and America's security.

Just days before the debate, POTUS released his PLATINUM PLANfor boosting the underserved communities of America. Therein he declared that lynching is a hate crime, and that ANTIFA and the KKK are domestic terrorists.

All of this compassion and progress from President Donald John Trump: His history of fairness in the African-American community extends far beyond his first term as president of the United States.

Now that we are just a few days from the 2020 elections, in many instances the media is rushing to amp up their portrayal of President Trump as a racist. In response, I ask America to consider President Trump's record during his first term of office, and his agenda for the next four years.

As President 45, Trump has done a lot to Make America Great Again. And he's still not racist.
We don't know who owns the "still not racist" website King links to; the owner has hidden their identity.
(And, yes, Newsmax is still letting Trump call herself "Dr." even though her doctoral degree is honorary.)
In her Oct. 5 column, King tried to rather lamely explain why she's a Trump supporter:
During the 2016 presidential race Donald John Trump was one of my top five candidate preferences. In 2020 it is easy for me to answer the question, "Why Trump?" Over the last four years, I have had a front row seat watching President Trump fight for religious liberties not only here in America, but around the globe. I have watched him champion the rights of the unborn. I have watched him advance opportunities in Black America.

With POTUS I've taken a page from my Granddaddy's journal. I've put faith and expediency over church denomination and politics. Donald J. Trump is my president. I've got my vote, and my prayers. Both are in favor of President Trump and his "promises made and promises kept."
Again, let's pray for healing and better days ahead.
Trump is not exactly known for healing anything -- witness 210,000+ coronavirus deaths under his watch -- but you do you, Alveda.
Posted by Terry K. at 4:05 PM EDT