CNS' Debate Bias: Rebuttals And Snark For Biden, Stenography For Trump
Topic: CNSNews.com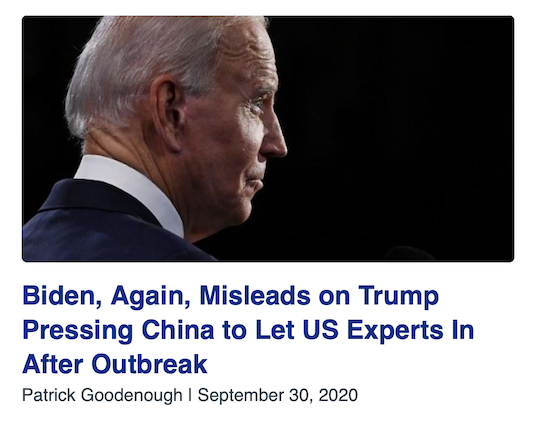 CNSNews.com's coverage of the first debate between President Trump and Joe Biden tracks with its usual pro-Trump slant: Statements by Trmp were presented without comment, while statements by Biden tended to be rebutted or snarked it with added editorial comment.
First, let's look at the Biden coverage (judged by Biden's prominence in the headline):
CNS published only two Biden-centric debate-related articles that were a relatively straight retelling of what happened:
By contrast, CNS published only three articles that keyed in on comments by Trump as indicated by the headline, and all three simply uncritically repeated what he said:
That's not surprising, given that both were written by chief Trump stenographer Melanie Arter.
Because Trump was not seen to have won the debate, CNS quickly issued a couple attacks on moderator and Fox News host Chris Wallace -- from its favorite right-wing radio host, Mark Levin, and in a blog post by editor Terry Jeffrey complaining that Wallace "personally engaged President Trump in a debate on 'climate change' that lasted for about 3 minutes and 45 seconds."
It was not until more than 18 hours after the end of the debate that CNS bothered to mention the big news from it: Trump's refusal to explicitly disavow white supremacists and his telling the Proud Boys hate group to "stand back and stand by." This being written by Arter, it's written blandly and plays whataboutism by also putting in the headline that Biden said Antifa is "an idea, not an organization."
Posted by Terry K. at 12:12 AM EDT
Updated: Thursday, October 22, 2020 12:26 AM EDT