Jeffrey Turns His Bad Coronavirus Take Into CNS' Editorial Agenda
Topic: CNSNews.com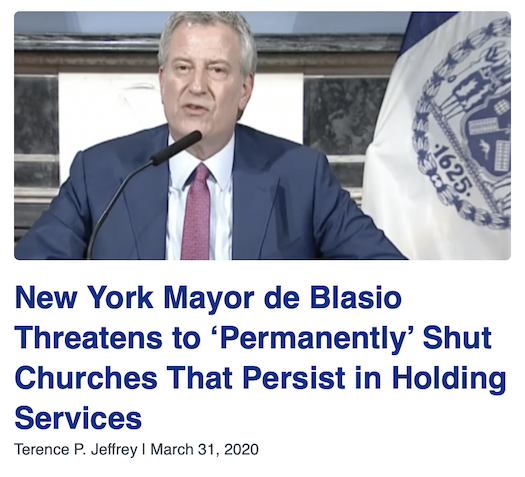 Remember when we caught CNSNews.com editor in chief Terry Jeffrey pushing the dumb take that churches (in Virginia, where CNS is based but wasn't disclosed in his article) are somehow having their religious freedom violated because some states are restricting church services in the name of stopping the spread of coronavirus? Well, Jeffrey has doubled down on it, making this bad take a key part of CNS' editorial agenda, putting that frame on every story on the subject.
Jeffrey attacked Virginia Gov. Ralph Northam again in a March 30 article, complaining that his executive order "makes it a crime to have a gathering of more than 10 people for a 'religious event' or 'in-person classes and instruction' at an 'institution of higher education.'" Jeffrey dishonestly failed to mention that the goal of these bans are to slow the spread of coronavirus until the fifth paragraph of his article.
Managing editor Michael W. Chapman joined the agenda-pushing the next day in a article touting how "A Texas city north of Dallas quickly amended its 'Mandatory Stay-at-Home Order,' which 'prohibited' in-person religious gatherings, after receiving a letter from the First Liberty Institute detailing how the city order apparently violated CDC guidelines, state law, and the First Amendment Free Exercise Clause." Chapman waited until the 10th paragraph to mention COVID-19, even though it was the basis behind the order.
Jeffrey returned to huff, with bonus personal attack:
New York City Mayor Bill de Blasio (D) is threatening to "permanently" close the meeting places of religious organizations that persist in holding services while the city is shut down during the COVID-19 pandemic.

"A small number of religious communities, specific churches, specific synagogues are unfortunately not paying attention to this guidance [to close] even though it's been so widespread," de Blasio said in a briefing on Friday.

[...]

De Blasio does not belong to any religious denomination. In a question-and-answer session on Reddit six years ago, he said: "Although my mother was raised a Catholic, she did not bring me up in the Church. I considered myself a spiritual person but unaffiliated, and I was definitely very influenced by the liberation theology movement in Latin America. And BOY am I a fan of Pope Francis!"
Jeffrey is suggesting without proof that De Blasio is motivated by disdain or hatred of religion rather than public health.
Chapman struck a similar misleading tone in an April 1 article:
Because of coronavirus restrictions, Italian authorities permit people to go to the grocery store, the pharmacy, the doctor, and to "essential" work. But if you go to a church to pray -- even with just a few people and widely separated -- you can be cited by the police and forced to disperse. Citations can be as high as 200 euros (about $220) and may involve court appearances, according to Crux, a Catholic news publication online.

Going to church to pray is not considered "essential."
Chapman didn't mention that the Catholic Church in Italy has canceled all Masses and religious services and that even Pope Francis is celebrating Mass daily without a congregation -- and, thus, that one is not required to be in a church to pray.
An April 3 article by Chapman noted how "Texas Gov. Greg Abbott (R) revised his March 19 executive order in response to the coronavirus to now include "religious services" as "essential services." Chapman included stock photos of vartious religious services, none of which appeared to be taking place in Texas.
CNS even threw in an article featuring President Trump claiming that "he's disappointed that churches can't hold services because of social distancing guidelines limiting the number of people allowed at large gatherings to stop the spread of COVID-19."
CNS certainly knows how to commit to an editorial agenda. Too bad it's such a biased and dishonest one.
UPDATE: We missed a couple of other attempts to advance this narrative. Jeffrey devoted his April 1 column to attacking "excessive government" and complaining that some politicians "have used the threat this virus poses to public health to threaten a fundamental liberty," specifically "the free exercise of religion." Jeffrey refused to concede that even the possiblity that public health is more important in this case than freedom of religion, huffing at one point, "While COVID-19 is a threat to human health, excessive government is a threat to human liberty."
That was joined by an article from Melanie Arter detailing pastors violating the law by holding religious services for large crowds.
Posted by Terry K. at 1:03 AM EDT
Updated: Friday, April 10, 2020 8:29 PM EDT