Questioning Trump Makes Weijia Jiang An Enemy Of The MRC
Topic: Media Research Center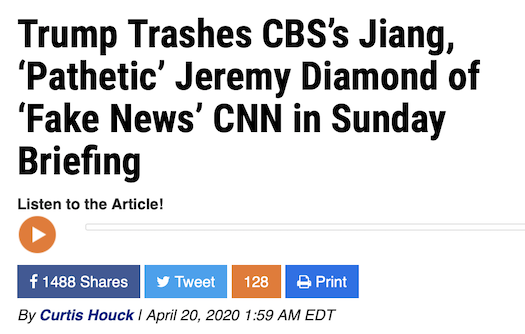 Joining Jim Acosta, Yamiche Alcindor and Peter Alexander on the Media Research Center's enemies list for asking tough questions at coronavirus press briefing that send President Trump into a rage -- not that the MRC would ever describe it that way -- is CBS White House correspondent Weijia Jiang.
On April 3, Curtis Houck complained that Trump moved from the "manufactured nonsense" of Acosta to Jiang (needless bolding in original):
Jiang came four questions later and wondered why senior adviser Jared Kushner referred on Thursday to "the federal stockpile" (containing Personal Protective Equipment and ventilators) as "our stock pile," as if to suggest states wouldn't have access.

Trump also diagnosed this attempt at creating controversy. Repeatedly groaning about her "gotcha" question, he explained that Kushner clearly meant the United States had access to it when he said "our," but it would be dispersed at the federal government's discretion.

Jiang didn't accept his explanation, so the President called her out and moved on[.]
In fact, as Jiang pointed out in her questioning (per the transcript that Houck didn't otherwise quote from), Kushner served up a very different definition of the the national stockpile that what has been traditionally accepted, and after Kushner made his statement, the Department of Health and Human Services website page on the stockpile was altered to align with Kushner's new definition. But in Houck's eyes, Trump is perfect and Jiang is evil and biased for daring to question Dear Leader.
In an April 20 post, Houck showed how deeply he has drunk of the anti-media, pro-Trump Kool-Aid the MRC has on tap (more lovingly needless bolding in original):
During Sunday's White House Coronavirus Task Force briefing, President Trump clashed with two usual suspects in CBS's Weijia Jiang and CNN's Jeremy Diamond after loaded, snarky questions on behalf of their fellow liberal media firefighters, acting with supposed bravery and perseverance.

Things ended poorly for both with the former being told to be "relax" and stop shouting and the latter being called "pathetic," having questionable levels of brainpower, and working for a "fake news" network with "terrible ratings."

Starting with Jiang, she sunk herself by fretting that while Trump expressed anger with China for not doing enough at the onset, many Americans are saying the exact same thing about you that you should have warned that the virus was spreading like wildfires through the month of February instead of holding rallies with thousands of people."

"Why did you wait so long to warn them? And why did you not have social distancing until March 16," Jiang added.

Eventually, Trump began by talking about the China travel ban, Jiang griped that it didn't also ban American citizens.

[...]

Jiang continued to interject, so Trump told her to "keep your voice down, please." Yikes.
Houck should have been saying that about Trump's embarrassing, hostile display, but he and the MRC can't get enough of Trump's embarrassing, hostile media-bashing. They share a fantasy world in which Trump is never wrong and the media is never right to challenge him.
They get paid well to push this partisan nonsense, and Houck's hyperbolic language and overenthusiastic bolding suggest he may be getting a thrill from it that borders on the sexual.
Posted by Terry K. at 10:42 PM EDT