MRC Reprints An Old Obama Conspiracy Theory
Topic: Media Research Center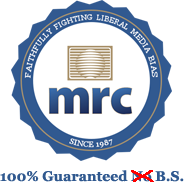 The Media Research Center's Tim Graham likes to pretend that he is above right-wing conspiracy theories, despite the fact that his employer has allowed them to perpetuate, as we've pointed out. There's an even more recent example of that.
On March 19, the MRC's NewsBusters -- of which Graham is executive editor -- published a column by R. Emmett Tyrrell Jr. in which he complains about a "dreadful" book titled "The Ones We've Been Waiting For," which he points out "takes its dreadful title from a dreadful speech given back in 2008 by presidential candidate Barack Obama."After a stretch of labored writing in which he treated a rhetorical point Obama had made as literal ("One cannot wait for the arrival of one's self. It is an impossibility"), Tyrrell wrote this:
Which brings me to the literary reputation of the former president. You will recall that when he arrived in the White House, people began murmuring about the precise authorship of his masterpieces, "Dreams From My Father," and "The Audacity of Hope." They said he did not write them. Rumors spread that he could not write. Now word has it that his memoirs have not turned up at his publisher's office. He is not months behind. He is years behind schedule. How can this be? Is it possible that he is not what the literary elites told us? He is not the author of the greatest presidential memoir ever, just the line, "We are the ones we have been waiting for"? If this is so, it is clearly another black mark for the elites.
Yes, Tyrrell is trying to revive the old, never-proven conspiracy theory -- promoted most prominently by WorldNetDaily columnist Jack Cashill -- that Obama didn't write his books.Note that Tyrrell cites no evidence to back up his claim, just "murmuring" from "people," which would seem to go against the MRC's (hypocritical) attacks on anonymous sources.He offers no proof at all for his claim that Obama's presidential memoir is "years behind."
Yet the MRC -- and, thus, Graham, who is ostenibly in charge of the publication where this was published -- is privileging Tyrrell's anonymous and possibly made-up claims.
This is how conspiracy theories perpetuate themselves: forming in the darkest reaches of the internet, then occasionally bubbling up to the mainstream where they are passed along uncritically. No wonder Graham was so incensed at Brian Stelter's doucmentary on such conspiracy theories.
Posted by Terry K. at 2:20 PM EDT