MRC Fact-Checks 'Daily Show' Satire (And Fails)
Topic: Media Research Center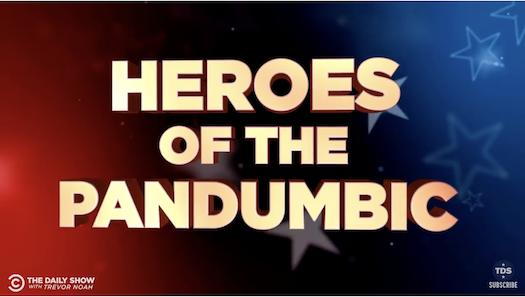 The Media Research Center loves to freak out every time someone fact-checks a satire piece from the right-wing Babylon Bee, but it has its own history of fact-checking satire as well. The latest came in a reaction to a couple videos put out by "The Daily Show" showing President Trump and Fox News downplaying the threat of coronavirus.
In a March 12 post, Tim Graham took offense to the fake "Daily Show" trailer called "Pandumbic," which featured Trump's downplaying. Graham went on a word-parsing tirade to shield his favorite president from blame, led by his lame insistence that Trump's likening of coronavirus to the flu is "not ridiculous, technically":
1. Trump is shown saying "This is a flu. This is like a flu." This is not ridiculous, technically: "COVID-19 and the flu are both contagious viruses that cause respiratory illness." They left off the rest of his sentence: "And this is a much different situation than Ebola." This footage is from a February 26 press conference, when CNN reported the number of confirmed cases in the USA was 60.

2. Then came "the dumbest person alive" on screen, and after we hear CNN anchor Alisyn Camerota say there are "732 confirmed cases," Trump says "we're going to be pretty soon at only five people and we could be at just one or two people over the next short period of time."

Camerota's case number comes from March 10. Trump's sentence is from February 26, but the audience would assume they occurred at roughly the same time. Trump wasn't discussing confirmed cases, he was talking about people recovering from illness.

[...]

3. They noted the Centers for Disease Control recommended people avoid shaking hands, then showed footage of Trump shaking hands at an airport. At least this was a time match. Yahoo flagged the contrast on March 9, as Trump shook hands with supporters in Orlando.

4. After the words "no credentials," they showed Trump touring a CDC facility noting his Uncle John taught at MIT and was a "supergenius." Fact check: Trump's Uncle John was an MIT professor of electrical engineering for more than 40 years. This mockery is just cheesy, because Obama and Biden have "no credentials" in epidemiology.
A few weeks later, when "The Daily Show" issued "Heroes of the Pandumbic," featuring further downplaying from Trump and Fox News, the MRC called in the big gun ... Sharyl Attkisson?
In an April 6 post, Graham touted how "Attkisson smelled a rat" and claimed that "liberal sources and public health officials have said the very same things without being criticized." But Graham won't tell you that Attkisson played fast and loose with context in her rebuttal. As an actual news organization reported:
Journalist Sharyl Attkisson, a former CBS News reporter and frequent critic of the mainstream media, published a lengthy piece Sunday responding to a viral video from the "Daily Show," which highlighted some of these wayward pronouncements by Fox, Trump and Trump allies. Attkisson offers each of the quotes from the video and then, under each one, lists a bunch of quotes from other sources that she argues are similar.

One thing conspicuously missing from the piece, though? Any dates on the quotes. A review shows that every quote she is defending is either from late February or March; many of the quotes she cites as being comparable, though, are from January or early February, when the virus still hadn't penetrated much in the United States. Other, more recent statements she cites aren't nearly as definitive as the ones they're being compared with.
Instead, Graham's goal is to give his friends at Fox News a pass: "It's not hard to apply the old metaphor that hindsight is 20/20 and Fox News stars for saying coronavirus is just like the flu. Attkisson lays out how many people said that. But the Hindsight Machine of the late-night comedians is tilted, as always.
Attkisson is too -- but Graham won't tell you that.
Posted by Terry K. at 8:22 PM EDT