Bad Coronavirus Takes: CNS' Jeffrey Cares Only About Christians
Topic: CNSNews.com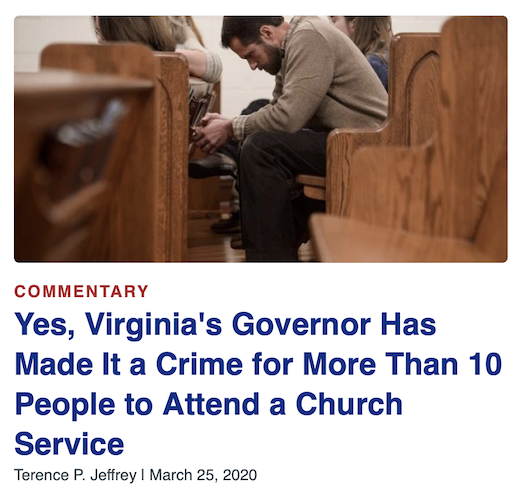 CNSNews.com editor in chief Terry Jeffrey begins his March 25 column this way:
Virginia Gov. Ralph Northam issued an executive order on Monday that is aimed at stopping the new coronavirus — and, in the process, makes it a criminal offense to hold a church service attended by more than 10 people.

Yes, his order makes it a crime for more than 10 people to gather in a church.
That's misleading -- as Jeffrey concedes in the next few paragraphs, in which he admits that what was criminalized was all gatherings of more than 10 people, not just church services.
Yet Jeffrey spends the rest of his column falsely pretending that only church services were targeted. So much so, in fact, that he pestered Northam's press secretary demanding "a simple yes or no" to whether church services fall under the ban, even though it's obvious they are. ANd he wasn't done ranting:
Virginians now live in a state where holding a church service attended by 11 people has been unilaterally declared a crime by the governor.

The same executive order that creates this church-attending crime also declares that Virginia's state-owned liquor stores are "essential retail businesses" that "may remain open during their normal business hours."

How can a person walk into a liquor store, exchange a glass bottle of whiskey and money with a clerk and keep his social distance? Could 11 people in a church — praying the rosary together — stay further apart physically than the buyers and sellers at a Virginia Alcoholic Beverage Control store?

[...]

What would St. Thomas More think of a government that made it a crime to gather and pray in church?

What would the framers of the First Amendment think?

What future "emergencies" will inspire future governors to act on Northam's precedent?
Jeffrey is so obsessed with pushing his right-wing agenda that he only cares how he and his fellow Christians are impacted and doesn't seem that interested in how anyone else is, and he apparently believes that he and his friends should be exempted from the rules that apply to everyone else because they're Christian.
Posted by Terry K. at 8:39 PM EDT