CNS Follows The Template, Smears Biden After Primary Wins
Topic: CNSNews.com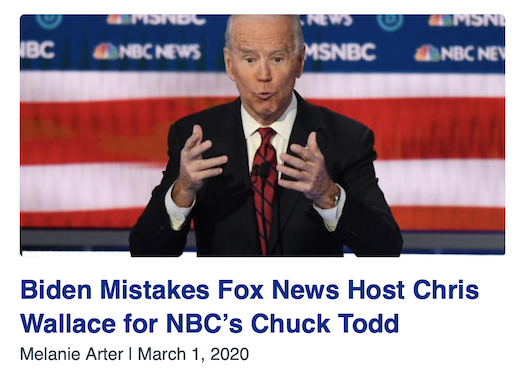 As with Pete Buttigieg and Bernie Sanders before him, CNSNews.com followed news of Joe Biden's recent Democratic primary election victories with personal attacks and smears, particularly focused on portraying him as mentally unstable.
CNS did note that Biden won big in South Carolina on Feb. 29, but tipped its eventual hostile and biased direction a couple days earlier with an article by Susan Jones highlighting a Biden statement that he would have President Trump "escorted out of the White House" if he refused to concede defeat if he lost re-election. Susan Jones sneered of the question asked of Biden at a CNN town hall: "Silly question? You be the judge."
After the South Carolina win, though, CNS started cherry-picking Biden with an emphasis on making him appear extreme and a little out of it:
After Biden won most states on Super Tuesday, CNS acknowledged that fact -- then spent the following days smearing him as mentally defective (and, of course, extreme):
The author of that last item, Craig Bannister, didn't mention that Giuliani has had his own mental health questioned.
And since Bernie Sanders is still a viable candidate, CNS sent a few attacks his way as well. First up was an anonymously written item with the alarmist headline "Bernie Sanders: 'Banning Abortion Will, Quite Literally, Kill Women'" (which, of course, the anonymous writer didn't dispute).
That was followed by a March 9 article by Jones attempting to paint Sanders as a hypocrite: "Sanders: Americans' Health Is 'Most Important,' But He's Not Ready to Cancel Rallies." But Jones censored that fact that CNN's Jake Tapper also referenced President Trump in his question to Sanders, as well as Biden, since all three are "older Americans" who face a higher risk from coronavirus.
Posted by Terry K. at 12:41 AM EDT
Updated: Tuesday, March 10, 2020 10:51 PM EDT