MRC Censors Fact That Trump Himself Discredited Its Latest Anti-Media Narrataive
Topic: Media Research Center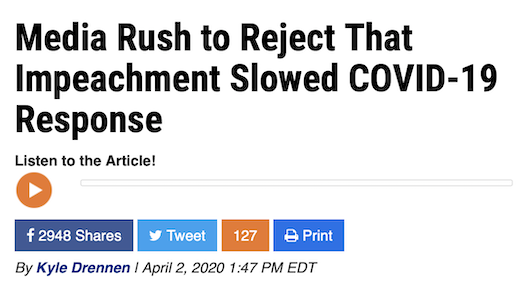 The Media Research Center's Kyle Drennen complained in a April 2 post:
Since Tuesday, liberal journalists on CNN and MSNBC have been teaming up with elected Democrats to shoot down the notion that their collective obsession with impeaching President Trump slowed the federal government's response to the coronavirus pandemic. The biased coverage argued the "talking point" was "dangerous" and predicted that it would not "pick up much traction."

During an interview with radio host Hugh Hewitt on Tuesday, Senate Majority Leader Mitch McConnell leveled the charge: "[Coronavirus] came up while we were tied down in an impeachment trial. And I think it diverted the attention of, uh, the government, because everything every day was all about impeachment."

On CNN's The Situation Room that evening, White House correspondent Jim Acosta fretted: "Top Republicans are pushing back on the notion that the President failed to prepare the nation for the crisis, arguing he was tied up with the impeachment trial." He then attempted to offer a supposed fact-check: "But hold on, here's the reality. The President was acquitted on February 5th, five days before he declared at a rally that the virus would quickly disappear."

[...]

For journalists at CNN and MSNBC to not even be willing to entertain the idea that the massive amount of time they devoted to the Democrats' futile impeachment crusade might have distracted the country from the spread of COVID-19 throughout China and the world in December, January, and early February is astonishing.

Reporters should always be skeptical – of both our leaders and themselves.
But Drennen didn't tell MRC readers that this narrative was completely undermined by none other than President Trump himself:
On Tuesday night, President Donald Trump said he wouldn't have acted more swiftly in the face of the COVID-19 pandemic even if he hadn't been impeached, blowing up Senate Majority Leader Mitch McConnell's (R-KY) defense of him.

"Did it divert my attention? I think I'm getting A pluses for the way I handled myself during a phony impeachment," Trump said during his daily press briefing on the coronavirus.

He told reporters that even though he "certainly devoted a little time thinking about it," House Democrats' impeachment of him in December did not affect how he dealt with the outbreak.

"I don't think I would have done any better had I not been impeached, okay?" Trump said. "And I think that's a great tribute to something, maybe it's a tribute to me, but I don't think I would have acted any differently, or I don't think I would have acted any faster."
Drennen surely knew that Trump said this -- after all, he did so more than a day before Drennen's item was posted -- yet he chose not to include it in his item. Why? PRobably because he wouldn't have had an item otherwise.
For this hiding of inconvenient facts to advance a political agenda, reporters and non-reporters alike should be always be skeptical of anything the MRC does.
Posted by Terry K. at 2:37 PM EDT