Questioning Trump Makes Yamiche Alcindor An Enemy Of The MRC
Topic: Media Research Center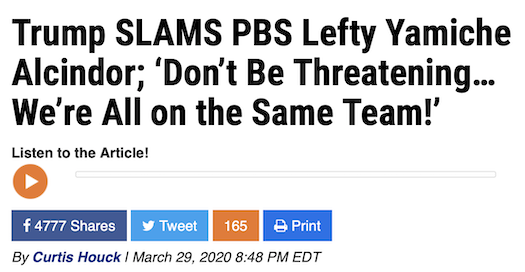 One of the reasons the Media Research Center relaunched its war against public broadcasting -- aside from not letting a crisis go to waste -- is because PBS NewsHour reporter Yamiche Alcindor has committed the offense of asking tough questions of President Trump during his daily coronavirus press briefings. The MRC specifically cited Alcindor's questions to Trump as a reason to defund PBS and NPR.
On March 18, the MRC's Kyle Drennen complained that Alcindor "worked together" with another reporter "to claim that President Trump's use of the term 'Chinese virus' was 'racist' and 'puts Asian Americans at risk.' Alcindor even touted rumors of an unknown administration official using an offensive term to describe the disease." Drennen furtyher complained that Alcindor force a "biased line of questioning" to Trump.
Two days later, Curtis Houck sneered that Alcindor was a "taxpayer-funded reporter" and insisted that her question to Trump about the message he sends to other countries by lashing out at reporters was "another entry into the NewsBusters files and provided yet another audition tape to be deemed the female Jim Acosta." Houck lectured: "This may seem crazy to some, but it is entirely reasonable and possible to set aside whatever you want to believe about the President rhetorically smacking reporters and still think that there's no profession that loves itself more than the liberal media. And, beyond that, one can also set aside the President and conclude that many journalists are incredibly thin-skinned when presented with criticism from outside their Statist bubbles in New York and Washington D.C."
(Houck is well known for his pathological loathing of all things Acosta.)
When Trump had a meltdown March 29 over a question from Alcindor, Houck was practically orgasmic (needless bolding in original):
The White House Coronavirus Task Force was back Sunday with a briefing and, after a lull, the fireworks also returned as President Trump tussled with multiple reporters, most notably another throwdown with PBS NewsHour White House correspondent Yamiche Alcindor.

Alcindor asked about his comments to Sean Hannity about New York's ventilator requests, but the President wasn't having it. Instead, he told her to "be nice," "don't be threatening," and reminded her that, despite how some in the liberal media behave, "we're all on the same team" in hoping to defeat the virus.

She started to ask the first of two questions, but she didn't get to finish before the President interjected, so here's what she did get out: " [Y]ou said repeatedly that you think some of the equipment that governors are requesting they don't actually need. You said New York might need --- might not need 30,000."

Trump claimed that he never said that and when Alcindor brought up Hannity, the President grew upset and thus cross-talk ensued with Alcindor saying "Mr. President, my question is" on a loop while Trump implored her to be "a little more positive" and drop the "get you" attitude.

He added her attitude was "why nobody trusts the media anymore":

[...]

Alcindor again brought up his comments on the Fox News Channel and the President responded by telling her to rewatch it because something was up [w]hen I hear facemasks go from 10,000 to 300,000 and they constantly need more and the biggest man in the business is, like, shocked."
Houck is not going to tell you that Alcindor was correct that Trump said what he now denied saying. After all, it's an article of faith at the MRC that Trump never does anything wrong and his criticism of reporters who challenge him is honest and insightful and not mean and petty.
Houck also called her a "lefty" in his headline, but made no effort to prove that asking questions of Trump that he didn't want to answer equated to her being a "lefty."
The next day, Scott Whitlock chose to interpret a comment by Alcindor about solidarity among journalist as an expression of anti-Trump bias:
Basking in another contentious coronavirus White House press briefing, PBS reporter Yamiche Alcindor on Sunday night told MSNBC's Ali Velshi that covering Donald Trump is a "team sport" for the press and that journalists must "have each other's back" in opposition to the President. Much of the interview was spent lamenting that Alcindor only initially got one question out at the briefing before a CNN journalist used his question to allow her to ask another.

Speaking of Jeremy Diamond, she described the team dynamic as journalists vs. Trump: "I have to say thank you to Jeremy of CNN for giving me the opportunity to ask my second question. We know now that covering President Trump sometimes is like a team sport. We have to have each other's back in the press corps and Jeremy had my back today."

In a way, it's refreshing for a reporter to admit that they see themselves as on the opposite team of Trump.
That's not what she said, Scott, but you be you.
That same day, Drennen laughably described Alcindor's questioning of Trump as "hostile" and complained that other reporters were coming to her defense. He further deliberately misinterpreted Alcindor's words, insisting that she "proudly proclaimed that bashing Trump during White House briefingswas a 'team sport' among the press corps."
Drennen returned on April 10 to attack NBC's Seth Meyers for refusing to repeat the MRC's anti-media attacks while having Alcindor as a guest. he huffed that Meyers was "pushing the laughable fantasy thatnego-driven journalists never want to make the news about themselves" and "talked about how much he liked watching reporters gang up on the President during the pressers" (never mind that he didn't actually say that)," finally grousing: "Reporters know that they be as incendiary and irresponsible in the briefing room as they want because the rest of liberal media will always be there to defend them and cheer them on."
Drennen and the rest of the MRC hate journalists like Alcindor so much -- and they are so dedicatd to their anti-media agenda -- that they must manufacture a caricature of her that conforms to their preconceived, agenda-driven notions of what a journalist is.
Posted by Terry K. at 10:22 PM EDT
Updated: Tuesday, April 28, 2020 11:17 PM EDT