MRC Defends Right-Wing Anti-Quarantine Protests, Denies They're Astroturf
Topic: Media Research Center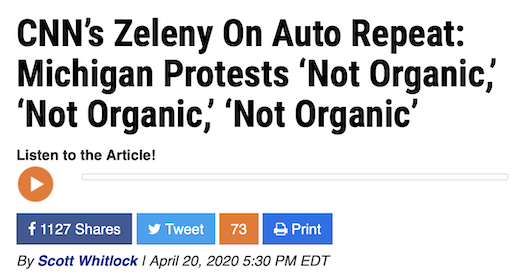 As with anything that could possibly help President Trump and hurt those it deems "liberal," the Media Research Center was quick to defend the honor of right-wing anti-quarantine protests, and it's absolutely denying that they weren't willed into beingb by shadowy groups instead of being grassroots. Nicholas Fondacaro engaged in some serious anti-"elite" elitism in an April 19 post:
As media elitists, their jobs were safe and they could easily work from home. But during their Sunday morning newscasts, ABC's Good Morning America and NBC's Sunday Today, chided and cast aside the unemployed Americans taking to the streets as state stay-at-home orders left them in financial ruin. ABC even suggested their angry protests could be "AstroTurf" movements designed to embarrass Democrats, and NBC dismissed them because they were "not reflected" in the polls.

[...]

But [NBC correspondent Kathy Park] tossed them aside by saying they were not reflected in the polls. "These raw emotions are not reflected in a new Pew Research poll showing two-thirds of Americans are concerned the restrictions will be lifted too quickly," she declared.

Logic would tell you that that's because a majority weren't hit particularly hard by the economic downturn and lost their jobs. With some estimated figures suggesting the unemployment rate was somewhere in the teens, they should be listened to in some way. Yet, on ABC, they did a lot to throw these hurting people away.
Clay Waters complained that the New York Times "praised Michigan Governor Gretchen Whitmer after her gross bureaucratic overreach in fighting the spread of the coronavirus led to protests at the state capitol." He grumbled that "The reporters leveraged exaggerated social media reports to dismiss concerns of government overreach as "misinformation" and that they made "a shameless play to race concerns" by accurately noting that there were Confederate battle flags at the protest. Water tried to spin that last part away: "How many Confederate battle flags were there? Well, NBC found at least...two."
Isn't that about two more Confederate battle flags than there ought to be?
Scott Whitlock echoed Fondacaro:
CNN's Senior White House Correspondent Jeff Zeleny really wants you to know that protests about reopening the government are "not organic." Zeleny described them this way three times on Sunday night, telling Don Lemon, "there's no question these are not organic protests.."

He then compared the Michigan rallies to the dreaded Tea Party: "As they began to spread across the country, it was organized by the Michigan Conservative Coalition which was essentially an early group that organized the Tea Party movement. We're really almost a decade ago."

Seemingly trying to have it both ways, he continued, "But, Don, the reality is these are not organic protests. That doesn't necessarily take away the anger the real anger."
The MRC will not tell you, however, that many of these protests are, in fact, astrotrurf and ginned up by right-wing agitators.The Washington Post documented the well-funded network of conservative activists led by the Mercer family -- as it so happens, the same family that is the single greatest source of funding for the MRC. Another right-wing group linked to Trump education secretary Betsy DeVos is organizing other protests.
The MRC is historically bad about correcting the record about claims it makes that turn out to be false. Don't expect any corrections or apologies here.
Posted by Terry K. at 9:29 PM EDT