MRC Tries to Downplay GOP Effort to Gut Ethics Panel
Topic: Media Research Center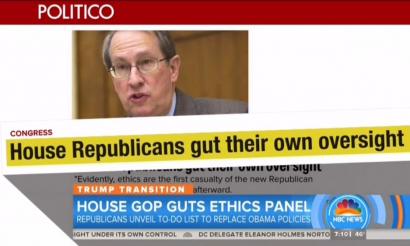 The Media Reserach Center did its best to spin away congressional Republicans' attempt in the new Congress to gut an independent House ethics panel.
Kyle Drennen downplayed the whole thing, insisting that Republicans had merely "dared to make bureaucratic changes" to the panel, and he was more upset that the media reported on it. Then he tried to change the subject: "While the media were eager to hype fears that Republicans would not be held accountable for corruption, the press repeatedly looked the other way when elected Democrats were embroiled in scandal in recent years. A 2014 Media Research Center study listed numerous examples of Democratic corruption swept under the rug by the networks."
Nicholas Fondacaro not only repeated Drennan's Democrat-blaming distraction, he took the media to task for reporting that even Donald Trump thought gutting the ethics panel was a bad idea:
The liberal Big Three networks finally found a use for President-elect Donald Trump, and it's to smear Republican members of Congress. The same networks who blacked-out unethical Democrats were up in arms Tuesday after the House GOP attempted to reform the Office of Congressional Ethics, but after it's retraction they credited the president-elect. "The best-laid plans of Republicans armed with a head of steam and an ambitious to-do list went off the rails this opening day of the new Congress after a tweet from Donald Trump," announced Anchor Lester Holt on NBC Nightly News.
Fondacaro also complained that media reports made an "insinuation that the GOP's actions were to allow themselves to act unethically." But he doesn't explain what he thinks is the correct way to interpret the GOP attempt to gut thte ethics office.
After the House GOP reversed its attempt to gut the ethics office, Drennen returned to complain that "all three network morning shows delighted in the GOP reversing course on the issue and satisfyingly proclaimed that the minor controversy had tarnished the first day of the 115th Congress."
Note that Drennen downgraded the controversy even further, from "bureaucratic changes" to a "minor controversy."
Posted by Terry K. at 2:14 PM EST