WND's Farah Touts Group of Extremist Israeli Rabbis
Topic: WorldNetDaily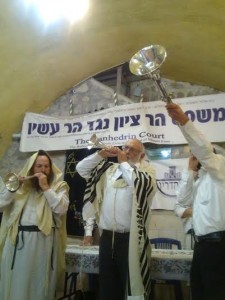 Joseph Farah writes in his Jan. 10 WorldNetDaily column:
Many pundits and political leaders have repudiated the United Nations Security Council resolution denying Israel has any claims to Judea, Samaria and East Jerusalem or any other lands captured in the 1967 war – 50 years ago this June.

But perhaps the best scolding I've seen the U.N. body get came from Israel's nascent Sanhedrin, a group of judges attempting to reconstruct a Jewish ruling authority not existing in Jerusalem for more nearly 2,000 years.

About Resolution 2334, passed unanimously with an abstention from Barack Obama's administration, which conspired in crafting it, bringing it to a vote and defending it after passage, the Sanhedrin had this to say, with which I entirely concur: "All the land of Israel belongs exclusively to the Nation of Israel, and not to an invented nation with no legal or historic claim to the land. Pursuing this baseless claim weakens those who support it and strengthens the violence and evil that is growing in the world."

[...]

Here I am, an Arab-American Christian, in total agreement with Israel's Sanhedrin, which not only sees this issue the way clear-thinking people on earth do, but understand the way it is viewed by the Creator-God, who sees the beginning from the end and the end from the beginning.
Note Farah's somewhat be nign description of the Sanhedrin as just "a group of judges attempting to reconstruct a Jewish ruling authority not existing in Jerusalem for more nearly 2,000 years." In fact, it's a very far-right group.
We noted a few years back when then-WND reporter Aaron Klein was touting them that the Sanhedrin has links to the Meir Kahane movement banned in Israel for its incitement to violence. That link seems to be continuing with the Sanhedrin's desire to appoint Baruch Kahane, who may be Meir Kahane's son -- Kahane did have a son named Baruch, but we have het to confirm that -- as the high priest of the Sanhedrin in an attempt to fulfill prophecy that a new Jewish temple will rise on the Temple Mount, where an Islamic mosque currently resides. In 2015, the Sanhedrin encouraged West Bank settlers to attack security forces who came to evacuate an outpost there.
A Jerusalem Post article reports that the Sanhedrin supports the application of Torah law in place of the secular law of the State of Israel, and in February 2010 ruled that "it is obligatory for every Jew to exclude himself from the secular Israeli judicial system in every matter."
Wait -- an attempt to have religious law supercede secular law? Doesn't Farah and WND normally rail against that sort of thing when it's called Sharia law instead of Torah law?
Again, Farah says he's "in total agreement" with the Sanhedrin, which must also include this narrow instance of religious law supremacy.
Posted by Terry K. at 12:47 AM EST