Oops: MRC Email Promotes 'Marijuana Investment Jackpot'
Topic: Media Research Center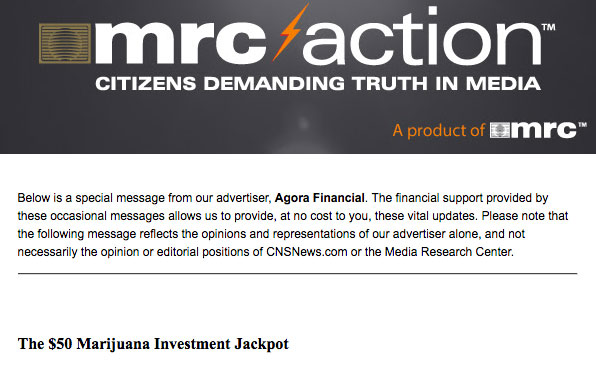 On Jan. 11, the Media Research Center sent out to its email subscribers a paid message from advertiser Agora Financial touting "The $50 Marijuana Investment Jackpot," which claimed: On Election Day, California, Nevada and Massachusetts all roundly voted to legalize recreational marijuana use. And that means that very soon dozens of tiny marijuana firms could skyrocket by 100%, 300%, 500% or higher. This is your chance to turn a single $50 bill… into an absolute fortune."
Agora Financial regularly advertises on right-wing websites -- it's part of the empire of Porter Stansberry, who once offered his dubious financial analysis at WorldNetDaily (he once claimed he was ready to flee the country at any time "with most of my wealth" to a country "that doesn't have any ties to America") and whose firm faced a $1.5 million sanction from the Securities & Exchange Commission over aggressive sales tactics. Oh, and he loves to hurl racist and anti-gay slurs.
The subject matter of the email, though, was a bit of a surprise. The MRC is not exactly pro-pot -- it dismissed 2016 Libertarian presidential candidate Gary Johnson as a "pot-smoking" guy , and one of the few times it has anything nice to say about the so-called "liberal media" is when it notes criticism of pot and its legalization.
We can't imagine that went over well with the MRC's readership. Sure enough, the next day, the MRC sent out an apology email:
Dear MRC Supporter,

Yesterday morning, you may have received an email that was sent on behalf of one of our regular sponsors, Agora Financial. The email offered financial advice in the form of investing in marijuana stocks.

This message should have never been sent in conjunction with the Media Research Center. We are deeply sorry that you received it, and the MRC certainly does not condone marijuana use or investment in marijuana stocks.

Once again, we apologize for this mistake, and encourage you to contact us directly (actionteam@mrc.org) if you would like to discuss this further.

The MRC Action Team
We don't know enough about the MRC's inner workings to assess blame, but something cldearly slipped past the "MRC Action Team" and the email didn't get properly vetted before getting sent out.
Posted by Terry K. at 5:42 PM EST